Click here to view original web page at www.newsbtc.com
Shortly after the European session closed on Wednesday, we published an intraday technical analysis piece that highlighted the levels to keep an eye on in the bitcoin price as we headed into the US afternoon. The piece offered up two scenarios. The first – a bullish scenario – was one in which support in the downward sloping channel held firm, and we saw a run towards 285. The second – the bearish scenario – offered up a situation in which this level did not hold firm, and a break of 277 presented us with further downside – initially towards 274 flat and beyond. Unfortunately, for us, the latter of these two scenarios played out, and overnight, we saw further decline in the bitcoin price. This being said, what are the levels to keep an eye on as we head into Thursday's European session, and what does overnight action tells about any potential directional bias? Let's take a look.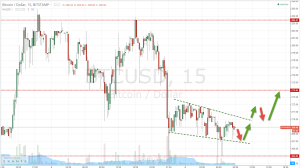 The chart shows the steep decline just before 9 o'clock GMT yesterday evening. Having bottomed out around 265, the BTCUSD corrected somewhat and has since traded in a downward sloping wedge to where we now trade just shy of 269 flat. Once again, we have two likely scenarios. The first is one in which we trade down towards wedge support just below 267, the level holds, and we return to resistance around 270 flat. In this scenario, 270 will be the level to watch. If we can get a close above this, expect a run towards 272, and then – potentially – a small correction towards broken resistance, and a failed retest to bring 274 into play medium-term. In such a scenario, a stop loss just below current levels (around 268.90) on a break of resistance at 270 flat would ensure a timely exit in the event of a break back into the wedge on the retest.
The second scenario is one in which we continue to trade within the wedge, with support and resistance holding firm each time they hit. If this occurs, look to 265.03 as a likely floor to the bitcoin price throughout the European session.