Click here to view original web page at www.newsbtc.com
Darkcoin price is undergoing increased selling pressure, after price tested the moving average and found resistance at the start of the trading week. Price is now back to testing the 0.0100 support level and may be due for a break lower if momentum picks up.
Analyzing the 4-hour DRK/BTC chart from Cryptsy suggests that the selloff could gain traction, as price made lower highs recently. However, a long spike appears to have formed around the current floor, which might lead to another bounce for now.
Volume has picked up at the start of the week though, as cryptocurrency traders have taken the opportunity to short darkcoin at the test of the moving average.
Any significant headway below the 0.0100 support level could draw more darkcoin sellers in and lead to a convincing breakout.
On the other hand, the lack of selling interest at the current levels might keep DRK/BTC in range between support at 0.0100 and resistance near 0.0110.
Moving averages are starting to move closer once more, hinting that a potential upward crossover might take place and reflect a short-term reversal.
Further gains in darkcoin price could lead to a break past 0.0115 and a rally towards the next area of interest near 0.0120.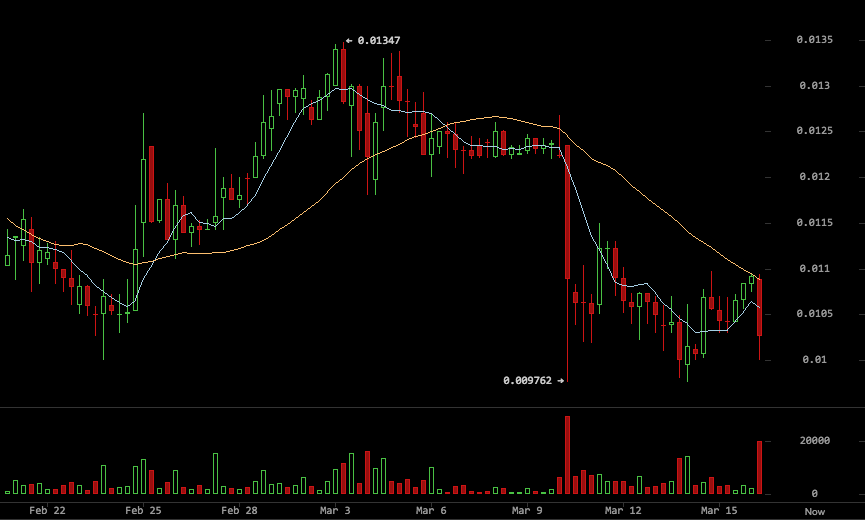 Studying the daily chart of darkcoin price shows that the pair is making another attempt to break below a key support area. As you can see from the longer-term darkcoin chart below, price is treading very close to the bottom of a descending triangle pattern.
The chart pattern spans 0.0160 to 0.0100, indicating that the potential drop could last until 0.0040.
The next support level is closer to the 0.0060 level, as price has consolidated for quite some time in that area.
The shorter-term moving average (white) has just crossed below the longer-term moving average (yellow), indicating a potential downside breakout.
Volume is slightly lower, as darkcoin traders wait for market catalysts and momentum before hopping in.
Price could still retreat to the longer-term moving average, which might hold as resistance, to attract more sellers.
So far, the bitcoin has drawn increased support once more, as new developments have led to more demand for the cryptocurrency against its other rivals. With more and more merchants accepting bitcoin payments, price has shown signs of a rebound and may continue to advance against other altcoins.
In addition, the rebranding of darkcoin to decentralized digital cash might have significant repercussions on darkcoin price action. Proposed to be called as "dash" or short for digital cash, this currency could offer more features that darkcoin and bitcoin previously could not. Dash could provide more transparency and viability, lending more trust and demand for this particular cryptocurrency. Until these developments pan out though, bitcoin still seems to be enjoying the upper ground among altcoins.
Conclusion
Darkcoin is under increased selling pressure as prices approach the bottom of the descending triangle and test support at 0.0100. A breakdown could mean significant losses, especially as darkcoin loses appeal the bitcoin, which has been enjoying increased mainstream acceptance. However, the proposed rebranding of darkcoin to digital cash or "dash" could still provide the cryptocurrency some support.
Charts from Cryptsy.
Analyzing the 4-hour DRK/ BTC chart from Cryptsy suggests that the selloff could gain traction, as price made lower highs recently. However, a long spike appears to have formed around the […]