Click here to view original web page at www.newsbtc.com
Double Top:
During the May 6th session, litecoin completed a double top in the 1H chart after breaking the 1.40 neckline, but failed to extend beyond 1.36 before rebounding. After the intra-day price action, ltcusd tested the double top and ultimately showed respect to it as resistance after a bullish attempt retreated sharply after tagging 1.45. The 1H RSI held under 60 after tagging 30, which showed development of bearish momentum.
Litecoin (LTCUSD) 1H Chart May 7
(click to enlarge)
Bearish Outlook:
The May 7th price action essentially provided further bearish outlook beyond the 1.36 low on the week. It is showing that price is starting to stay under the cluster of 200-, 100-, and 50-hour SMA. There is not strong bearish trend in the 1H chart, but the bias is there. When we look at the 4H chart, we notice a more clear bearish bias.
Bitcoin (BTCUSD) 4H Chart May 7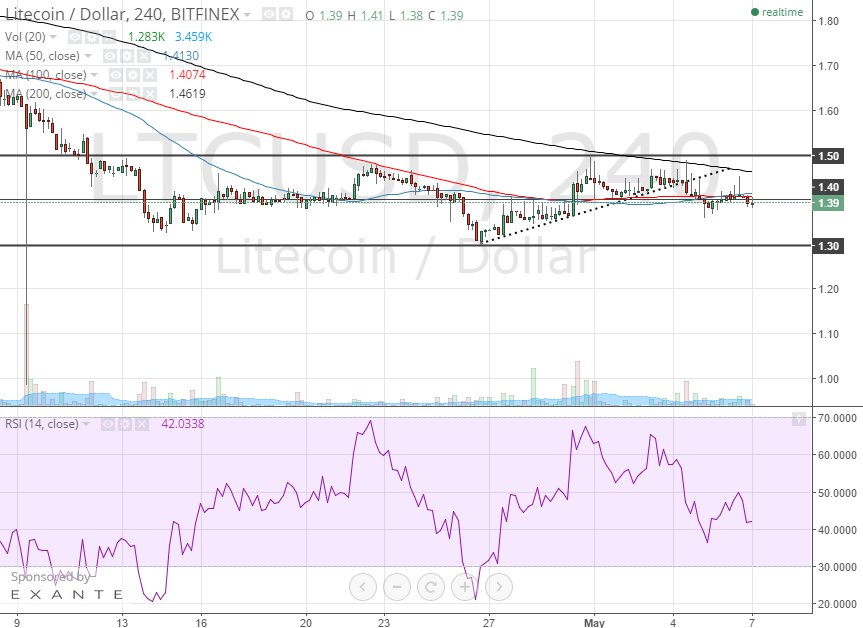 (click to enlarge)
Bearish Bias:
The 4H chart shows price still holding under the 200-period SMA and is now trying to come back under the 100- and 50-period SMA.
Also, note the consolidation range between 1.30 and 1.50. We noted yesterday that 1.40 was the central pivot, and if price can hold under it, there would be bearish bias. Well, today we see the market lean on keeping btcusd under 1.40. The pressure is therefore towards the range 1.30 low.
Bearish Continuation:
With the prevailing trend being bearish, we should look beyond 1.30. The downspike to parity on April 9 created downside risk towards the 1.00 handle. Therefore, a break below 1.30 continues pressure towards 1.00, the low on the year.
Price Bottom Scenario: We should hold off any bullish outlooks until price breaks above 1.50. Then, we can expect support around 1.40 upon a pullback, and if that also happens, we can start considering litecoin in a bullish market with a price bottom.
At the moment, this price bottom attempt appears to be failing and litecoin seems to be returning to a bear's market.
Previous Post by Author: Litecoin Price Technical Analysis for 6/5/2015 – Central Pivot
Litecoin (LTCUSD) […]