Click here to view original web page at www.newsbtc.com
US Fed meeting could be fueling a rise in Bitcoin price
Market may be pricing in a no rate hike in tomorrow's meeting
Bitcoin breaches resistance level on the eve of the meeting
Bitcoin has rallied roughly 7% in June on the back of strong momentum buying and continues to target higher valuations. The cryptocurrency has registered the breakout that we all have been waiting for, and that may cause immense trouble to the short-sellers. However, one interesting observation is that Bitcoin humbled the extreme selling pressure on the eve of US Fed's meeting which is expected to dole out important clues regarding the timing of the much-anticipated interest rate hike.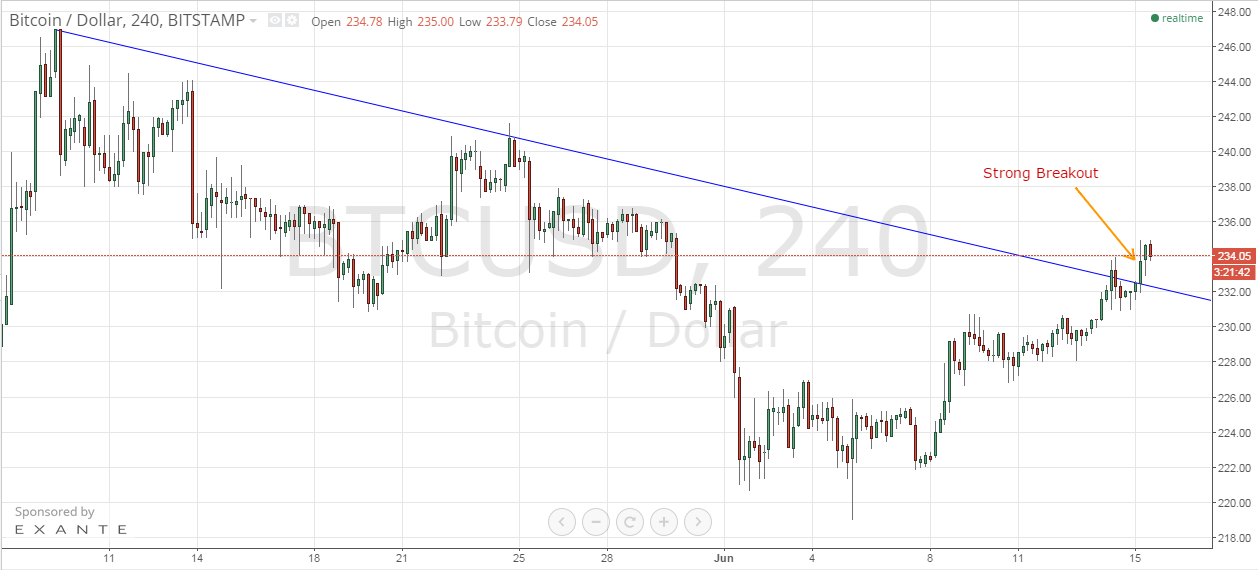 Image: https://www.tradingview.com/x/y18L9ybc/
Why Does Interest Rate Concern Bitcoin?
Interest rates concern all aspects of the economy, including the cryptocurrencies. The interest rates in US have been kept at record lows, to spur the investment cycle and kickstart growth. Low interest rate is generally viewed as an effort by the central bank to infuse more liquidity into the system, and therefore US dollar remained under pressure until the Fed finally announced the end of massive QE program in October last year. Since then, the US Dollar Index has been surging to exorbitant levels pricing in an interest rate hike announcement. When the Fed postpones the hike, dollar weakens versus other major currencies (see the chart below).
Image: https://www.tradingview.com/x/hrSOyH81/
Similarly, investors could be pricing in another "no-action" meeting and, therefore, US dollar is failing to strengthen against other currencies. This significant aspect of US dollar action could be fueling a steady rise in the Bitcoin value.
By the time, the two-day Fed meeting to start from tomorrow concludes, Bitcoin may have advanced significantly more following the same principle. However, if Fed Chair Janet Yellen decides to surprise the market with a rate hike, US dollar may appreciate strongly against other currencies, including Bitcoin.
This is not to say that US Fed meeting is the only trigger for the rally; there may be other positive developments as well! But it would be interesting to watch how Bitcoin performs post the meeting.
Market may be pricing in a no rate hike in tomorrow's meeting
Bitcoin breaches resistance level on the eve of the meeting Bitcoin has rallied roughly 7% in June on the back of strong momentum buying and continues to target higher valuations. The cryptocurrency has registered the breakout that we all have been waiting for , and that may cause immense trouble to […]