Click here to view original web page at www.newsbtc.com
Bitcoin drops 1.59% to $243 as traders book profits
Support of $240 crucial to further gains
Exit longs if the support is breached decisively on volumes
Bitcoin has erased all the gains in the past 24 hours achieved since the breakout. The decline has brought the price down to the crucial support level of $240. Bitcoin's rally to $248 fell short of achieving its primary target of $250.
In my previous analysis, Inches Towards Target!, I had stated of a possibility that Bitcoin may witness severe profit booking as the Greece crisis came to an end, and a crack of $240 might just confirm that.
Bitcoin is trading down 1.59% at $243.05.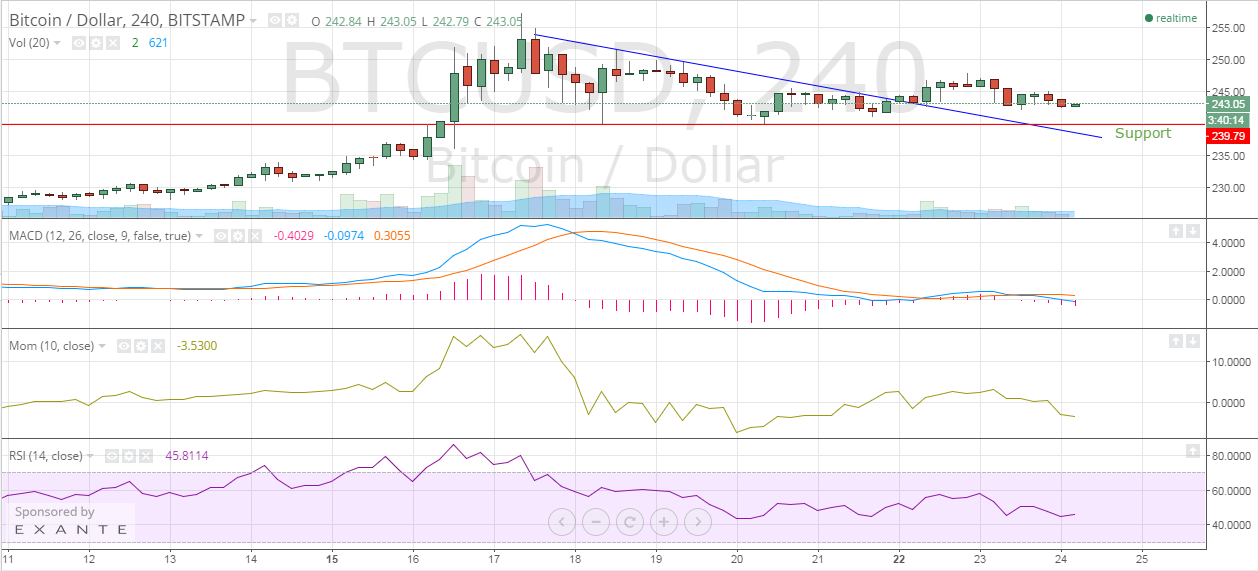 Image: https://www.tradingview.com/x/tdvCYTt3/
Analysis of the 240-minute BTC-USD price chart confirms that bears are increasing the pressure but the final blow will be a decisive, strong on volume breach of $238-240.
Bitcoin Chart Structure – As can be seen from the above chart, Bitcoin struggled to close higher than its previous top of $248, and after repeated failed attempts, bulls gave up. This has also resulted in the liquidation of long positions as well as in the creation of short positions.
Moving Average Convergence Divergence – The declining positive momentum is reflected in the MACD reading as well, which has succumbed under pressure and given up all the gains. The MACD, the Signal Line and the Histogram are currently valued at -0.0974, 0.3055 and -0.4029 respectively.
Momentum – The Momentum indicator has witnessed a significant decline in value, from yesterday's 2.4400 to the current -3.5300.
Relative Strength Index – The latest RSI reading has come in as a shocker for the bulls, having collapsed from 58.1954 to 45.8114.
Conclusion
Bitcoin is looking weak as of now, but, market participants should wait for a support breach before exiting their long positions. Until that holds, Bitcoin may spend some more time at the present levels. Therefore, it is important that the stop-loss be remembered in order to avoid unnecessary losses. Finally, do not resort to impulse trading and wait for the market to give clear signals.
Support of $240 crucial to further gains
Exit longs if the support is breached decisively on volumes Bitcoin has erased all the gains in the past 24 hours achieved since the breakout . The decline has brought the price down to the crucial support level of $240. Bitcoin's rally to $248 fell short of achieving its primary target of $250.In my previous analysis, Inches Towards […]