Click here to view original web page at arstechnica.com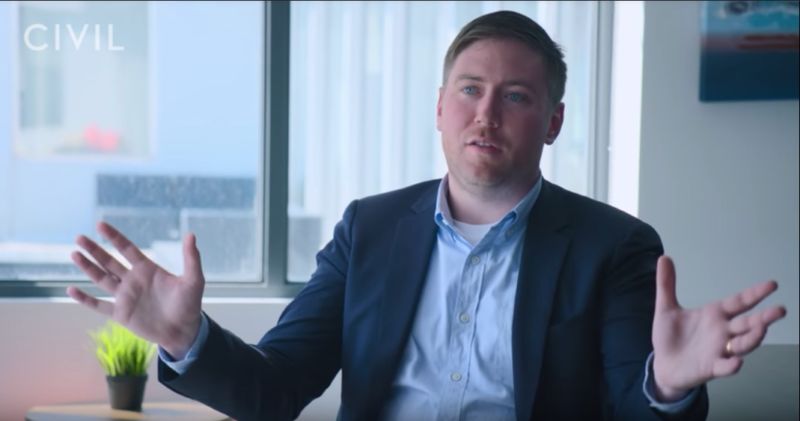 Further Reading
Feds: AriseBank duped investors out of over $4M in cryptocurrency scam
In March 2018, Matthew Iles—the head of Civil, an ambitious blockchain-for-journalism startup—stood in a tiny New York conference room with a few colleagues seated around him. Wearing a peach-colored sweater, Iles looked up at a mounted camera to speak to dozens of colleagues spread around the world about how the future of Civil was looking bright.
"We're feeling very bullish about the value of our tokens as it relates to the value that has been estimated in all of the agreements that we have shared with you guys so far," the CEO said in an internal video recording obtained by Ars.
Civil aims to orchestrate the creation, sale, and management of an Ethereum-based crypto-token, known as CVL, meant to serve as the underpinning of a slew of recently founded ambitious news sites.
"Compared to the $0.75 estimation that we made with each of you and if we do our jobs right and execute the way we would like to, it's looking like we could see a two to four X in that value by the time this token sale is complete, and I think that's exciting for everybody," Iles continued.
But even that $0.75 valuation put the tokens at more than 789 times what was actually listed in a formal filing. That document was marked as a confidential "Restricted Token Agreement" and has been provided to Ars. It cited the "fair market value" of one CVL at "$0.00095 per Token."
Now, months later, in a lengthy phone interview, Iles refused to explain this discrepancy to Ars.
Either way, Civil didn't even get that far. The initial coin offering (ICO) failed, badly. By October 2018, the Civil ICO raised just $1.4 million of a target $8 million. Civil's sole investor, ConsenSys, purchased the overwhelming majority of that investment: $1.1 of the $1.4 million.
Individuals who attempted to purchase CVL tokens had to go through a complex and lengthy series of steps that included online quizzes meant to demonstrate that investors knew what they were getting into. (All the money raised as part of the ICO has been refunded, according to Civil.)
"Victim of fraud"
Now, some within the Civil community have raised significant concerns about the entire premise of the company. Notably, a co-founder, Daniel Sieberg, told Ars that he sees himself as a "victim of fraud" after he was fired in July 2018.
"The fact that they are the people that are touting themselves as some saviors of journalism—the whole thing has reached a point where, as a victim of fraud, seeing this continuing is so insulting," he said, still lamenting the fact that he wasn't as skeptical as he should have been. "Did I, at the time, feel like I didn't know enough about blockchain to the amount that it needed to be evaluated? Yes, I'll take that to my grave."
Jay Cassano, a former reporter at Sludge, a Civil-affiliated site, said that reporters were incentivized to take future salaries based on this $0.75 valuation—forgoing cash in favor of more tokens. But when that failed to materialize, he quit after five months. Since the ICO failed, reporters are now being paid entirely in cash.
"Even if they started with the best of intentions, they have now become bad actors and are willfully deceiving the reporters that work for them and the general public," Cassano said.
On top of all that, Civil's primary funder, ConsenSys, announced earlier this month that it would be cutting 13 percent of its workforce. How exactly this will impact Civil is anyone's guess—but it can't be beneficial.
This March 2018 internal slide from Civil illustrates its planned ICO.

While making this presentation, CEO Matthew Iles told staffers that the company had a "direct line" to the Securities and Exchange Commission. Anonymous

It is not clear whether this allocation of CVL tokens will go forward as planned, given that the sale failed. Anonymous

Civil told staffers it would be the "standard for all accurate information." Anonymous

Civil made some ambitious claims about its future. Anonymous
"It's complicated"
The Civil Media Company, which has existed for over a year now, has touted its bold plan to "power sustainable journalism" via a "decentralized model based on blockchain and cryptoeconomics."
Translated into plain English, that means the company wants to act as an umbrella entity for numerous independent online media outlets that have been operating since June 2018. Those "newsrooms" cover a wide range of topics, ranging from local journalism (Colorado Sun), to national money and politics (Sludge), to marijuana industry news (CannabisWire), and more.
Few of Civil's staff have actual experience as working journalists—it does not employ journalists. (The newsrooms, however, as independent entities, obviously do employ reporters and editors.) CEO Matthew Iles himself studied journalism but told Ars that he would "never call myself a journalist."
He acknowledged that Civil's first stab at creating a blockchain-based solution for journalism was problematic, but he remains confident in the model and vows that Civil will forge ahead.
"It's complicated, and we've over-complicated it," he said.
In a lengthy phone interview, Iles explained that he was driven by an admiration for the profession of journalism and wanted to help develop a new business model to fund and support it. He said he wants to help online media outlets break free of the traditional ad-based model, dependent on Facebook and Google.
"The reason why employees and why people committed to this project want tokens is because we are putting our sweat into this, and we want to grow this network where the value of our network is consistent with our mission, which is a global platform for sustainable journalism," Iles said.
Revenue and constitutions
However, media outlets seek conventional sources of revenue—subscriptions, advertising, branded content—which is hard enough without having to introduce blockchain into this equation.
So, CVL is the theoretical vehicle to achieve those goals. The well-intentioned token is described as "vital to Civil's overall model, as it unlocks two vital business features for newsmakers: self-governance and permanent archiving."
It is not clear exactly what is meant by "unlocking... self-governance"—all news sites, by definition, are self-governing. All such media entities choose what, when, and how to publish. Some even have publicly accessible codes of ethics and other guiding documents.
Civil has also created something similar called the Civil Constitution, which, in many ways, reads like a conventional journalistic code of ethics. However, the Constitution takes it one step further by establishing a "Civil Foundation, with the mission of upholding and advocating for the core values defined in the Civil Constitution."
The Foundation was only formally organized as a Delaware-based non-profit entity in September 2018. It appoints the members of the "Council," the governing body for the entire Civil platform. However, the Council has never met to discuss any substantive issues, according to two members who were granted anonymity by Ars. In fact, by design, the Council—composed mainly of journalism veterans—only convenes when there are disputes, and there have yet to be any.
"I think it's legitimate to ask what happens to that role if the issue is with the Civil business itself," one member said. "[That's n]ot something that's clear to me right now."
The Constitution cannot be ratified without "Token Holders" approving it. Until that happens, its binding power appears largely meaningless.
"Permanent archiving"
With respect to "permanent archiving," supporters often bring up the tale of DNAinfo and Gothamist, the news sites that were temporarily yanked after their founder was upset by staff unionization. But those sites' archives were quickly restored. (In fact, DNAinfo.com redirects to Block Club Chicago, a Civil newsroom.)
Indeed, there are numerous websites that have years' worth of archives that have not been disturbed. Ars' 20 years of archives, for instance, are freely available on our website.
Neither of Civil's two pillars, or "business features," appear to need a blockchain-based token to address them.
"At one point, I thought the model made sense as a way to foster relationships between readers and reporters more directly and cut out wealthy funders of newsrooms as the only model for journalism today," Cassano told Ars. "But over time I realized that Civil was a solution in search of a problem, because we don't need technology to do those things. You look at Civil—they got $2.5 million in funding."
In October 2017, ConsenSys donated $2.5 million in cash to Civil, with an additional $2.5 million in donations of in-kind services, including office space.
"What technology has Civil created with that $5 million?" Cassano added. "As of now there are [over] a dozen WordPress sites that have launched. Did they need $5 million for that?"
Mix of cash and tokens
To be fair, there are Civil-affiliated reporters and editors who are seemingly happy with the current arrangement.
When each Civil newsroom launched, it was given "grants" by the Civil Media Company, consisting of a mix of cash and promised amounts of tokens. Each newsroom could negotiate with Civil to determine what the precise balance would be: more or less cash, along with a corresponding amount of more or fewer tokens.
When Ars asked specifically what the range of possible cash versus token value of the grants was, Iles declined to answer.
"I'm not interested in answering your questions," he said.
Sludge's editor, David Moore, explained to Ars that his publication received a cash grant that was "enough for five full-time reporters to be paid in cash salaries." But he declined to specify an amount.
"We understood that we were building our own company that was going to be supported through membership donations next year," he said. "We're ad-free; we're paywall free. In 2019, we are responsible for our own operations and fundraising. We had a great runway of cash to build Sludge and get our reporting out there. The tokens will be immediately useful to us, and we'll use them as soon as they're available."
Moore also noted that his outlet's "overwhelming primary revenue stream in 2019 will be donations in cash from our supporting members."
The goal of the tokens, he explained, was to enable "microtips." However, this is a relatively old idea in journalism: similar proposals have been around for at least a decade, but none has caught fire.
"We just never counted on them having any monetary value"
Larry Ryckman, the editor of The Colorado Sun, told Ars that he has "never counted on the tokens having any monetary value."
"I felt that Civil was very direct and upfront with us from the beginning," he continued. "We had an option of taking 100 percent of our money in dollars or tokens or some combination. Starting a business was risky enough without taking on cryptocurrency. We decided to take on 100 percent dollars."
However, Iles told Ars that none of the newsrooms has outright refused. "No one's ever asked to not take tokens," he said.
When Ars pointed out to Iles what Ryckman had told us—that the Sun had indeed declined tokens as part of its initial grant—Iles insisted that this was incorrect. The Colorado Sun's top editor later clarified by email that the Sun "will receive tokens."
"We just never counted on them having any monetary value," Ryckman reiterated. "We focused on how many dollars we would need to get started."
For his part, Iles maintained that the tokens are simply meant to "represent ownership" of the community.
"If we allowed for this token to be moving around without any attachment to value, then the whole thing would fly apart, then it wouldn't work," he said.
"The reason why the token has any value at all is that it's needed to access the platform. That should be the only reason why it should go up over time is that there is demand to be on the network. It's designed that that's the only thing that's driving its value. The reason why employees and why people committed to this project want tokens is because we are putting our sweat into this, and we want to grow this network where the value of our network is consistent with our mission, which is a global platform for sustainable journalism."
A security by any other name
But let's get back to the March 2018 meeting where we started and Civil's supposed $0.75 valuation.
In the meeting, Iles told staffers that Civil had a "direct line of access to the SEC [the US Securities and Exchange Commission]." He went further and declared that Civil has been "in discussion with them [the SEC] about how the Civil token is not a security but is, in fact, a software license to allow people to operate our governance mechanism and, as such, should be viewed as a new asset."
Civil would not provide the legal analysis that led to this determination. The SEC declined to comment.
"Civil has benefited from extensive expert legal advice regarding the design and sale of our token, which has given us confidence in moving forward with our plans in the current regulatory environment," Matt Coolidge, a Civil co-founder and the head of marketing, emailed Ars.
"We have had no direct contact with the SEC. The full explanation behind our consumer token framework can be reviewed at The Brooklyn Project," he continued, referring to the legal and regulatory arm of ConsenSys.
"We have no further comment about this topic, and instead refer you to The Brooklyn Project for any specific questions on this front."
Ars contacted Patrick Berarducci, ConsenSys' deputy general counsel, and the co-chair of The Brooklyn Project, who did not respond.
So how did Civil come up with $0.75? When Ars asked, Iles declined to provide Ars with a mathematical formula.
"To determine an initial fair market value, Civil set a soft cap and hard cap for its token sale—essentially delegating the determination of the starting price to whatever demand we could generate from the general public for our token," he wrote by email.
"There were several factors that went into setting these parameters, such as market conditions and perceived demand, but again, the goal wasn't to get the parameters 'just right' but instead to allow the market to determine the fair price."
Predicting prices
Adam Ettinger, a California attorney who focuses on blockchain asset regulation, told Ars that it is difficult for new companies like this to appropriately assign a value to a new token.
"The valuation models for tokens are only recently created," he told Ars. "They haven't been battle tested over the course of decades. It becomes more challenging for companies to provide a valuation that can be completely defended. That said, they have to do it."
For his part, Ettinger said he would "not encourage" companies to forecast a specific stock price, much less a specific token price.
"Are there investors that already signed agreements that said 'we agree that we would like to buy them at $0.75 apiece?'" he added. "That would be a very important data point in figuring out what the valuation is."
Companies like Civil appear to be taking advantage of a provision in American finance law that allows some crypto-tokens to be considered by the Securities and Exchange Commission as a formal "security," while others are not.
Tokens formally labelled a security are required to have certain financial disclosure statements filed with the agency. For now, the SEC has come down hard against some hyped crypto products, including AriseBank and Centra, among others, that were determined to be securities.
"While these digital assets and the technology behind them may present a new and efficient means for carrying out financial transactions, they also bring increased risk of fraud and manipulation, because the markets for these assets are less regulated than traditional capital markets," the SEC warns on its own website.
"Simply code"
In a June 2018 speech in San Francisco, William H. Hinman, the director of the Division of Corporation Finance at the SEC, underscored that not all "digital assets" are necessarily securities.
"The digital asset itself is simply code," he said. "But the way it is sold—as part of an investment; to non-users; by promoters to develop the enterprise—can be and, in that context, most often is, a security—because it evidences an investment contract. And regulating these transactions as securities transactions makes sense."
At least publicly, the SEC and the Federal Trade Commission do not appear to be investigating Civil. A Freedom of Information Act request submitted by Ars to both agencies seeking documents about Civil returned no responsive documents.
Despite the setbacks, Iles and his colleagues are ready to keep going as long as they can. But the road ahead is a little less certain.
"We're a startup that hasn't even figured out how to launch its first suite of products," Iles admitted.
Feds: AriseBank duped investors out of over $4M in cryptocurrency scam
In […]