Click here to view original web page at www.newsbtc.com
Bitcoin price up 3.6 percent, finding support from breakout levels
Jack Dorsey is accumulating BTC, buys $10k worth every week
Current transaction levels low but up from early Feb 2019
High net-worth individuals, it seems, are ramping up at current spot levels. Down 75 percent from 2017 highs, Bitcoin is available at a discount. As interest pick up, the resulting demand could push prices above $4,500.
Bitcoin Price Analysis
Fundamentals
Like every new tech, trailblazing luminaries are often early adopters. It may be ten years since Satoshi Nakamoto rolled out Bitcoin. As China and the US try to reach consensus on what to concede as part of their agreement, Jack Dorsey, the CEO of both Twitter and Square—multi-billion-dollar firm, is once again showing the world his unwavering support for Bitcoin.
He's not only talking but sinking money, partaking in infrastructure development necessary to take Bitcoin to the next level. Although there are no official comments from Twitter on whether the social media platform will make Tippin.me an inbuilt feature, what we do know is that Jack is accumulating and confident of price.
NewsBTC reported that the tech leader is funneling $10,000 every week buying Bitcoin at current discount levels.
Candlestick Arrangement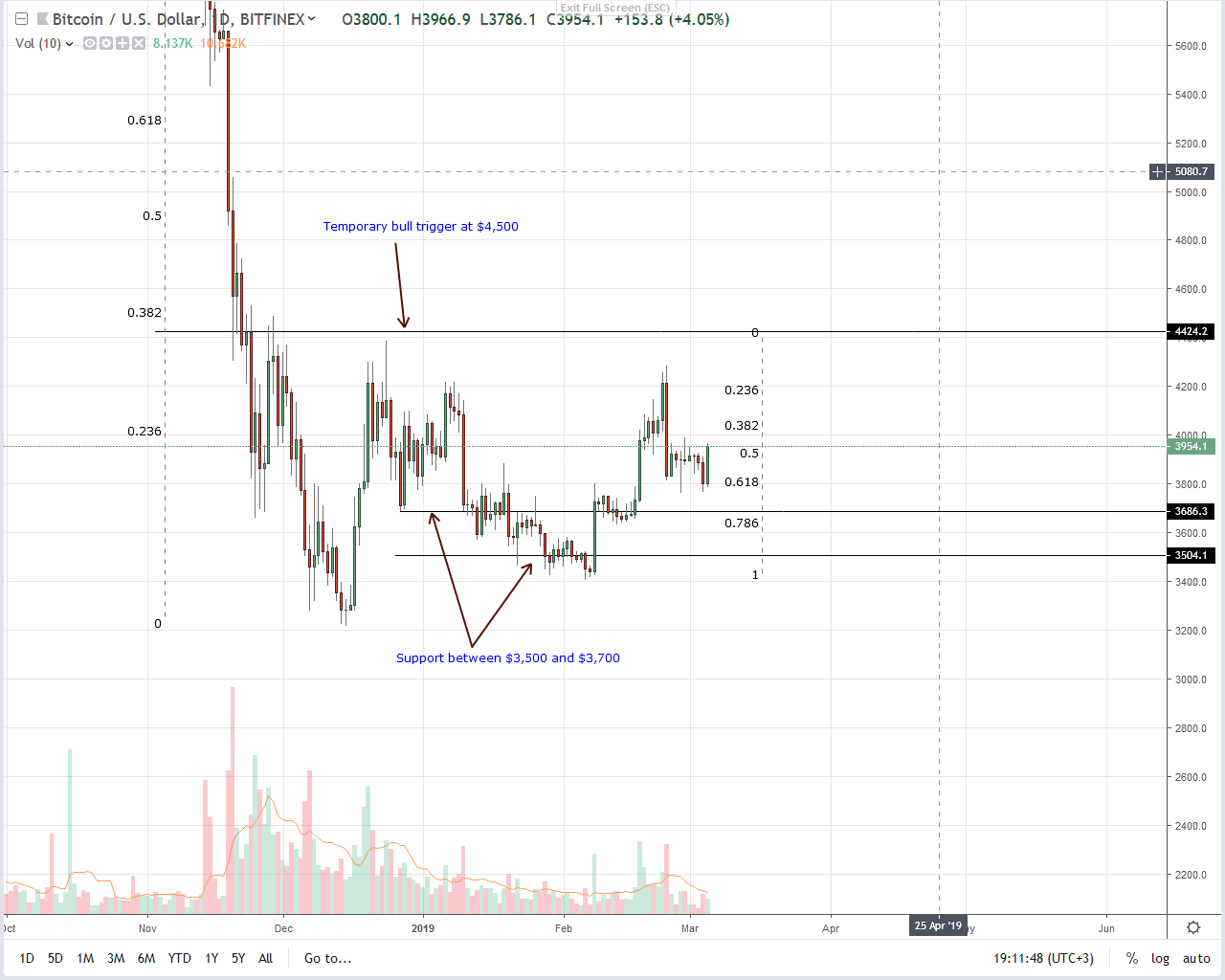 At spot rates, Bitcoin is up 3.6 percent from yesterday's close. If anything, this is bullish and cements our long-standing view that Bitcoin (BTC) is technically bullish, only recessing in the last few days.
Even so, risk-averse traders ought to be in the sidelines until after prices rally above $4,500. Supporting and confirming this outlook should be a spike in market participation levels. Preferably, the first leg up confirming bulls of Feb 24 should completely engulf and reverse losses of Feb 24.
Generally, Bitcoin is moving within a consolidation, and as long as the aggressive type of traders can buy on dips, we should note that $3,800 is reliable support.
On top of that, price action is trading within a bullish breakout pattern with floors at $3,800 and a $1000 range with conservative buy triggers at Dec 2018 highs of $4,500.
Technical Indicators
Our Bitcoin (BTC) analysis anchors on Feb 18 and Feb 24 bars. They counter each other with equally high transaction volumes. Since we are in an uptrend, trend resumption will only print out once prices rally reversing Feb 24 bears. Accompanying this upswing should be high transaction volumes registering above 40k.
Tags: bitcoin, btc, Jack Dorsey
Jack Dorsey is accumulating BTC, buys $10k worth every week
Current transaction levels low but up from […]