Click here to view original web page at www.prweb.com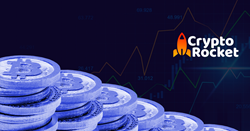 One of 2019's fastest growing brokers, Cryptorocket aims to cater on the next generation of trading by focusing on cryptocurrency convenience for its users and the new generation of mobile-oriented traders. Cryptorocket has just added an innovative Bitcoin Vault to its system that allows users to retain their Bitcoin in a BIT format. With the price of Bitcoin growing to $10k and reaching new highs in 2019 this excellent vault capability allows traders to trade on ultra low spreads while keeping their BTC in non FIAT format which allows users to profit from the massive growth in BTC price in 2019.
A Modern Customer Service First Approach
The traditional broker model has simply not kept up with the demands of the modern Forex and Cryptocurrency trading market, there is a greater focus on user churn and a move towards cost cutting measures which harm the on demand, modern trader. One of Cryptorocket's key offerings is a 24/7 live chat customer service staffed by native English speakers to answer questions from the simple to the complex in minutes. When other companies like IC Markets are slashing support capabilities and moving offshore in moves widely seen as shirking responsibility to consumers, Cryptorocket focuses on filling the void in customer experience by putting the consumer first, focusing on Customer Service capabilities and better spreads, and catering towards Bitcoin first and foremost.
BIT vault capabilities as well as USD balances
BIT is a designation of 1 millionth of a BTC, for instance 10,000 BIT is the equivalent to 0.01 BTC. Users can deposit using debit and credit card with Cryptorocket's payment partner to purchase Bitcoin from directly inside the web application, or deposit Bitcoin directly to utilise the trading platform. This great feature means that when the BTC price is soaring as it has begun to do so in 2019, reaching $11k in June, users who are actively trading in BIT would experience a real value increase upon withdrawal in keeping with the increased BTC value. With other brokers they would lock in the USD value and miss out on the opportunistic price increases, needing to convert back to BTC at the retained USD value to withdraw. Conversely Cryptorocket also allows users to flip to the USD value to lock in their current market value when BTC pricing drops. So a user could feasibly deposit when the BTC price is worth $10k and ride the price increase to $11k USD. Then as the price dropped a Cryptorocket user could convert it to a USD balance, and retain the $11k USD even when the BTC price drops again to $10k, only to convert back to BTC with the retained $11k allowing them to net $1k in earnings just from account switching on the fly. No other broker allows this capability in the industry yet.
Leverage capabilities with Cryptorocket
Users trading the 30 crypto pairs that Cryptorocket currently has on offer are able to trade 24 hours a day 7 days a week with a leverage of 100 to 1, and Forex pairs with leverage up to 500 to 1 24 hours a day and 5 days a week. The ultra-low spreads make it an industry leader and with all of this customer centric value packed into one broker it is now wonder Cryptorocket is growing rapidly in 2019.