Click here to view original web page at developer.samsung.com
Samsung Blockchain SDK, which will be released within this year, brings developers and consumers to the blockchain world by providing a full set of functions that the Decentralized App (DApp) or Blockchain App needs. The SDK helps developers to manage blockchain accounts easily and to make a transaction easier by abstracted transfer APIs for each type of coins. The SDK offers a payment gateway for cryptocurrency remittance with its UI. To use this payment solution, DApp needs a hardware wallet. With this, Samsung Blockchain SDK links users not only to the Samsung KeyStore but also to some other external cold wallets as well.
※ Features can be changed without notice at the time of Samsung Blockchain SDK final disclosure (applied throughout the entire this document)
The Samsung Blockchain SDK allows:
Generation, storage, management of accounts

Restore all valid accounts following BIP-44 and BIP-32

The facilitation of a payment activity showing information to be signed and ensuring that authorization of digital signatures for purchases is done by secured cold wallet with the internal hardware wallet interface of Blockchain SDK.

Enablement of cold wallets like Samsung KeyStore or other external cold wallets. (Currently 1 device is allowed at an instance)

Creation of transaction and returning the result of transfer to a blockchain node (tx ID)

Developers' mode: set your own HD path and restore customized HD-wallet, get/set RPC
If you are a partner with Samsung, the additional features are available:
Blockchain specialized browser (Android WebView provider) for web DApps; Samsung Blockchain SDK catches blockchain transaction and popups a payment sheet

The facilitation of getting transaction history by Samsung Blockchain Proxy Node's off the chain database
Currently, there are 2 types of SDKs: Samsung Blockchain SDK and Samsung Blockchain KeyStore SDK. Samsung Blockchain SDK includes most of sub-SDKs' functions and will be released by the end of 2019. Meanwhile, Samsung Blockchain KeyStore SDK is focused on key storage and it is available now. Click here for more details.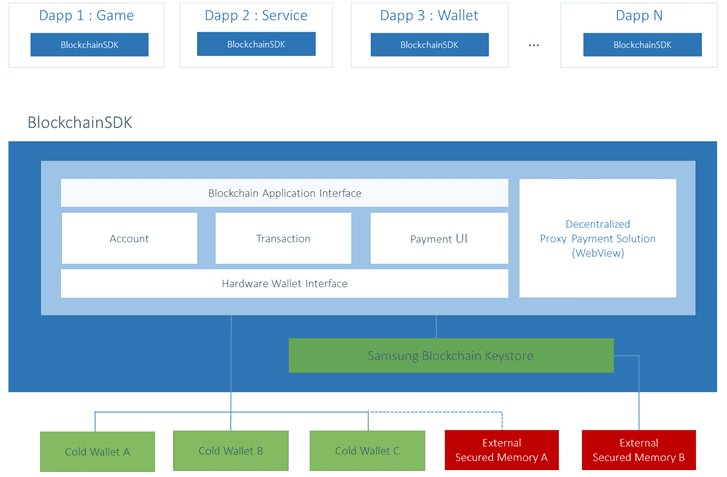 FAQ
Restrictions
The following restrictions:
Devices : Galaxy S10e, S10, S10+, S10 5G and the Galaxy Fold

Regions : Canada, South Korea and the United States of America

Blockchain Platform(s): Ethereum