Click here to view original web page at tokenpost.com

Crypto startup temtum has announced that it has used the British government-backed coin maker Royal Mint for issuing its cryptocurrency, temtum (TEM), according to a press release published on The Merkle.
As per the announcement, the financial institution will serve as the home of the temtum genesis private keys and currency reserve. Richard Dennis, temtum founder and CEO, worked within the Royal Mint to store the cryptocurrency's private keys in its vault and create its genesis block.
"There should be no gimmicks or shortcuts when it comes to security and we see working directly from the home of the UK's creation of coins over the last 1000 years, as the only place suitable for the launch of a new currency that we believe will have a significant value globally in the years to come," Dennis said.
Be your own voice. Start your own newspaper now.
At 2pm BST founder of @wearetemtum Richard Dennis arrived at the Royal Mint London to begin the formation of the genesis $TEM private keys.

These keys will be forever stored in the vault of the Royal Mint, a worlds first for a #cryptocurrency to be minted and secured this way. pic.twitter.com/GnC24cBCRU

— temtum (@wearetemtum) July 11, 2019
In addition, the company also introduced the Temporal blockchain, on which all transaction data of temtum will be written. The patented technology, which has been developed for 5 years, is said to surpass market-leading finance products, including VISA, Bitcoin, and Nano.
"Our technology goes much further than simply making our code open source, our code has been tested and approved by Crest approved agency BSI, so you don't need to be a cryptographer to know temtum is secure," Dennis added.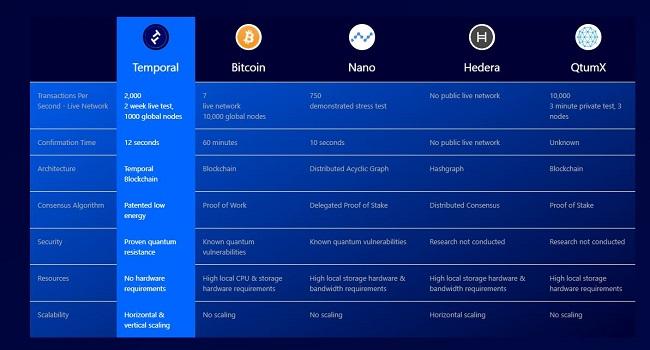 The firm also announced its agreement with Hong Kong-based cryptocurrency exchange CoinAll, where TEM tokens can be bought, traded and used worldwide.
"We're excited to be working with temtum on the release of the TEM currency, it's a cryptocurrency like no other and perfectly suited as the first on CoinAll Super Project, a distribution mechanism rather than a funding vehicle. Projects with a custom blockchain at the strength of Temporal, combined with a fully working network and backed by such a strong group of individuals, do not come around often," a spokesperson from CoinAll said.
Described as a "new, lightweight, peer-to-peer cryptocurrency where anyone can support the Temporal Blockchain network, creating a new world of financial freedom away from centralised institutions," temtum is expected to go live on July 17. As per its white paper, the new coin boasts of a block confirmation speed of 12 seconds and mined at a rate of five blocks per minute.
The announcement comes as several crypto exchanges are starting to offer non-custodial crypto management platform. For instance, ShapeShift aims to provide services similar to custodians like Coinbase but without custody, meaning the users control their keys.
Online investment platform BnkToTheFuture also recently acquired Altcoin.io to build a compliant non-custodial security token exchange.
[The article is not intended to be an endorsement of cryptocurrency and does not constitute investment advice.]