Click here to view original web page at siliconangle.com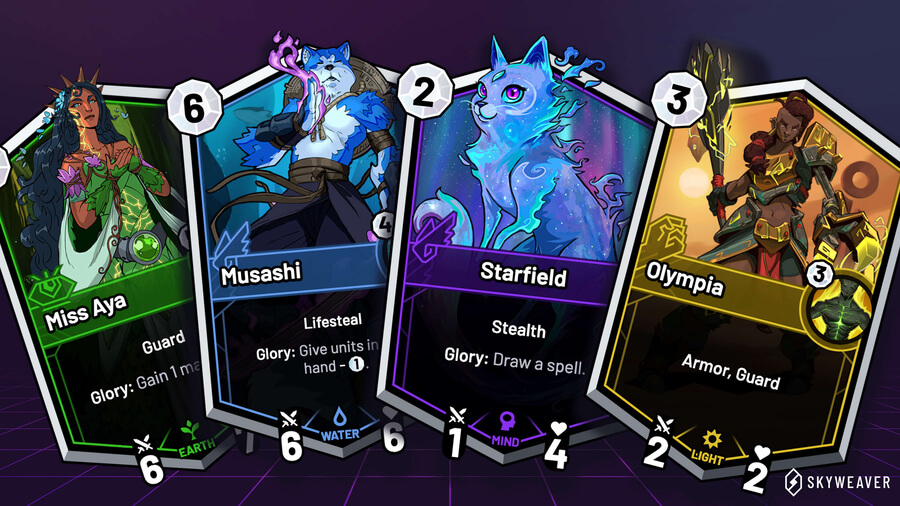 Horizon Blockchain Games Inc., video game studio and blockchain distributed ledger infrastructure company, announced today a seed round of $3.75 million led by Reddit co-founder Alexis Ohanian's venture fund.
This seed funding follows a global trend of blockchain technology being sought by companies to create secure digital assets that mimic real-life physical items. In this case, the virtual items are collectible and tradable cards for Horizon's online game "SkyWeaver."
The game is currently in private testing and the objective is to prove the value and capability of Horizon's blockchain system to provide a secure platform for minting, issuing, owning and trading the virtual playing cards.
Using its own blockchain infrastructure and the Ethereum public blockchain, virtual trading cards in "SkyWeaver" can be minted in limited runs and retain actual rarity, players can also prove ownership of specific cards and securely verify trades with other users.
"Blockchain technology has given rise to the next generation of the Web: the Internet of value," said Peter Kieltyka, co-founder and chief executive of Horizon. "This new Web marks the transition from applications as networks to applications as economies that share and exchange value with their users and co-creators, providing revenue sharing at a protocol level."
Because the digital cards can be provably owned and traded, this provides them a value similar to physical counterparts used in trading card games with printed cards.
This tradability is the basis of numerous internal community economies for games such as "Magic: The Gathering" a wildly popular trading card game introduced in 1993. Cards such as a first edition "Black Lotus," with artwork by Christopher Rush, in good condition, have been seen offered for sale for as much as $20,000.
According to Horizon, "SkyWeaver" blends the best aspects of online and physical trading cards and is designed to be accessible to both casual and competitive players. Players will be able to purchase cards in booster decks, compete in tournaments and win cards out of games that will become part of their virtual, blockchain-secured decks.
The players will then be able to play with, trade, gift or sell their cards on the Ethereum blockchain network for real-world value.
"At Horizon, we're passionate about giving games blockchain super-powers by offering our players the freedom to own and trade their digital items across an open Internet," said Kieltyka.
The game is expected to launch with cross-platform play – as a web-based game, it can run in almost any browser – and will debut with more than 300 unique cards of varying rarity.
"I cannot wait for people to play 'SkyWeaver,'" said Reddit co-founder Alexis Ohanian. "It's a brand-new gaming experience that resurrects all the fun of childhood collectible card games — in a browser — and with the ability to trade cards just like in the old days."
Horizon's "SkyWeaver" follows a trend of virtual trading card games taking advantage of the proof of ownership provided by blockchain technology. In 2016, the blockchain card game "Spells of Genesis" from EverdreamSoft SA launched with its own set of tradable cards on iOS and Android and earlier this month "Gods Unchained" from Fuel Games launched its own beta.
The cards from both of these example games can be traded in blockchain digital asset marketplaces between players and, due to rarity and card popularity, have real-world value. Blockchain technology has also been used to allow tradable digital assets from within video games, such as explored by cross-game marketplace DMarket and Gamania Group's blockchain-based virtual item trading infrastructure.
Ohanian's venture fund was joined by investors from Golden Ventures Partners Inc., Polychain Capital LP, Coinbase Inc., Digital Currency Group and Inovia Capital in this seed round.
"SkyWeaver" is expected to launch its public beta in Fall 2019.
Image: Horizon
Cisco Multicloud Showcase
Kip Compton of Cisco Cloud explains how customers are extending into the cloud.
reply Share Now Playinghelp_outlineThis will share the currently playing clip.reply Share This Cliplist
Cisco Sponsored Videos - Powered by @theCUBE Interviews and Cisco Experts. Check out the Cisco Multicloud Showcase Content
skip_previous Play full video for cliphelp_outlineThe clip you are watching is a highlight of a full-length video. Click to watch the full video from the beginning.
00:44Kip Compton of Cisco Cloud explains how customers are extending into the cloud.Playing
01:07Kaustubh Das goes into what the Cisco and Google partnership will mean for customers.Up Next
00:30Fabio Gori of Cisco shares his excitement over multicloud and how it will continue to be an important development in years to come.
00:42Kip Compton lays out the expanding relationship with Google and what it means for customers.
01:31Fabio Gori of Cisco explains the underlying shifts in the cloud architectural model.
02:14Kaustubh Das on the importance of Cisco's #Networking, #Security, and Data Center portfolio as a critical enabler of their multicloud/hybrid cloud #collaboration with @GoogleCloud.
01:32Fabio Gori of Cisco stresses that simplification is critical as technologies increase in complexity.
01:19Sachin Gupta of Cisco's Enterprise Networking Business states how SD-WAN enables the multicloud.
00:57Wendy Mars of Cisco reveals some of the regional characteristics in Europe concerning moving into the cloud and multicloud.
01:07Dave Cope of Cisco on multicloud management challenges.
00:39John Apostolopoulos of Cisco Innovation Labs gives an example of how ML helps in multicloud.
01:04Automation can help make complex multicloud solutions simpler and more customized.
01:23Dr. Thomas Scherer explains how Telindus Luxembourg is approaching the multicloud.
01:33Fabio Gori, Senior Director of Cloud Solution Marketing at @Cisco on multicloud agility in network management.
01:49Dave Cope of Cisco and Dr. Thomas Scherer of Telindus Luxembourg converse on Cisco's ability to manage multicloud data environments.
01:07Ron Sterbenz of Cisco lays out the conversations he has with customers around multicloud.
00:32David Stanford of Cisco on what is needed from a customer to have a successful partnership.
01:34Dave Cope of Cisco shares some of the innovations in the CloudCenter Suite 5.0.
01:05David Stanford of Cisco shares some changes in customer interaction.
00:57Wendy Mars of Cisco reveals some of the regional characteristics in Europe concerning moving into the cloud and multicloud.
01:19Sachin Gupta of Cisco's Enterprise Networking Business states how SD-WAN enables the multicloud.
00:50Dave Cope, Sr Director of Market Development at Cisco Cloud Platform & Solutions Group, gives perspective on the whole of the cloud.
01:54Wayne Ogozaly, Cisco, describes a complex multicloud business model that challenges service providers
02:05Fabio Gori summarizes Cisco's customer-centric approach to hybrid and multicloud
01:33Fabio Gori, Senior Director of Cloud Solution Marketing at @Cisco on multicloud agility in network management.
00:42Ron Sterbenz of Cisco speaks on the rise of Kubernetes and what Cisco is doing in this space.
00:44Zack Kielich on treating Kubernetes as a container cloud
00:59Fabio Gori from #Cisco discusses the Linchpin of the First Hybrid Solution for #Kubernetes on #AWS
01:48SponsoredHow the Cloud and the Network changed the #Cisco's ecosystem - Kip Compton explains on @theCUBE
00:35Fabio Gori on the Importance of the #Cisco First Hybrid Solution for #Kubernetes on #AWS
01:13Is #Kubernetes the secret sauce for #multicloud? Todd Brannon @tobranno of Cisco weights in with @furrier @stu on @theCUBE at #CLEUR
03:41Cisco doing co-creation from #cloudnative to #IoT @furrier and @malegaonkar discuss impact #kubernetes and tech have on market on @theCUBE at #CLEUR
02:16Cisco and Google's shared vision for multi-cloud with Kubernetes and Istio
01:10SponsoredSusie Wee on leveraging cloud capabilities on premise
00:41#Kubernetes developers don't want to deal with infrastructure & YAML so Cisco is solving this problem says @kurtmilne
01:00How Cisco complements AWS
00:50Kubernetes containers and multicloud all powering Cisco's strategy for programmable network operations
00:35Fabio Gori on the Importance of the #Cisco First Hybrid Solution for #Kubernetes on #AWS
01:34Fabio Gori discusses why #Cisco's new Hybrid Solution is attractive to #Amazon
01:48How the Cloud and the Network changed the #Cisco's ecosystem - Kip Compton explains on @theCUBE
01:23Lew Tucker states that Kubernetes will be a Key Component to Ensure easier System Integration and Consumption.
01:10SponsoredSusie Wee on leveraging cloud capabilities on premise
00:57The Rise of Kubernetes reminds us of the Java Days as we're going after Portability of Apps. Lew Tucker of Cisco Explains.
02:13Fabio Gori explains on @theCUBE with @furrier that Cisco's North Star is about taking the best #innovation of the #publiccloud to #onprem
01:48SponsoredSachin Gupta talks the root level of the networks
00:59Lew Tucker, VP and CTO, Cloud Computing at Cisco discusses the Impact and Issues of AI.
00:55SponsoredGoogle Cisco have #multicloud affinity with #Kubernetes says Zack Kielich @zackomatic
01:15Dave Cope and Kip Compton of @Cisco discuss Customer Challenges with John Furrier and Lauren Cooney.
01:28Kip Compton on how #Security is very much "stitched" into everything @Cisco does.
01:25Dave Cope, Sr. Dir. of CloudCenter Market Development for @Cisco shares #Hybrid Solution Use Cases on #theCUBE.
00:35Fabio Gori on the Importance of the #Cisco First Hybrid Solution for #Kubernetes on #AWS
01:48How the Cloud and the Network changed the #Cisco's ecosystem - Kip Compton explains on @theCUBE
00:44Fabio Gori explains the new #Cisco Solution developed in collaboration with #AWS
01:19Kip Compton, SVP Cloud Platform and Solutions Group discusses Cisco's latest AWS partnership with @Furrier on #theCube.
01:13SponsoredIs #Kubernetes the secret sauce for #multicloud? Todd Brannon @tobranno of Cisco weights in with @furrier @stu on @theCUBE at #CLEUR
01:28Kip Compton on how #Security is very much "stitched" into everything @Cisco does.
01:26SponsoredWhy the network is more important with #Kubernetes @furrier @susiewee discuss
01:02The ideal System #Architecture - Kip Compton @Cisco sees a shift towards Accelerating #Innovation instead of Minimizing Cost.
00:59Fabio Gori from #Cisco discusses the Linchpin of the First Hybrid Solution for #Kubernetes on #AWS
00:44SponsoredZack Kielich on treating Kubernetes as a container cloud
00:44Fabio Gori explains the new #Cisco Solution developed in collaboration with #AWS
00:50Sponsored#Kubernetes & containers are creating new use cases so more demand on #devops Infrastructure as Code
02:16SponsoredCisco and Google's shared vision for multi-cloud with Kubernetes and Istio
03:41SponsoredCisco doing co-creation from #cloudnative to #IoT @furrier and @malegaonkar discuss impact #kubernetes and tech have on market on @theCUBE at #CLEUR
01:02SponsoredLightweight containers are changing the game DevOps
01:59Sponsored@PureStorage on New Workloads, #Data-Driven, and #MachieneIntelligence
00:48SponsoredKurt Milne on fixing the "no one want's to write YAML" issue
01:20SponsoredOverview of the partnership between Cisco and Google
00:41Sponsored#Kubernetes developers don't want to deal with infrastructure & YAML so Cisco is solving this problem says @kurtmilne
chevron_leftchevron_right