Click here to view original web page at coingeek.com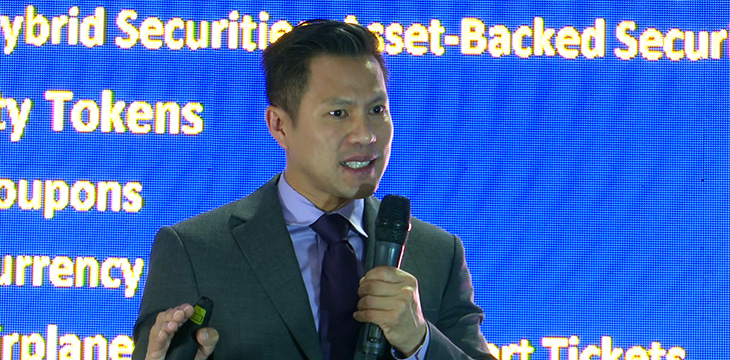 Jimmy Nguyen, the president of the Bitcoin Association, traveled recently to Colombia in order to spread the word on Bitcoin SV (BSV) and how Bitcoin is changing commerce. During one presentation, he went into great detail about the superior strengths of the BSV blockchain, but took things even further, explaining the different ways that using the network can lead to money-making activity. He added that speculation, which is currently the main reason a lot of people have turned to Bitcoin Core (BTC), should be secondary – Bitcoin was created to be used as currency the same way fiat is used. The one major distinction is that using BSV can actually put more money into the consumer's pocket.
BSV development is being driven by four fundamental principles. It is designed to be stable, scalable, secure and to offer safe instant transactions (7:14). This is being facilitated, in part, by the introduction of bigger blocks, which help big businesses create on the blockchain.
Bitcoin Core (BTC) can only handle three transactions per second (tps) or a maximum of 7tps. This pales in comparison to what Visa handles, which is 2,000tps and up to 56,000tps during peak times. BTC has reached up to 50,000 transactions that had to wait in a cue to be confirmed, which increases transaction prices and delays payment processes. On May 29, BTC fees were as much as $4.35.
The upcoming upgrade scheduled for this week for BSV will raise the block size cap to 2GB and, next year, the Genesis upgrade will completely remove the cap. This means, at a block size of 2GB, BSV will be able to handle from five million to eight million transactions and up to 14,036tps. (15:53) Terabyte-blocks coming with up to seven million tps. This is real value – not speculative.
The current cost of a BSV transaction is much lower than it is with BTC. On June 20, the average BSV transaction fee was under 1/5 of $0.01 – approximately $0.0017. This is the way it is supposed to be – easy and cheap, making a legitimate fiat alternative that can be used as currency. (17:58)
Lower transaction fees means more money remains in the pocket of the consumer. Instead of spending $10-$15 on an international money transfer, the cost is less than one penny. It also makes it easier to participate in eCommerce. There's an increase in the ability to earn micropayments, which isn't possible with a transaction fee of $3-$4 as is seen with BTC. Blog posts, video content, in-game items in video games, social media interactions can all generate revenue streams. The Fivebucks marketplace is a perfect example of a global consumer-driven platform that allows anyone to sell virtually anything and be paid in BSV.
Nguyen concludes, "I'm amazed every day … about the creativity of developers and businesses and young entrepreneurs who have started working on BSV to come up with ideas… More are coming… Earning, sharing, trading, creating more financial power for themselves and changing the world as we know it for the better."
Note: Tokens on the Bitcoin Core (SegWit) chain are referenced as SegWitCoin BTC coins. Altcoins, which value privacy, anonymity, and distance from government intervention, are referenced as dark coins.
Bitcoin Satoshi Vision (BSV) is today the only Bitcoin project that follows the original Satoshi Nakamoto whitepaper, and that follows the original Satoshi protocol and design. BSV is the only public blockchain that maintains the original vision for Bitcoin and will massively scale to become the world's new money and enterprise blockchain.
We were unable to load Disqus. If you are a moderator please see our troubleshooting guide.

Start the discussion…
⬇ Drag and drop your images here to upload them.
GIF
Log in with
or sign up with Disqus or pick a name
Disqus is a discussion network
Disqus never moderates or censors. The rules on this community are its own.
Don't be a jerk or do anything illegal. Everything is easier that way.
Read full terms and conditions
Please access our Privacy Policy to learn what personal data Disqus collects and your choices about how it is used. All users of our service are also subject to our Terms of Service.
Be the first to comment.
Also on coingeek
SECURITY WARNING: Please treat the URL above as you would your password and do not share it with anyone. See the Facebook Help Center for more information.