Click here to view original web page at siliconangle.com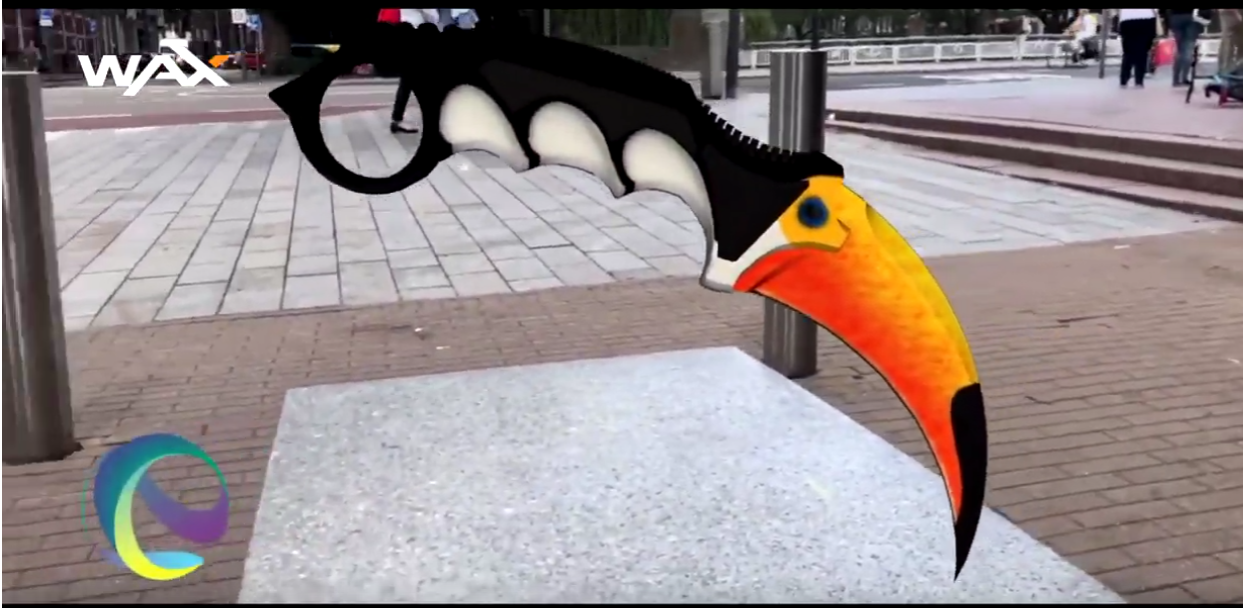 Immersive virtual and augmented reality entertainment platform Terra Virtua today announced a partnership with WAX Worldwide Asset Exchange, a blockchain distributed ledger capable of recording the trades of virtual assets.
The integration of the WAX blockchain with Terra Virtua will allow developers for the platform to provide customers with the ability to view, buy, sell and trade virtual items — such as collectables, characters, clothing, weapons, furniture and other things that could appear in games.
The AR/VR consumer market is currently expanding rapidly and represent a significant part of the $26.7 billion global market in 2018, which is predicted to reach $814.7 billion in 2025 according to Zion Market Research.
Starting today, AR users can download the Terra Virtua app for Android devices on the Google Play store and connect a WAX account.
From there, Terra Virtua will read the user's WAX inventory and then users can select which WAX collectables they own to interact with in the app. Users can then share videos and photos of these blockchain-based items in their AR environment on social media.
For example, although the demonstration is simplistic, this means that a user could decorate their own office or living room with WAX collectables — virtual artwork for the walls, character action figures, statues, etc. — and then use that to take a picture and send it to friends.
Currently the first type of collectables integrated into Terra Virtua are skins from VGO, one of the largest decentralized trading marketplaces for video game skins in the world.
In a video game, a skin is a piece of artwork that changes the appearance of a character or object. A skin can change things such as hair color, eye color, face and clothing. It is essentially artwork that goes over the 3-D mesh model of a virtual object. Skins are often used by game developers as a way to allow players to customize the appearance of their characters, equipment and even housing. More importantly, skins are a common part of the microtransaction economy used by developers to make money off their games.
WAX was built by the team behind OPskins Group Inc., a major virtual item marketplace that has facilitated the trade of more than 150 million purchases of digital collectables. OPskins.com has also made news in the past for partnering with BitPay Inc. in 2016 to accept bitcoin, a blockchain-based cryptocurrency for weapon skins from the video game shooter "Counter-Strike."
In the near future, WAX intends to add even more categories of virtual items to its collectable database such as vIRLS — a virtual item that can be exchanged for a real world merchandise such as sneakers, apparel, video game gear and more — stickers, digital art and more.
A Terra Virtua VR app is also being developed for release, which will allow users to interact with WAX digital items in virtual reality, including VGO skins and vIRL items.
The company also says that it will soon release an iOS app alongside the current Android app.
Virtual items mesh nicely with blockchain technology, which makes it possible to control ownership of a virtual asset. Normally, a virtual item is just represented by a row in a database, something that can be changed at the whim of a developer or host — but with a blockchain, the asset itself is controlled by cryptographic keys held by the owner and only when it is transferred to a new owner do those keys change.
As a result, virtual item marketplaces have explored the use of blockchain technology to secure the purchase, sale and trade of virtual assets.
Examples include the cross-game virtual item marketplace DMarket and Gamania Group's marketplace for game developers in Taiwan. Collectible card games also work well with blockchains, for the same reasons, with Horizon Blockchain Games Inc. raising $3.5 million in seed funding for virtual trading cards and "Spells of Genesis" from EverdreamSoft SA which launched in 2016.
Image: Terra Virtua
Cisco Multicloud Showcase
Kip Compton of Cisco Cloud explains how customers are extending into the cloud.
reply Share Now Playinghelp_outlineThis will share the currently playing clip.reply Share This Cliplist
Cisco Sponsored Videos - Powered by @theCUBE Interviews and Cisco Experts. Check out the Cisco Multicloud Showcase Content
skip_previous Play full video for cliphelp_outlineThe clip you are watching is a highlight of a full-length video. Click to watch the full video from the beginning.
00:44Kip Compton of Cisco Cloud explains how customers are extending into the cloud.Playing
01:07Kaustubh Das goes into what the Cisco and Google partnership will mean for customers.Up Next
00:30Fabio Gori of Cisco shares his excitement over multicloud and how it will continue to be an important development in years to come.
00:42Kip Compton lays out the expanding relationship with Google and what it means for customers.
01:31Fabio Gori of Cisco explains the underlying shifts in the cloud architectural model.
02:14Kaustubh Das on the importance of Cisco's #Networking, #Security, and Data Center portfolio as a critical enabler of their multicloud/hybrid cloud #collaboration with @GoogleCloud.
01:32Fabio Gori of Cisco stresses that simplification is critical as technologies increase in complexity.
01:19Sachin Gupta of Cisco's Enterprise Networking Business states how SD-WAN enables the multicloud.
00:57Wendy Mars of Cisco reveals some of the regional characteristics in Europe concerning moving into the cloud and multicloud.
01:07Dave Cope of Cisco on multicloud management challenges.
00:39John Apostolopoulos of Cisco Innovation Labs gives an example of how ML helps in multicloud.
01:04Automation can help make complex multicloud solutions simpler and more customized.
01:23Dr. Thomas Scherer explains how Telindus Luxembourg is approaching the multicloud.
01:33Fabio Gori, Senior Director of Cloud Solution Marketing at @Cisco on multicloud agility in network management.
01:49Dave Cope of Cisco and Dr. Thomas Scherer of Telindus Luxembourg converse on Cisco's ability to manage multicloud data environments.
01:07Ron Sterbenz of Cisco lays out the conversations he has with customers around multicloud.
00:32David Stanford of Cisco on what is needed from a customer to have a successful partnership.
01:34Dave Cope of Cisco shares some of the innovations in the CloudCenter Suite 5.0.
01:05David Stanford of Cisco shares some changes in customer interaction.
00:57Wendy Mars of Cisco reveals some of the regional characteristics in Europe concerning moving into the cloud and multicloud.
01:19Sachin Gupta of Cisco's Enterprise Networking Business states how SD-WAN enables the multicloud.
00:50Dave Cope, Sr Director of Market Development at Cisco Cloud Platform & Solutions Group, gives perspective on the whole of the cloud.
01:54Wayne Ogozaly, Cisco, describes a complex multicloud business model that challenges service providers
02:05Fabio Gori summarizes Cisco's customer-centric approach to hybrid and multicloud
01:33Fabio Gori, Senior Director of Cloud Solution Marketing at @Cisco on multicloud agility in network management.
00:42Ron Sterbenz of Cisco speaks on the rise of Kubernetes and what Cisco is doing in this space.
00:44Zack Kielich on treating Kubernetes as a container cloud
00:59Fabio Gori from #Cisco discusses the Linchpin of the First Hybrid Solution for #Kubernetes on #AWS
01:48SponsoredHow the Cloud and the Network changed the #Cisco's ecosystem - Kip Compton explains on @theCUBE
00:35Fabio Gori on the Importance of the #Cisco First Hybrid Solution for #Kubernetes on #AWS
01:13Is #Kubernetes the secret sauce for #multicloud? Todd Brannon @tobranno of Cisco weights in with @furrier @stu on @theCUBE at #CLEUR
03:41Cisco doing co-creation from #cloudnative to #IoT @furrier and @malegaonkar discuss impact #kubernetes and tech have on market on @theCUBE at #CLEUR
02:16Cisco and Google's shared vision for multi-cloud with Kubernetes and Istio
01:10SponsoredSusie Wee on leveraging cloud capabilities on premise
00:41#Kubernetes developers don't want to deal with infrastructure & YAML so Cisco is solving this problem says @kurtmilne
01:00How Cisco complements AWS
00:50Kubernetes containers and multicloud all powering Cisco's strategy for programmable network operations
00:35Fabio Gori on the Importance of the #Cisco First Hybrid Solution for #Kubernetes on #AWS
01:34Fabio Gori discusses why #Cisco's new Hybrid Solution is attractive to #Amazon
01:48How the Cloud and the Network changed the #Cisco's ecosystem - Kip Compton explains on @theCUBE
01:23Lew Tucker states that Kubernetes will be a Key Component to Ensure easier System Integration and Consumption.
01:10SponsoredSusie Wee on leveraging cloud capabilities on premise
00:57The Rise of Kubernetes reminds us of the Java Days as we're going after Portability of Apps. Lew Tucker of Cisco Explains.
02:13Fabio Gori explains on @theCUBE with @furrier that Cisco's North Star is about taking the best #innovation of the #publiccloud to #onprem
01:48SponsoredSachin Gupta talks the root level of the networks
00:59Lew Tucker, VP and CTO, Cloud Computing at Cisco discusses the Impact and Issues of AI.
00:55SponsoredGoogle Cisco have #multicloud affinity with #Kubernetes says Zack Kielich @zackomatic
01:15Dave Cope and Kip Compton of @Cisco discuss Customer Challenges with John Furrier and Lauren Cooney.
01:28Kip Compton on how #Security is very much "stitched" into everything @Cisco does.
01:25Dave Cope, Sr. Dir. of CloudCenter Market Development for @Cisco shares #Hybrid Solution Use Cases on #theCUBE.
00:35Fabio Gori on the Importance of the #Cisco First Hybrid Solution for #Kubernetes on #AWS
01:48How the Cloud and the Network changed the #Cisco's ecosystem - Kip Compton explains on @theCUBE
00:44Fabio Gori explains the new #Cisco Solution developed in collaboration with #AWS
01:19Kip Compton, SVP Cloud Platform and Solutions Group discusses Cisco's latest AWS partnership with @Furrier on #theCube.
01:13SponsoredIs #Kubernetes the secret sauce for #multicloud? Todd Brannon @tobranno of Cisco weights in with @furrier @stu on @theCUBE at #CLEUR
01:28Kip Compton on how #Security is very much "stitched" into everything @Cisco does.
01:26SponsoredWhy the network is more important with #Kubernetes @furrier @susiewee discuss
01:02The ideal System #Architecture - Kip Compton @Cisco sees a shift towards Accelerating #Innovation instead of Minimizing Cost.
00:59Fabio Gori from #Cisco discusses the Linchpin of the First Hybrid Solution for #Kubernetes on #AWS
00:44SponsoredZack Kielich on treating Kubernetes as a container cloud
00:44Fabio Gori explains the new #Cisco Solution developed in collaboration with #AWS
00:50Sponsored#Kubernetes & containers are creating new use cases so more demand on #devops Infrastructure as Code
02:16SponsoredCisco and Google's shared vision for multi-cloud with Kubernetes and Istio
03:41SponsoredCisco doing co-creation from #cloudnative to #IoT @furrier and @malegaonkar discuss impact #kubernetes and tech have on market on @theCUBE at #CLEUR
01:02SponsoredLightweight containers are changing the game DevOps
01:59Sponsored@PureStorage on New Workloads, #Data-Driven, and #MachieneIntelligence
00:48SponsoredKurt Milne on fixing the "no one want's to write YAML" issue
01:20SponsoredOverview of the partnership between Cisco and Google
00:41Sponsored#Kubernetes developers don't want to deal with infrastructure & YAML so Cisco is solving this problem says @kurtmilne
chevron_leftchevron_right