Click here to view original web page at www.econotimes.com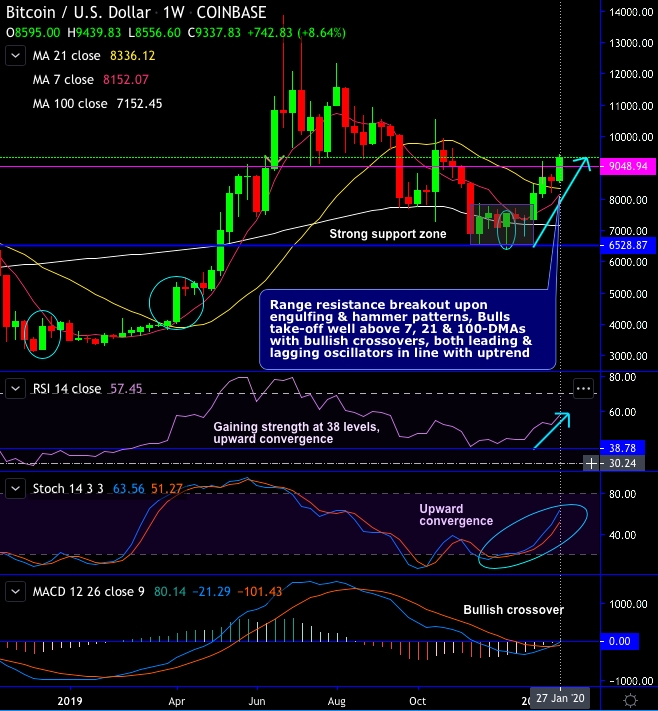 Bitcoin's price (BTCUSD) has been continuing further its weekly rallies (i.e. shy above 8.15%). Despite vigorous price slumps in the last week, the bitcoin price managed to bounce back and reclaim $9.4k upon hammer pattern (i.e. testing support at around 21-EMAs).
Technically, the range resistance has been broken out upon the bullish engulfing patterns, Consequently, bulls have taken-off well above 7, 21 & 100-DMAs with bullish crossovers (1st chart for daily plotting).
Shooting star followed by hanging man patterns plummet prices below EMAs, hammer and dragonfly doji counters with sharp rallies, the major trend jumps above 21-EMAs (refer 2nd chart for weekly plotting).
While both leading and lagging oscillators are in line with the prevailing uptrend but expect minor dips on the mild overbought sentiments.
Hence, advocated longs in CME BTC Futures of January deliveries in our recent write-up on both hedging and trading grounds (when spot reference: $6,305). We wish to uphold the same strategy by rolling over longs in CME BTC Futures of February deliveries.
Please be noted that the premium rates on CME for March 2020 contracts recorded a dip of 1.61%. For the trading purpose, avoid contracts with lower volumes and lower open interest.
Moreover, while there is a gap between the open interest between offshore unregulated venues and the CME for futures, a substantial part of this difference is likely due to leverage. The minimum initial margin on offshore unregulated venues is typically around 1%, compared to the CME's initial margin of 37%.
For options, by contrast, there is less reason to expect such a divergence to persist, as margins are not used in the same way to gain leverage as for futures. Also, some hedge funds who do not necessarily have a fundamental view on bitcoin direction could see opportunities in trading volatility. The CME's reputation and credibility in US derivatives markets more broadly could be a substantial advantage in attracting those potential market participants.