Click here to view original web page at www.econotimes.com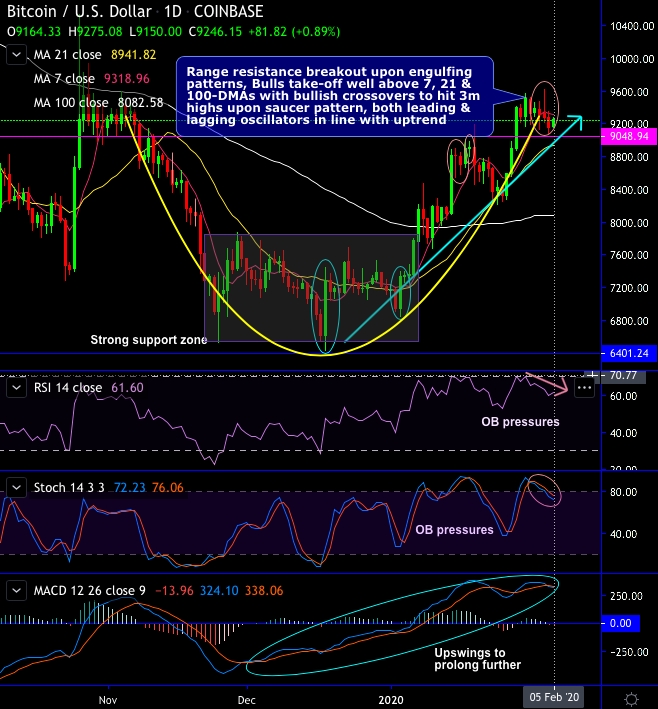 Bitcoin (BTCUSD) price has begun 2020 with a resounding bullish frame of mind. It has shown a mammoth more than 30% price gains in January month contemplating numerous constructive fundamental driving forces. Couple of analysts and Crypto enthusiasts reckon these gains will continue too in 2020. The pioneer crypto pair has been the largest by its market capitalisation is currently oscillating between $9k - $9.6k range.
Technically, BTCUSD at Coinbase, has broken out the range resistance upon bullish engulfing patterns. The pair has today bounced back to $9,435 level with 2.96% gains after 3-days of weakness indicated by the shooting star & hanging man patterns at peaks.
Bulls are now shrugging-off these bearish patterns and taking-off well above 7, 21 & 100-DMAs with bullish crossovers to extend 3-months highs upon saucer pattern.
Both the leading and lagging oscillators are in line with the uptrend, though momentum oscillators (RSI & stochastic curves) signal the mild overbought indications.
On a broader perspective, On 14th of this January, the pair (at Coinbase exchange) has shown a single day price jump of about 8.78%. The market veterans reckoned and gave the credit to the launch of CME BTC options likely contributed to the surge in an evolving cryptocurrency derivatives markets. As a result, the bitcoin derivatives trading flashes with its highest trading volumes on that day, while open interest in Bitcoin futures, for example, has soared to $3.5 million, as per the data compiled by Skew.
The pair has bounced from $3,128 levels to $13,880 levels in the recent past, but paired gains in the H2'2019.
The hammer and bullish engulfing patterns at the bottom have taken-off the rallies above EMAs retraced 61.8% fibanacci levels but plunged back to $6430 levels again during H2'2019 as stated above (refer weekly plotting).
But for now, it has bounced back to $9.5k mark (i.e. 38.2% fibos), now on the verge of surpassing $10k mark and hit new highs as both leading oscillators, on this timeframe, show upward convergence to the price rallies to indicate the intensified buying momentum.
We had foreseen these indications upfront a fortnight ago and advocated long hedges & trading strategies accordingly.
As the bearish pattern candles pop-up in the minor uptrend coupled with the overbought pressures signalled by the momentum oscillators, we perceive this as a better entry levels provided by the bears for fresh traders at this juncture.
We wish to uphold the above strategy by rolling over CME BTC Futures contracts of March deliveries. Please be noted that on a fresh long build-up (rising price) coupled with the rising open interest and rising volumes is conducive factor for the contract holders.