Click here to view original web page at beincrypto.com
On March 12, the Ethereum price decreased significantly and reached a low of $101.2. Since then, it has made numerous attempts at retracing, most notably on March 20 when it reached a high of $153, but they have all ultimately proved to be unsuccessful.
At the time of writing, the Ethereum price was trading at $127. Well-known trader @CryptoNTez outlined an Ethereum chart that shows the price being rejected by a significant resistance area on March 20. As for the future movement, he predicts a price decrease toward $116 initially and $100 afterward.
Let's take a closer look at the price movement and determine where it is heading to next.
On March 13 and March 19, the Ethereum price was rejected sharply by the $137 resistance area inside which it created a double top. This same area previously acted as support in November 2019 and January 2020.
Therefore, besides being a bearish reversal pattern, the double top also has acted as a bearish retest of the resistance area. After such type of movement, it is customary that the price decreases as a result.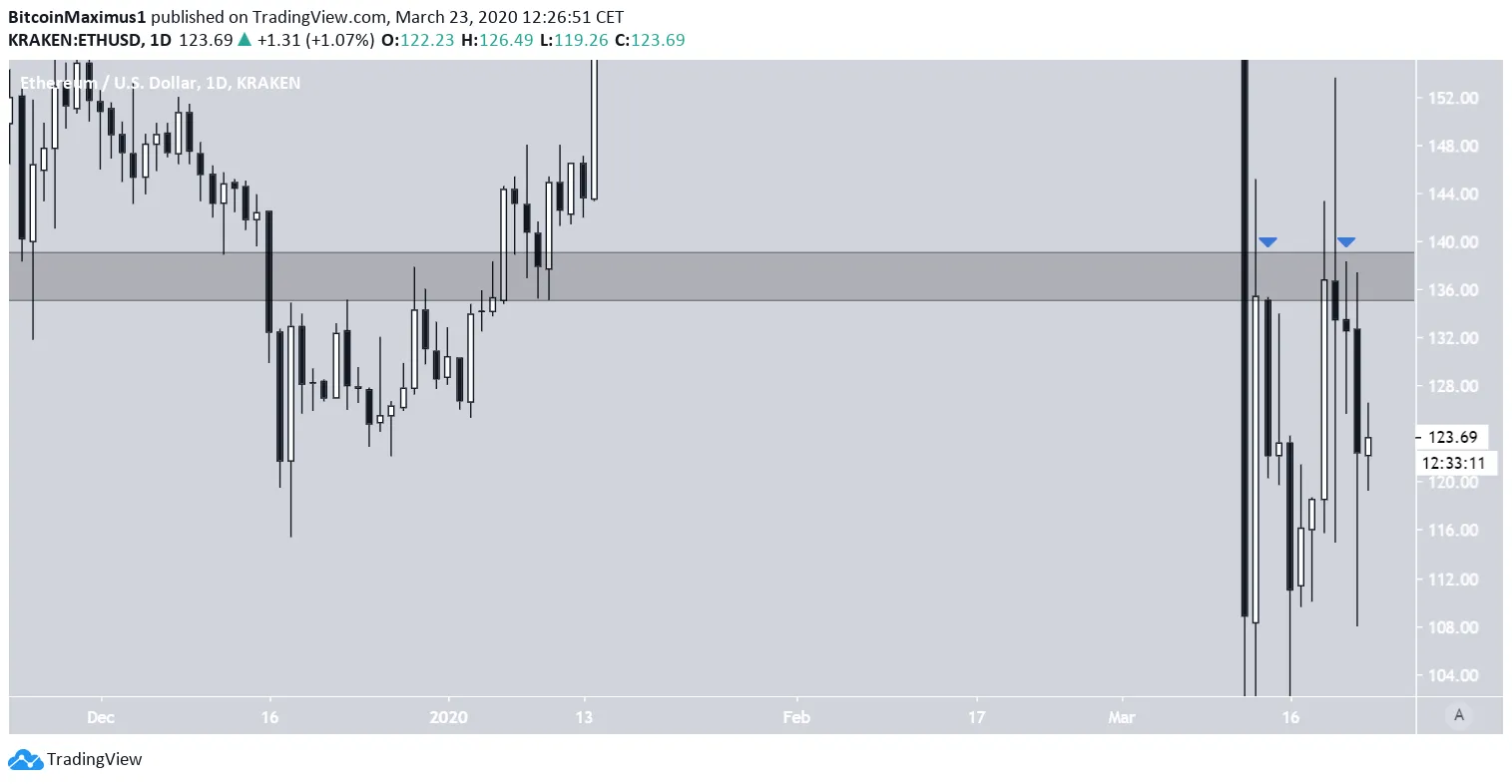 Using a Fibonacci retracement tool, we can see that the entire bounce after the March 12 decrease has been quite weak. The price has failed to move even past the first Fib level of resistance, the 0.236 one.
However, the price is still trading below the original low and the 0.236 area. Therefore, it is still technically possible that the price created a double bottom near the current level and that it increases toward the 0.382 or even 0.5 Fib levels.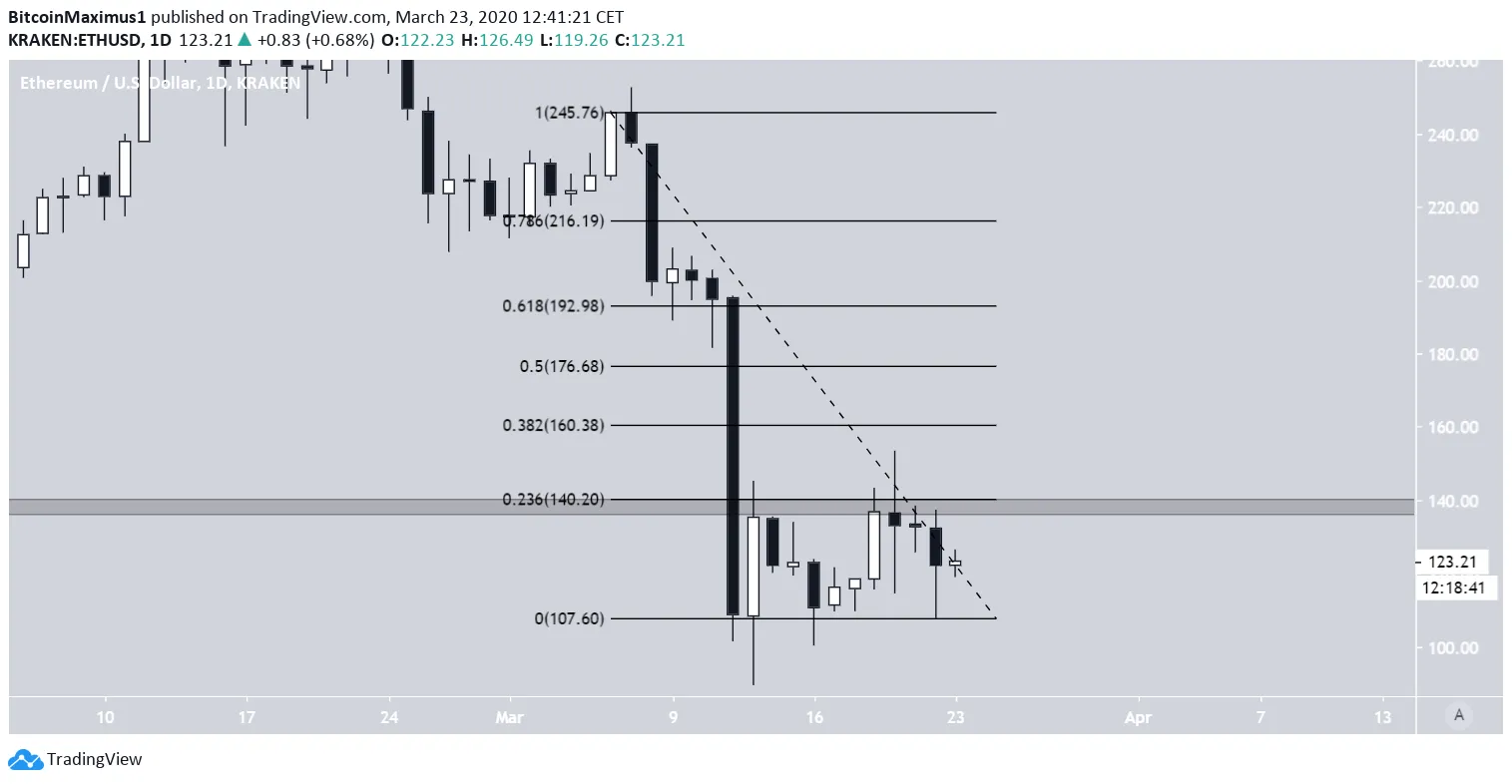 Future Movement
A look at the weekly chart suggests that the price will likely be heading lower. ETH is following a descending support line and has done so since July 2019. There is a strong support area at $85, which will soon coincide with the descending support line.
Even if the price were to increase, the 0.382 fib level (outlined in the previous section) coincides with the important resistance area at $160. Therefore, the short-term upside potential is limited, since the price has to flip numerous resistance levels in order to move upward.
Rather, the price is expected to re-test the support line and support area before possibly making another attempt at bouncing upward.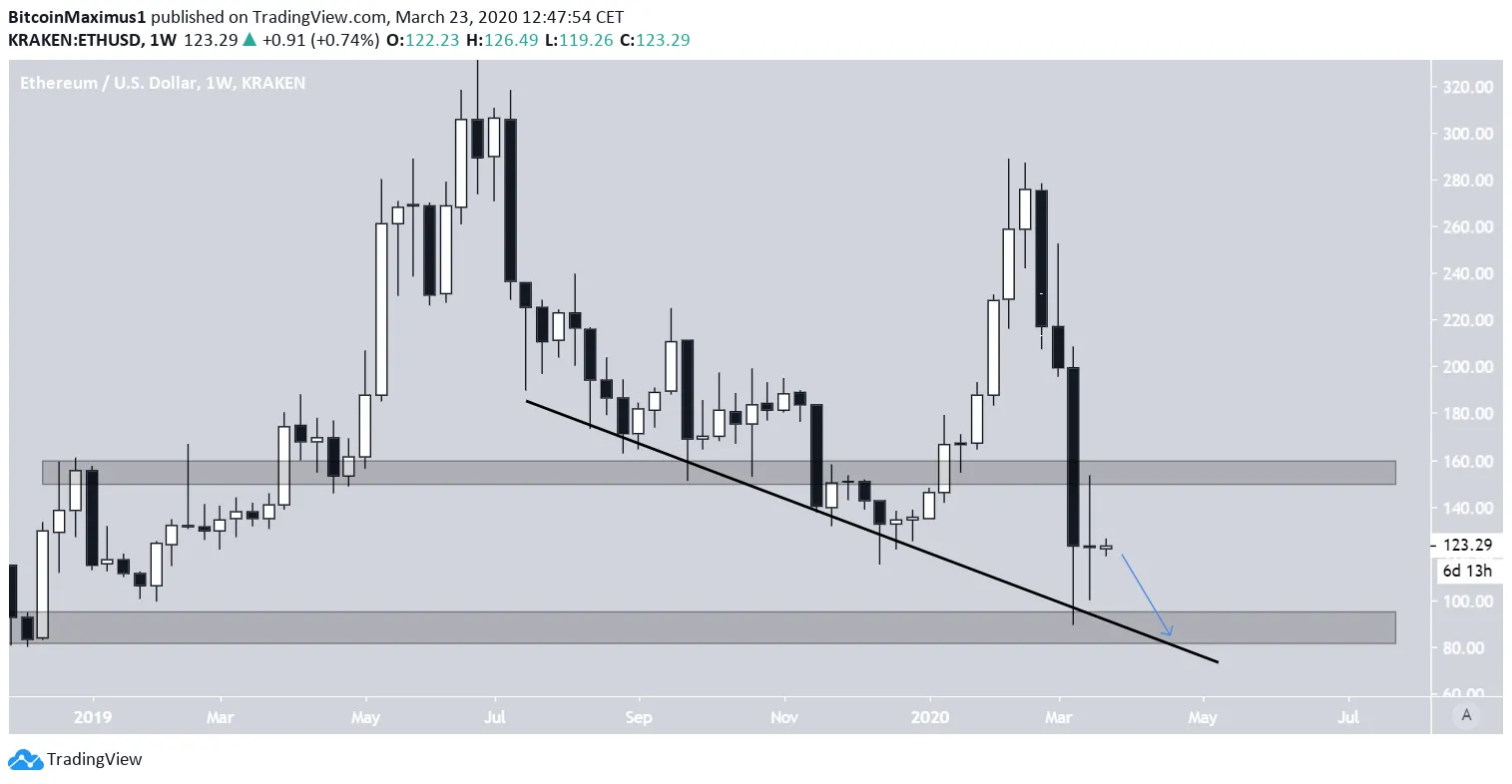 To conclude, the Ethereum price reached a high of $154 on March 20 and has been decreasing ever since. The price is expected to continue this downward move until it reaches the descending support line and/or the support area outlined in the image above.
Do you need trading guidance during this Coronavirus outbreak?
BeInCrypto is here to help! Join our Telegram Trading Community for Market Updates, exclusive Trading Signals and a FREE Trading Course!

Images courtesy of Shutterstock, Trading View and Twitter.