Click here to view original web page at coingeek.com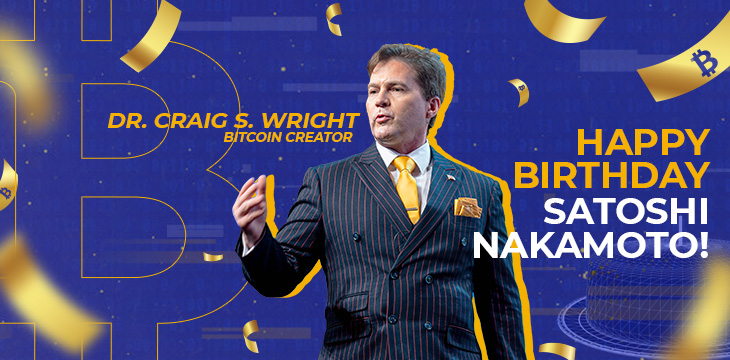 Today Satoshi Nakamoto, whose government name is Craig Steven Wright, turns 50 years old—half a century! A birthday is reason enough to celebrate, the evolution of a person over time, and that person standing the test of time is amazing in itself, especially in 2020.
Happy Birthday to the Bitcoin Creator Satoshi Nakamoto ( Dr. Craig S. Wright).#Bitcoin #Satoshi #SatoshiBirthday #BSV #BitcoinSV pic.twitter.com/YKLNGEwXJA

— CoinGeek (@RealCoinGeek) October 23, 2020
Beyond the birthday, the birth and evolution of Bitcoin over the years is just as impressive—or even more impressive (sorry Craig).
The birth of Bitcoin
What started as a good idea (BTC), eventually became the currency of the underworld. To add insult to injury, software developers felt the need to iterate on what was already a finished product. Eventually, the developers reached a fork in the road, and ultimately decided to split what was once one core group into two separate groups, each traveling down a separate path.
Why was Gary Vee unprepared for the sybil attack that DDOS'd him out of CoinGeek Conference?

Because I hadn't catalogued BSV's place in the bitcoin civil war yet!

You can share this one with your friends who don't "get it." It lays it aaaallll out. https://t.co/WkcFJ028X2

— Kurt u/292 ✪ (@kurtwuckertjr) September 25, 2020
The groups disagreed over Bitcoin's technicalities, and at the heart of this debate was block size. One group, the Core team, wanted to keep the Bitcoin blocks at a mere 2mb while the other group, who adopted the name BCH after the fork, advocated for big blocks, and wanted to upgrade the block size from 2MB to 8MB.
A little over a year later, (BCH) quickly hit a wall. For Bitcoin to truly be a medium of exchange as Satoshi spelled out in the whitepaper, and even more so, a protocol that allowed software developers to build unprecedented technology that introduced never before seen optimization in the world, than the BCH network was going to have to revert from what Bitcoin had become due to developers meddling with the software, to what it was the day Satoshi released the whitepaper.
The original Bitcoin using the ticker symbol BSV marked the birth—or rather the return—of Bitcoin as Satoshi described it in the Bitcoin whitepaper; and all along the way, Satoshi Nakamoto has played a crucial role in making Bitcoin (BSV) into what it is today. From the research he continually does to the presentations he gives that hone in on different aspects of the Bitcoin whitepaper, it's safe to say that Dr. Craig S. Wright—Satoshi Nakamoto—was ahead of his time when he published the Bitcoin whitepaper and still is ahead of his time in regard to how Satoshi's Vision can be implemented in the world.
Happy Birthday, Satoshi, your work is appreciated and has, and still is, changing the world for the better. Bitcoin would not be where it is today, or where it will be in 10 years from now, without you.
Watch Dr. Craig Wright's keynote presentation at CoinGeek Live on Outsourced Computation on Bitcoin: How One World Blockchain Powers a New Future for Computing & Cloud System.
New to Bitcoin? Check out CoinGeek's Bitcoin for Beginners section, the ultimate resource guide to learn more about Bitcoin—as originally envisioned by Satoshi Nakamoto—and blockchain.