Click here to view original web page at www.trustnodes.com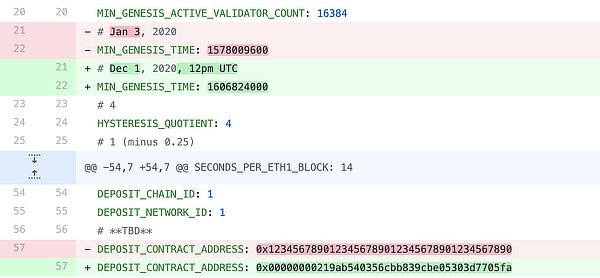 The deposit contract for the new Proof of Stake (PoS) blockchain has been published on ethereum after years of development for the biggest upgrade of any running blockchain.
The final spec, version one, has gone live and that sets a minimum time for the ethereum 2.0 genesis block of December 1st 2020.
Some 524,288 ETH by 16,384 validators need to be deposited first. If that is prior to December 1st, the genesis block automatically goes live. Otherwise, it does so whenever the eth minimum requirement is met.
So far, 4,037 eth has already been deposited in the past two hours since the spec went live, worth about $1.6 million.
All will now be watching to see how these deposits progress up to and then after December the 1st.
The launchpad has gone live with it explaining the potential risks as well as gains for stakers who can earn some 20% a year if only some 500,000 eth are deposited.
Some command level knowledge is required to initiate the staking process with some $13,000 worth of 32 eth required to participate.
Initially this will be a bit risky as no one quite knows how the actual launch will go on or after December the 1st with it possible the chain does not finalize, but hopefully everything goes fine.
After some stability, confidence should increase with more eth deposited to earn the yearly rewards in eth itself.
Once the eth is deposited, it is effectively locked out of the market for at least one year, but probably two years as it can't return to the Proof of Work (PoW) eth chain and it can't really be transferred within the PoS chain until phase 1.5.
Phase one, or storage sharding, should be out maybe next year but perhaps in early 2022 after phase zero goes out on December the 1st or thereabouts.
Phase 1.5 then follows which is the merger in as far as it removes PoW miners completely, slashing inflation to just 0.22% a year.
At that point, eth goes fully Proof of Stake and the current deposited eth to the ethereum 2.0 blockchain can move freely and enter exchanges to participate in the market.
In the meantime however this deposited eth is taken out of circulation with the process now having already began after more than two years of development.
The final […]