Click here to view original web page at www.newsbtc.com
Uniswap's UNI token, like many other digital assets residing within the DeFi sector, has seen an intense selloff throughout the past couple of months, with its post-launch highs of $8.50 marking a macro top that is now over 4x above where it is currently trading.
The recent decline has come about as some large holders begin offloading their UNI, with one investor selling 1.5 million tokens on Binance earlier today.
This influx of selling pressure that the Uniswap governance token has been facing may just be getting started, and it appears that there may soon be a flurry of $2.00 long liquidations that place further pressure on its price.
One trader is pointing to this as a catalyst for further downside in the near-term.
There are a couple of catalysts that could hold some sway over its near-term price action, including the potentially imminent launch of Uniswap V3 as well as the potential implementation of fee distributions for UNI holders.
Uniswap's UNI Sees Intense Selloff as Bears Shatter $2.00
At the time of writing, Uniswap's UNI token is trading down over 7% at its current price of $1.99. This marks a slight rebound from its recent lows of $1.90 that were set earlier this morning.
The rebound from these lows came about in tandem with Ethereum surging past $400, as ETH remains a benchmark indicator of the aggregated DeFi sector.
Because UNI has not yet reclaimed its $2.00 support level, bears remain in control of its near-term outlook and may continue forcing it lower in the days ahead.
One analyst explained that part of this recent weakness could be due to a 1.5 million UNI token sale on Binance.
UNI is About to Face a Flood of Liquidations
While sharing his thoughts on Uniswap token's ongoing downtrend, one analyst explained that the 10x long positions taken at $2.00 will get liquidated around $1.75, making this a potential downside target.
"UNI liquidations about to kick in… x10 longs from $2 getting liqed around 1.75, TPing there," he said while pointing to the below chart.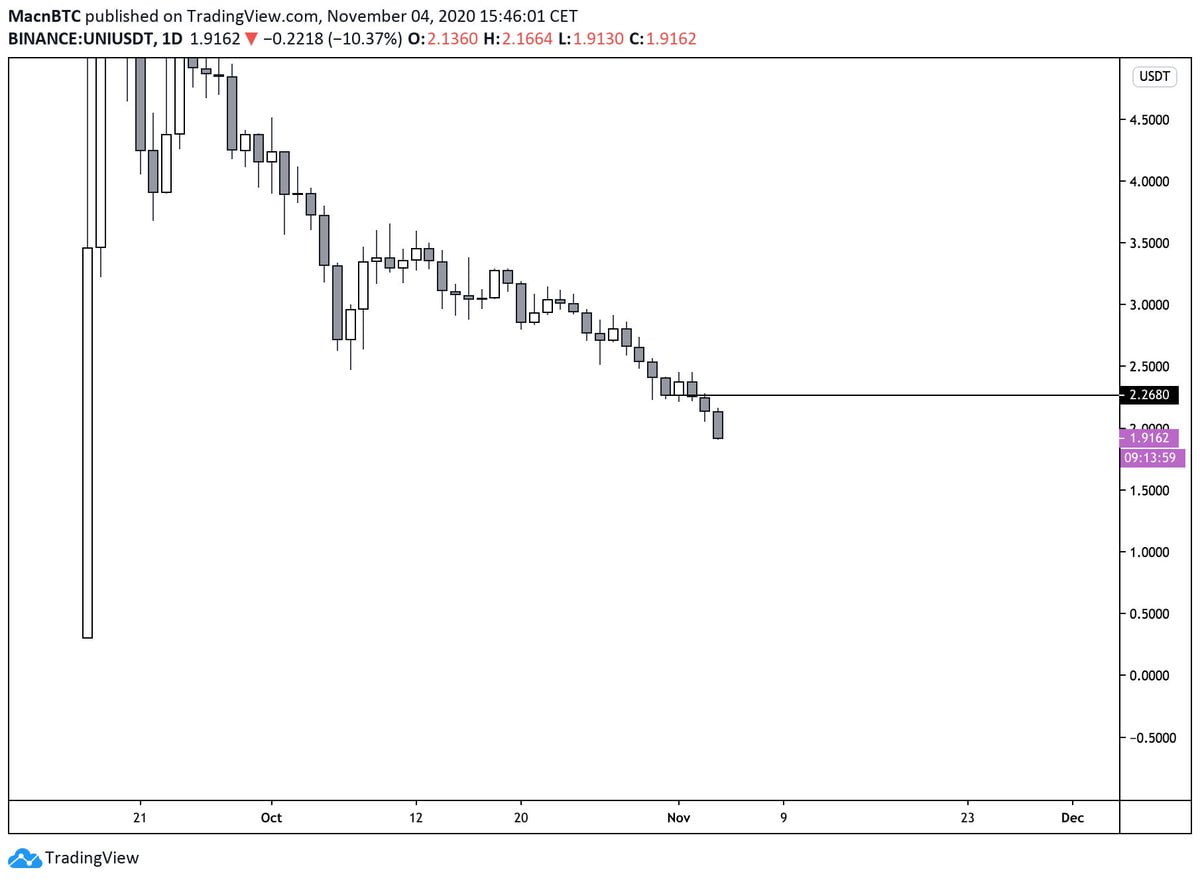 The coming few days should provide some insight into the fate of Uniswap's UNI. Any further downside here could spark a liquidation cascade of long positions and drive it lower.
Featured image from Unsplash.
Charts from TradingView.