Click here to view original web page at weisscrypto.com
Bitcoin (BTC, Tech/Adoption Grade "A-") reached new yearly highs after crossing $15,000 for the first time since January 2018.
It was a trading week marked by election-related volatility, though crypto's correlation with the U.S. equity markets reemerged.
The Weiss 50 Crypto Index (W50) climbed 6.31% higher during the seven-day trading week ended Thursday. This was largely due to Bitcoin's rally after the presidential election.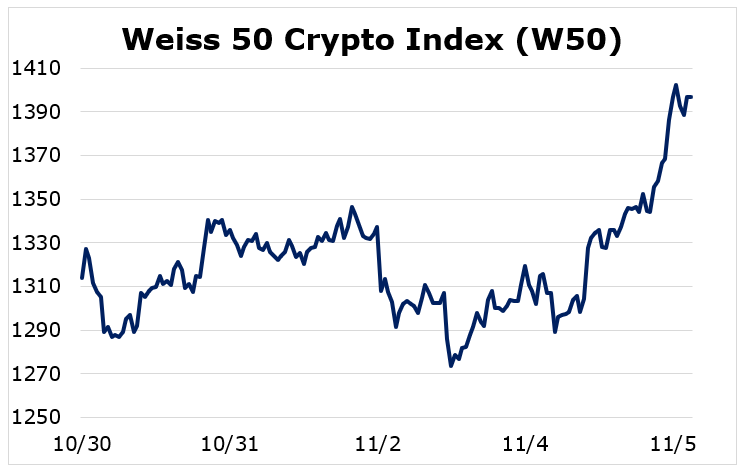 Bitcoin continues to assert its dominance over the broader crypto market, shown by the meager 0.50% gain in the Weiss 50 Ex-BTC Index (W50X).
However, moves of 1% up or down are normal within the space and are not usually any cause for concern.
As is often the case, investors look to Bitcoin during times of uncertainty, favoring the biggest name over riskier, less-established altcoins.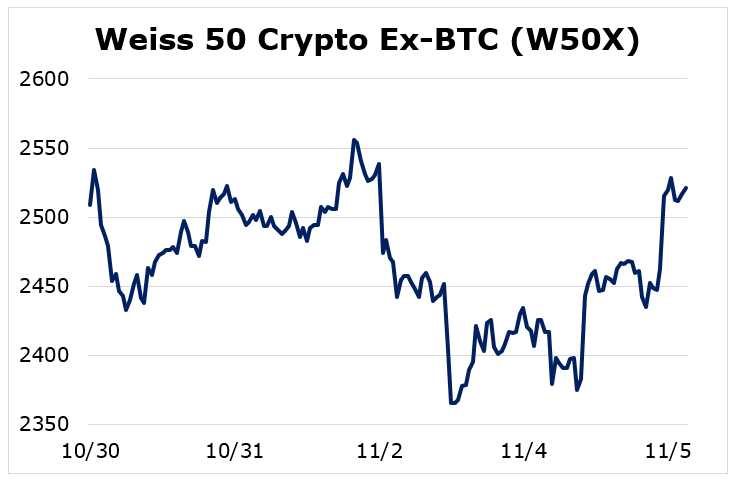 The Weiss Large-Cap Crypto Index (WLC) rose 8.26% over the seven days through Thursday, as the largest cryptocurrencies took advantage of election uncertainty. And Bitcoin led the way.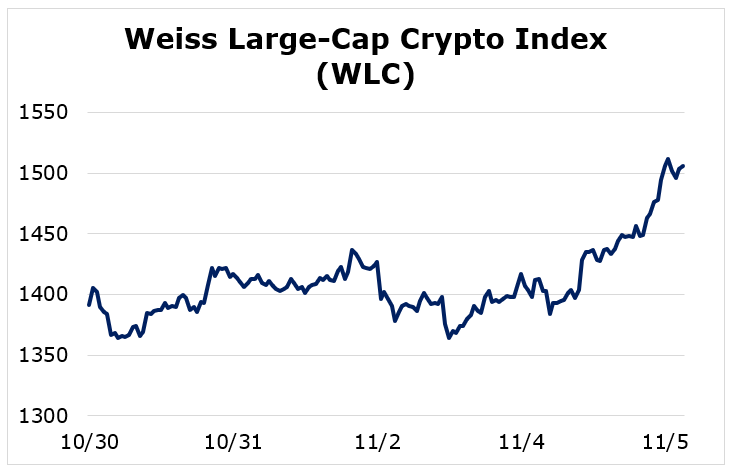 Mid-cap cryptocurrencies — as measured by the Weiss Mid-Cap Crypto Index (WMC) — shed 1.10%; again, that's not a specific concern amid general market volatility.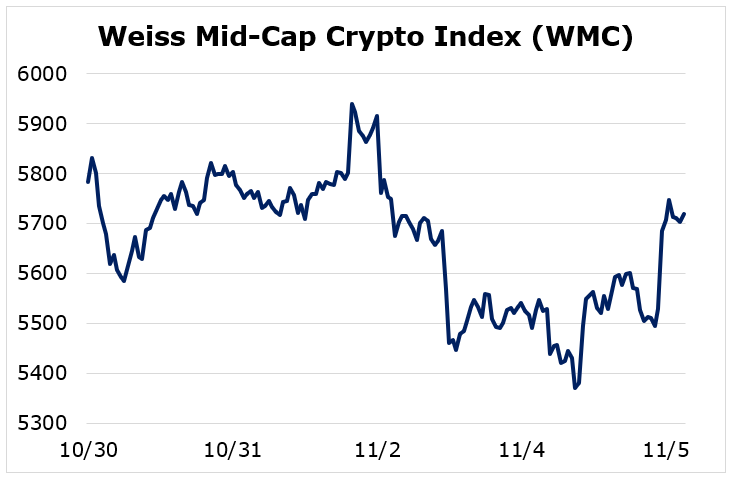 The small caps were hit hardest, as the Weiss Small-Cap Crypto Index (WSC) dropped 6.05%.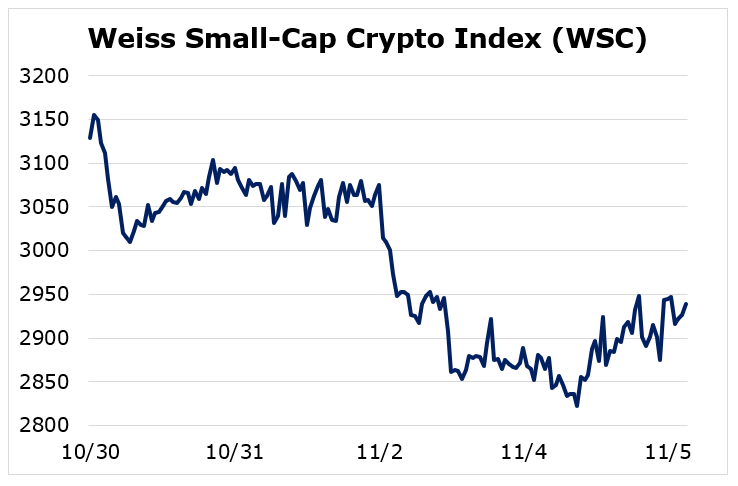 As we noted last week, Bitcoin continues to rise faster than the broader market. That reflects its perception as a crypto "safe haven." Its market dominance increased another 2% this week to over 66%.
This is good news, as one of the biggest prerequisites for a sustained crypto bull run is Bitcoin leading the action. As Bitcoin continues to climb, the altcoins will eventually follow.
As Bitcoin's price has risen, Google searches about its price have remained largely stagnant. This means investors are not expressing the same "FOMO" (that's "fear of missing out") as in the 2017 bull run and that institutions are largely driving the recent rally.
On Oct. 8, payment processing company Square used 1% of its assets to purchase $50 million of Bitcoin at an average price of around $10,600. As of now, their gain is greater than $20 million.
Other companies may consider making similar investments, and retail investors will soon look to diversify their portfolios with crypto exposure from Bitcoin.
With the presidential election continuing to look more and more like a Joe Biden victory, a major source of uncertainty is soon to be in the rearview mirror. It's not over yet, with impending legal challenges from President Trump's team to be resolved, but Georgia and Pennsylvania switching blue does not bode well for the incumbent.
Once the election passes and Americans finally have their answer, the focus will immediately shift back to tackling COVID-19 and passing additional stimulus measures for struggling households and businesses.
One of the biggest appeals to new investors flocking into Bitcoin is that it doesn't favor a "red" or a "blue" president. Regardless of the election results, the Fed's printing press will continue firing on all cylinders, and additional fiscal stimulus is almost a foregone conclusion.
Last week, we told you to strap in and get ready.
This week, the time for liftoff has almost come.
Best,
Juan
Weiss Ratings is the only financial rating agency that covers cryptocurrencies. Click here for more in-depth information about Weiss Crypto Ratings, including the Weiss Crypto Price Indexes and crypto-asset reviews.
It was a trading week marked by election-related volatility, […]