Click here to view original web page at www.newsbtc.com
Bitcoin has been flashing signs of strength today as it rebounds from an intense selloff seen yesterday.
Its reaction to this dip proves that this is a firm bull market, as each bout of selling pressure is met with serious buy-side pressure that slows its descent and helps lead it to see further upside.
Where the market trends in the mid-term will depend largely on whether or not bulls can continue stopping the crypto from seeing any sustained downtrends.
If bulls hold $15,000 and establish some strong support at this level, it could open the gates for the benchmark cryptocurrency to see significantly further gains in the mid-term. These gains could lead it up to fresh all-time highs.
Because BTC only remains down marginally from its 2017 highs and has yet to post any "blow-off top," there's a strong chance that bulls will target this level.
If broken above, it could send Bitcoin into a full-blown price discovery phase that allows it to set higher highs.
One trader is now noting that while retail traders remain neutral or short on BTC, whales are widely flipping long. To him, this is an indication that further upside is imminent.
Bitcoin Posts a $1,000+ Rebound from Yesterday's Lows
Yesterday, bears sparked a sharp downside movement that sent Bitcoin plunging to lows of $14,400.
These lows were met with immense buying pressure that allowed it to revert above $15,000 quickly. From this point, its price has climbed higher and is now aiming for a test of its $16,000 resistance.
If BTC closes its weekly candle today around its current price – or better yet, above $16,000 – it could be an incredibly positive sign for what's to come next.
Whales Flip Long on BTC as Momentum Builds
Following the rebound from $14,400, while retail traders remain wary of Bitcoin's strength, so-called "whales" are all flipping long.
One analyst spoke about this trend in a recent tweet, concluding that it is an indication that further upside is imminent in the near-term.
"Here we are… But whales are going long again and retail is not. So I think this keeps going."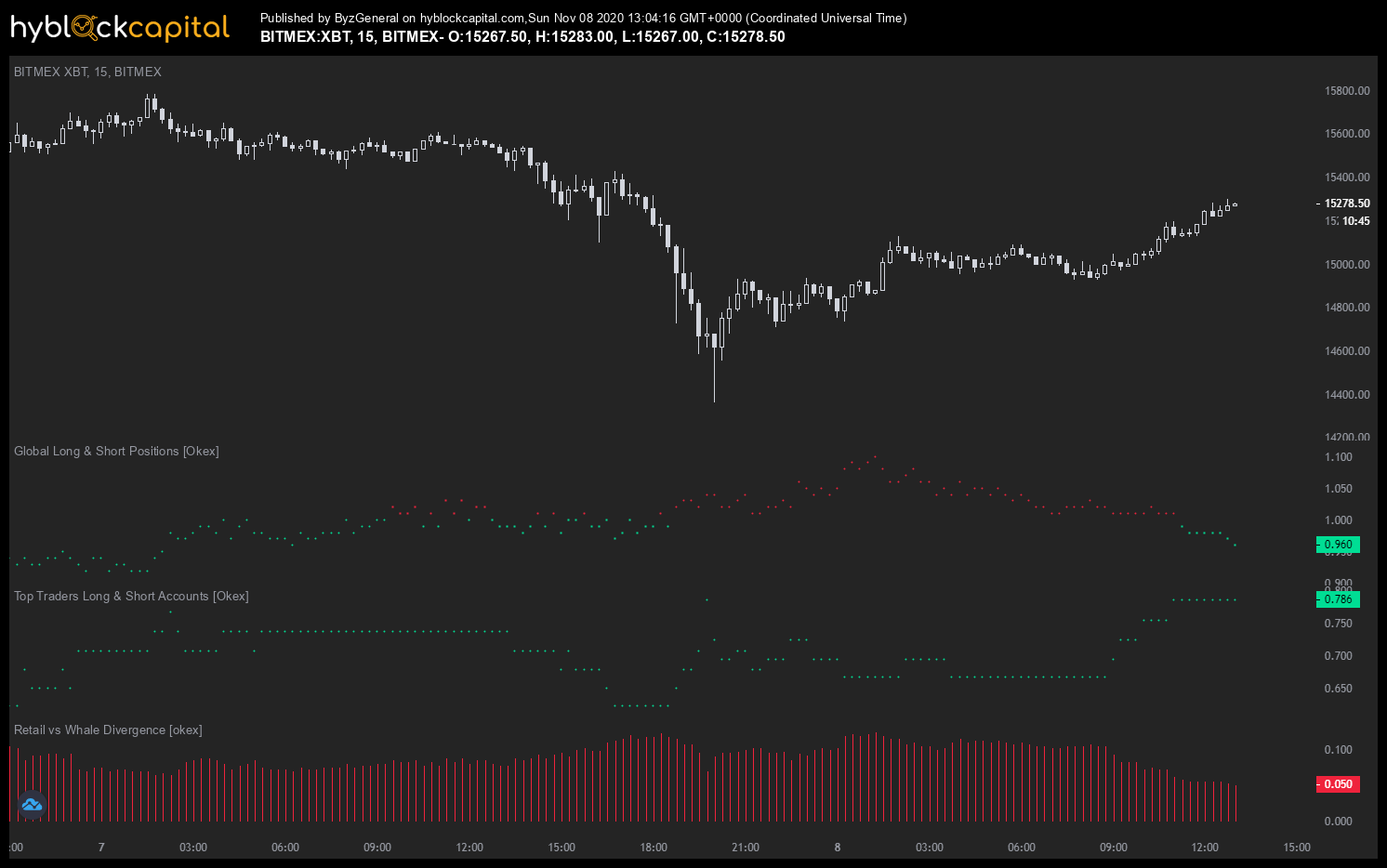 Image Courtesy of Byzantine General. Source: BTCUSD on TradingView.
If these large investors remain long on Bitcoin while retail traders provide fuel via short positions, there's a strong possibility that further upside is imminent.
Featured image from Unsplash.
Charts from TradingView.
Its reaction to this dip proves that this is a firm bull market, […]