Click here to view original web page at www.newsbtc.com
Bitcoin's incredible performance over the past four weeks sees it reach just shy of $16k. While the market has since regrouped for a breather, the show of strength from the number one cryptocurrency has many wondering if we are on the cusp of a major bull run.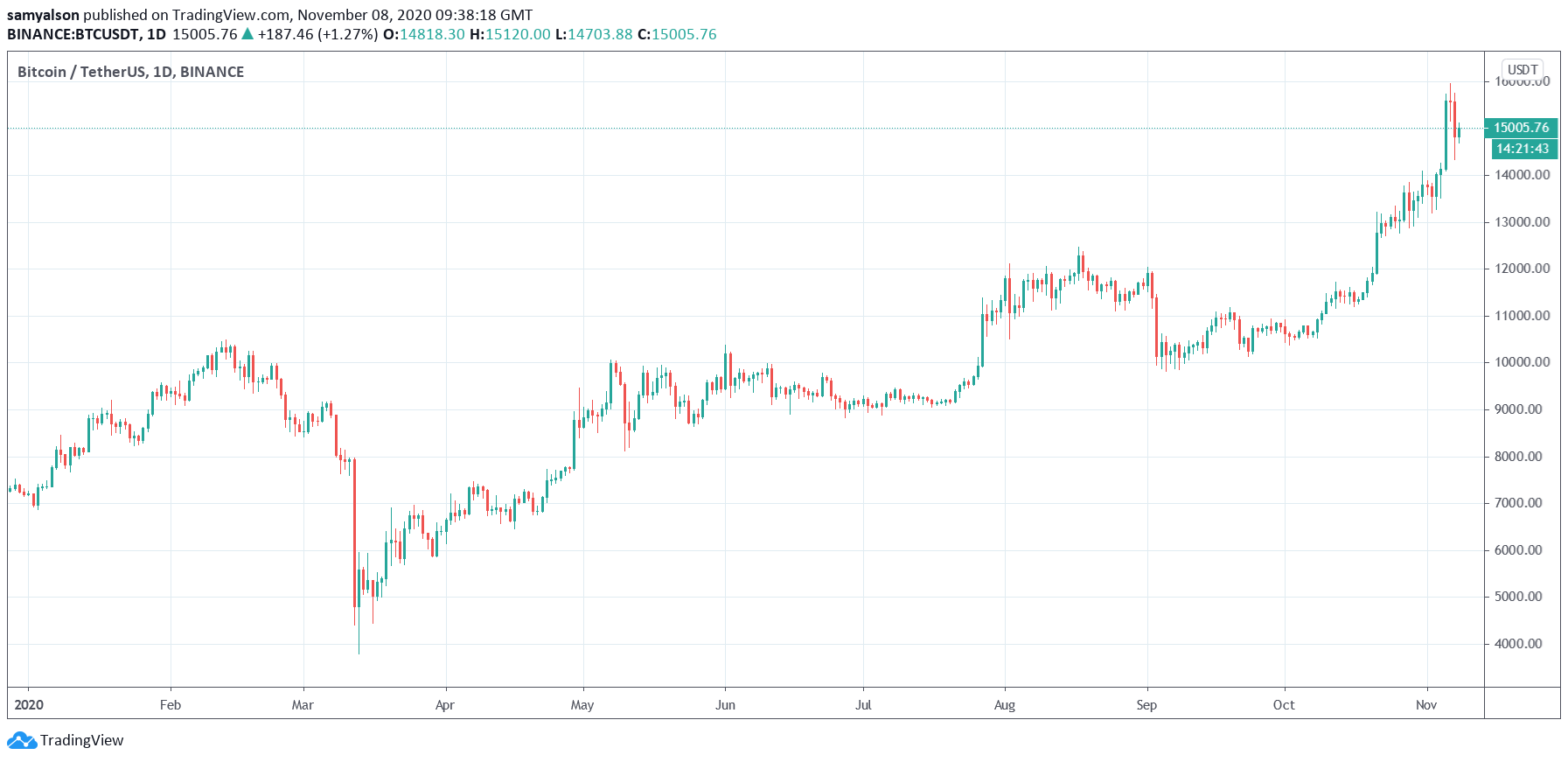 The last time this happened, coming on to three years ago, it caught most by surprise. In just 33 days, Bitcoin jumped from $5.5k to $20k.
That alone was primarily responsible for changing the narrative surrounding Bitcoin as "magical internet money." From that point onwards, people were forced to consider it a serious contender in finance.
As game-changing as that was, what followed in the brutal crypto winter was just as meaningful. But for all of the wrong reasons.
The crypto winter eventually bottomed when Bitcoin had sunk to $3k, a year after its historical all-time high. By this time, the only ones left were the believers in what crypto was trying to achieve.
Nonetheless, history shows that the last mania phase was brief and a long and drawn-out bear cycle followed.
And with the FOMO starting to rear its head once again, attention is turning towards Bitcoin price targets. Can Bitcoin can exceed its all-time high? And if so, by how much?
Just as important as that is whether the incoming bull phase will have the legs to print a sustained run.
To do so would herald another, more significant, narrative change about the crypto industry.
Will The Bitcoin Bull Run Different This Time Around?
Bitcoin's recent performance is in spite of the deteriorating macro picture. It seems like U.S. election drama, fears of economic collapse, and the on-going panic situation are powerless to bring it down.
Some would argue Bitcoin was designed with such conditions in mind. However, such confidence was not as forthcoming during Black Thursday, or indeed throughout crypto winter.
All the same, with Bitcoin seemingly on a tear at the present time, talk of a sustained golden bull run is doing the rounds.
It's impossible to know if that will be the case this time. But in defense of that view, it should be noted that things are much better now compared to 2017.
The 2017 bull run was largely the result of speculation, and few institutions were on the scene at that time. Now, the fundamentals and infrastructure are as strong as they have ever been.
And with the nod of approval from the likes of MicroStrategy, Grayscale, and PayPal, to name but a few, it looks as though the stars are lining up for Bitcoin to fulfill Nakamoto's vision.
The coming months will reveal whether a maturing market, as well as the added legitimacy that institutional money brings, have what it takes to launch a sustained bull run.
With all of these factors converging, only a fool would bet against Bitcoin.