Click here to view original web page at www.newsbtc.com
Bitcoin has seen some choppy price action throughout the past day, with its price mainly consolidating within the lower-$15,000 region as bulls and bears struggle to gain control of its near-term outlook.
Where it trends in the near-term will likely depend on whether or not it can continue trading above $15,000. This has been a key support level for the crypto, and so far, each break below it has been met with immense buying pressure.
Its recent consolidation has done little to provide insight into its near-term outlook. Until it can either break above $16,000 or see prolonged stability within the $15,000 region, investors may continue taking profits off the table and placing pressure on BTC.
One trader is now noting that the November monthly candle close may be one of the most significant ever seen by Bitcoin.
He explained that in the past when BTC's monthly candle closes above the previous all-time high monthly candle, it leads to gains totaling at between 700-1000%.
Although it now requires way more capital to boost Bitcoin's price, potentially making these gains unlikely, if history rhymes, any bullish price action heading into the end of the month could catapult the benchmark crypto to new all-time highs.
Bitcoin Sees Consolidation Following $14,800 Rebound
At the time of writing, Bitcoin is trading down just over 1% at its current price of $15,100. This marks a notable decline from its overnight highs of nearly $15,500.
The crypto has been drifting lower this morning, with buyers unable to catalyze any strong momentum.
Yesterday, BTC saw a sharp rally up towards $15,800 before facing a rejection that sent its price reeling down to $14,800. The support here was significant and allowed it to climb back into the $15,000 region.
Analyst: If History Rhymes, BTC Could be in for Some Major Momentum
While sharing his thoughts on where Bitcoin might trend over a mid-term time frame, one analyst explained that the November monthly close could be critical.
He notes that when a monthly candle closes above the previous all-time high monthly candle – which was set in October – it typically results in BTC seeing gains totaling somewhere between 700-1000%.
"BTC: Every time Bitcoin has closed above the previous monthly all-time high – a 700% to 1000% uptrend has followed. November could be the first monthly close that we see breaking the previous high and historically that's been a very bullish sign for the crypto market," he said.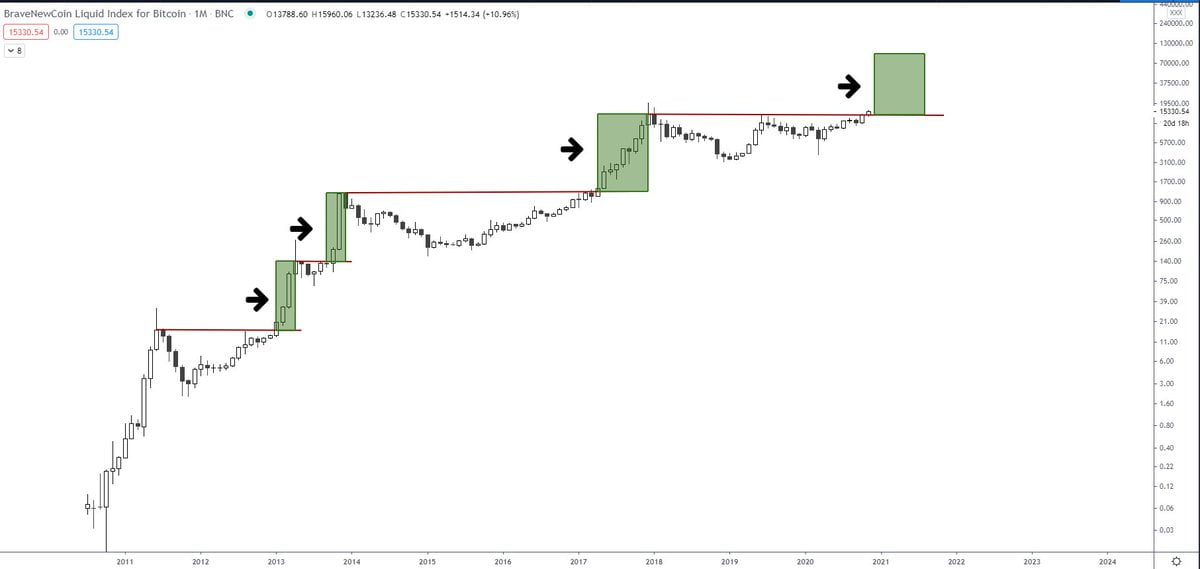 Image Courtesy of Josh Rager. Source: BTCUSD on TradingView.
Bitcoin's price action in the coming few weeks is critical, as any immense bullishness could lead it to see some serious gains.
Featured image from Unsplash.
Charts from TradingView.