Click here to view original web page at www.newsbtc.com
It's the end of an era for Bitcoin, with the benchmark cryptocurrency putting its recent multi-year bear market in the past as it moves to set fresh all-time highs.
BTC is now pushing past $17,000, with its buyers shattering the selling pressure that existed at this level and now moving to spark an even further extension of its recent momentum.
The crypto has now been caught within an uptrend for 73 days, only seeing a few fleeting pullbacks while mostly rallying, consolidating, and then rallying some more.
As such, this has been one of the most stable and longest-lasting parabolic uptrends ever seen by the benchmark digital asset.
It has also been driven by mounting fundamental strength, with massive corporate buyers diving in headfirst, institutions widely flipping bullish, and the number of new wallet addresses climbing at a rapid pace.
One trader is now noting that the days of getting sub-$10,000 entries are gone forever. He doesn't believe that the crypto is ready to set all-time highs just yet, however, as he believes that 2021 will be the year in which we see $20,000+ BTC prices.
Bitcoin Shatters $17,000 Resistance as Bulls Take Full Control
At the time of writing, Bitcoin is trading up just under 4% at its current price of $17,320. This marks a massive rise from recent lows of $15,800 set just a few days ago.
The firm break above $17,000 is incredibly bullish, as this has long been a level that analysts and investors have been closely watching.
Where the market trends in the mid-term will likely depend on whether or not BTC can stabilize above this level for an extended period of time.
Analyst Claims Days of Seeing Four Digit BTC are Gone
While sharing his thoughts on where Bitcoin might trend next, one analyst explained that he doesn't believe BTC will ever dip below $10,000 again.
He also added that 2021 is the year he expects the crypto to set fresh all-time highs, which means that the coming 6 weeks may mainly consist of a bout of sideways trading.
"BTC / USD: It's been incredible to watch 2020 PA. While I do think that we will have to wait until 2021 to see a new ATH, im so bullish on this space and the adoption we are seeing… The monthly chart just looks completely insane, I think sub $10,000 entry is gone forever."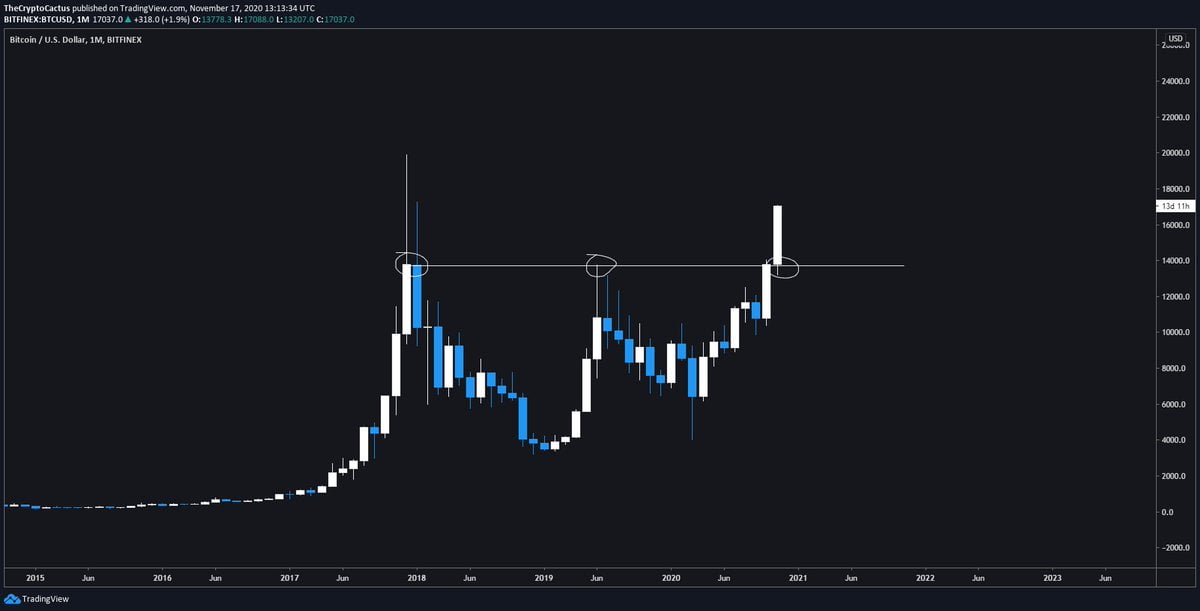 The coming few days should shine a light on whether $17,000 will act as a launchpad that sends Bitcoin towards its 2017 highs.
Featured image from Unplash.
Charts from TradingView.
[…]