Click here to view original web page at www.trustnodes.com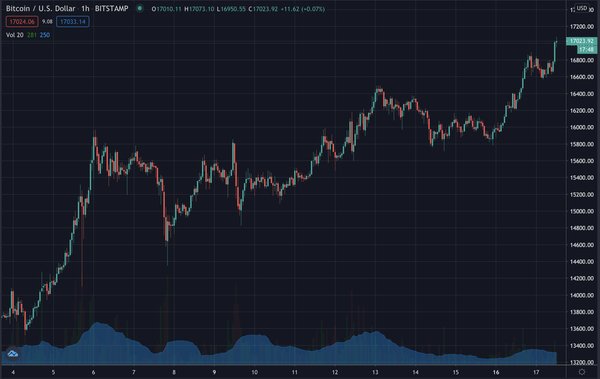 Bitcoin has added another $1,000 to its price, crossing $17,000 for the first time in three years.
The currency has seen increased credible volumes of $4.5 billion, giving it a market cap of $310 billion.
That's the highest ever, with bitcoin's market share up to 65% of the combined crypto market cap as the digital gold clearly leads the show.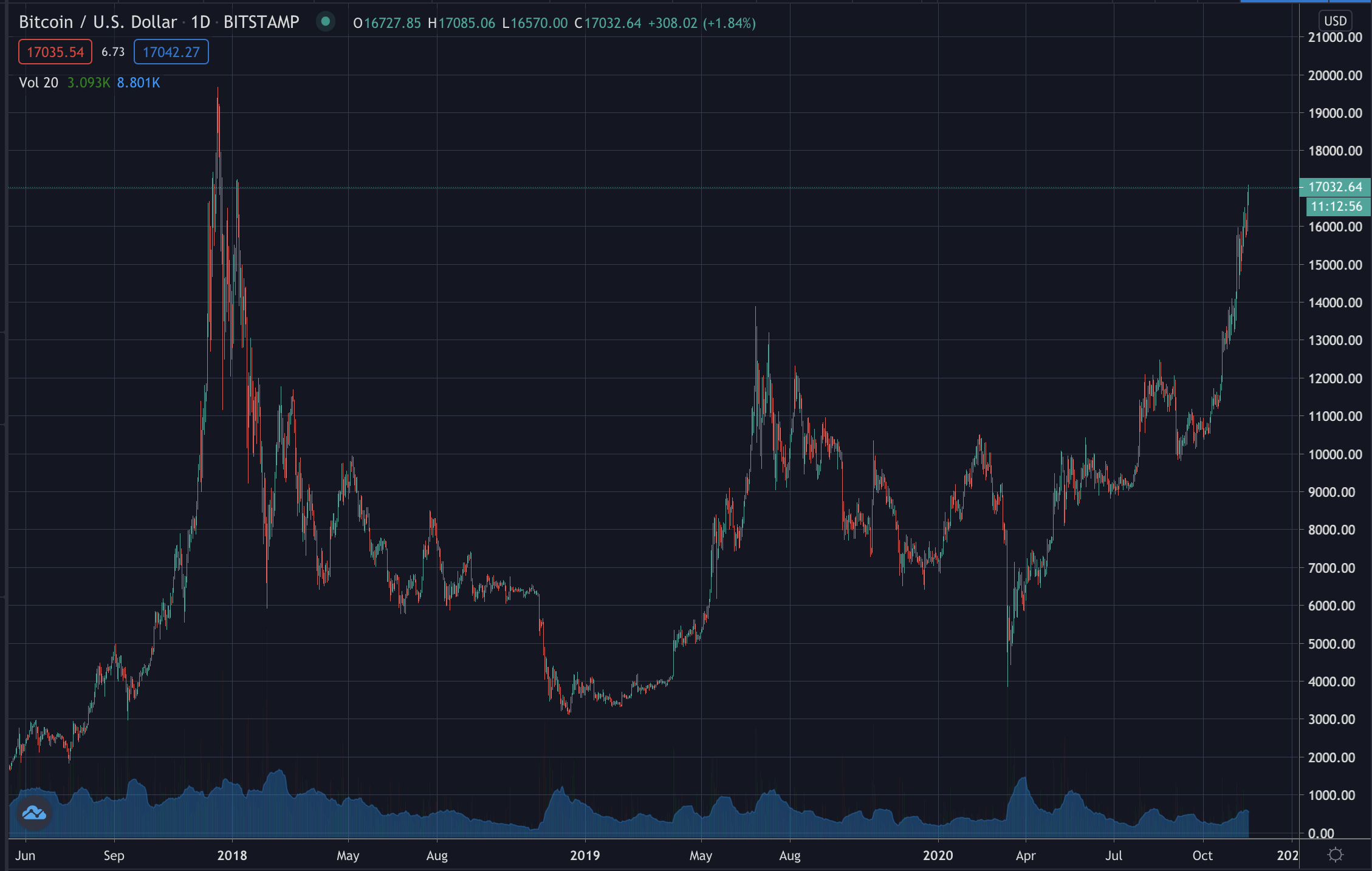 There's clearly been a breakout here. First during summer, but more confidently last month when this began knocking down all previous resistance lines.
$10,000 was a very big one, as was $14,000, with it unclear whether this will stop here much if it aims for all time high.
That's at $20,000 which it briefly just about touched in December 2017, with it to be seen whether it will retake it.
There's plenty of good arguments for why it may well do so. New supply has halved and more importantly, just 6.25% of the current supply will ever be minted once this halving period ends.
That finite supply is very attractive for a store of value, with a German state bank saying bitcoin is an "ultra-hard type of money" due to stock to flow.
Stock is the supply, while flow is how that changes. For gold, usually 1% is added to its supply but if price rises a lot, then there's a gold rush to mine it, which increases its supply.
So it's flow is not great especially as the world's biggest gold reserve has been discovered, but when compared to fiat obviously gold is a better store of value.
Compared to bitcoin, however, even gold is not a very hard type of money because its supply increases, while bitcoin has a finite supply.
That means the stock that goes into bitcoin doesn't get devalued or debased by new coins being printed or excavated.
In addition as bitcoin is a very new digital asset, it does not correlate with other assets while being a great hedge for geopolitical risks.
That makes it very desirable for diversifying to increase rewards while minimizing risk. Hence institutions are now starting to get involved to provide bitcoin related services due to increasing customer demand.
All that is creating buying pressure for bitcoin, which may well have no resistance now until all time high, but obviously no one knows what the digital gold will do.
The currency has seen increased credible volumes of $4.5 billion, giving it a […]