Click here to view original web page at ourbitcoinnews.com
VanEck Exchange Traded Fund DAPP
ETFs (Exchange Traded Funds) that track the performance of crypto assets (cryptocurrency) related companies provided by major US asset manager VanEck have been listed on the London Stock Exchange and the German Stock Exchange.
The ETF (ticker: DAPP) was first listed on the US Nasdaq last month and will begin trading in Europe.
DAPP is not a virtual currency, but an ETF that is operated based on an index composed of the stock prices of companies that have exposure to virtual currencies such as virtual currency exchanges, mining companies, and payment-related companies. Companies that are included in the basket are required to generate more than 50% of their revenue in crypto-related businesses.
The index to be adopted is VanEck's original "MVIS Global Digital Assets Equity Index", which aims to track the performance of the index.
With its listing on the US Nasdaq and its new listing on major European stock exchanges, VanEck's director of digital assets, Gabor Gurbacs, commented, "It's unprecedented."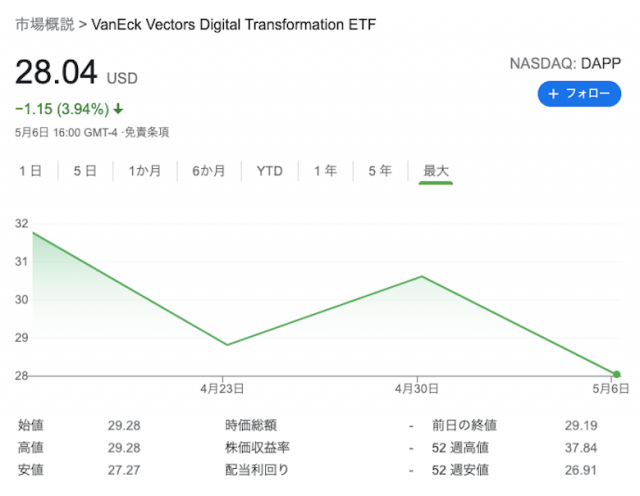 Bitcoin ETF
The Bitcoin ETF, which VanEck is currently applying for in the United States, has announced that the SEC will postpone its approval decision around June 17. In addition, the period of judgment can be extended by 240 days from the date and time when the application was accepted, so there is a possibility that the final judgment will be extended by around November 10 at the maximum.
N https://imgs.coinpost-ext.com/uploads/2019/09/etf325.jpg->