Click here to view original web page at www.fxleaders.com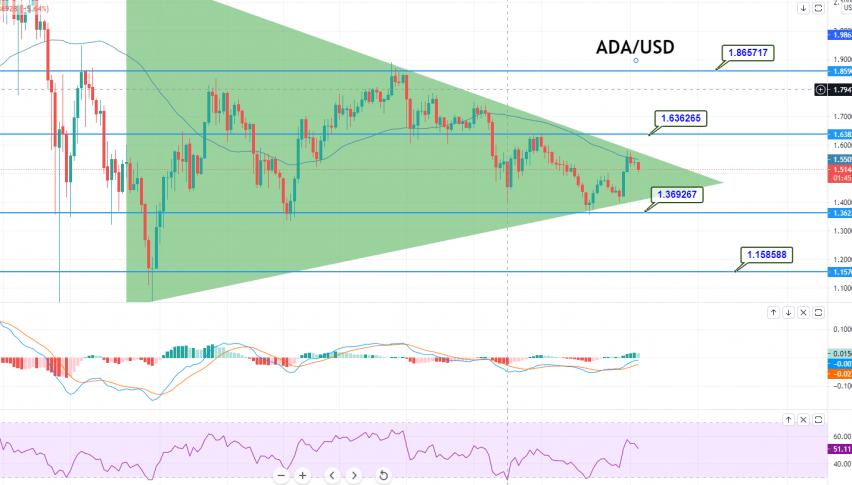 The ADA/USD closed at $1.558645, after placing a high of 1.579148, and a low of 1.400833. The ADA/USD continued its bullish momentum for the second consecutive session on Sunday and ended the weekend within the green range. Cardano announced that a team was currently researching the future of Stablefees. The team explained that the core idea behind Stablefees was to have a base price for transactions, through pegging them with a basket of currencies or commodities. This news added some strength to the value of Cardano's token, the ADA.
Another important revelation made by co-developers of Cardano, Input Output Hong Kong (IOHK), also added to the value of the ADA/USD over the weekend. The marketing and communication director of IOHK, Tim Harrison, said that Cardano's Alonzo will now run smart contracts. Harrison explained that it would be as simple as a transaction, as it would create a very basic contract and pass it to the ledger, enabling them to have their first smart contract written against the network.
On the other hand, the co-founder of Ethereum, Anthony Di Lorio, said that he was betting on Cardano and Polkadot. He also revealed that he has invested in both projects, due to their goal-oriented teams. He even said that he was a big fan of both Polkadot and Cardano. He added that analysts have often praised Cardano's scientific and mathematical roadmap, because its blockchain is popular for its slow, progressive and accurate build-up. This also added to the rising prices of the ADA/USD on Sunday.Meanwhile, the gains in Cardano's token remained limited for the day, as the US dollar was strong across the board. The US Dollar Index (DXY) rose above the 90.6 level on Friday, amid the sudden jump in US Treasury Yields, which rose after falling for six consecutive sessions.

ADA/USD – Daily Technical Levels
Support Resistance
1.446602 1.624917
1.334560 1.691190
1.268288 1.803231
Pivot Point: 1.512875The ADA is trading with a neutral bias at 1.5140, forming a symmetrical triangle pattern on the four-hourly timeframe. On the lower side, the ADA/USD pair is likely to find support at the 1.3609 level, along with a resistance level of 1.6362. A bullish breakout at 1.6362 could trigger a buying trend until 1.7550 and 1.8657. At the same time, a bearish breakout at the 1.3692 level could extend the selling trend to the 1.1585 level. The MACD and RSI suggest a buying trend; therefore, let's consider taking a buying trade over the 1.5128 level today. Good luck!