Click here to view original web page at www.fxleaders.com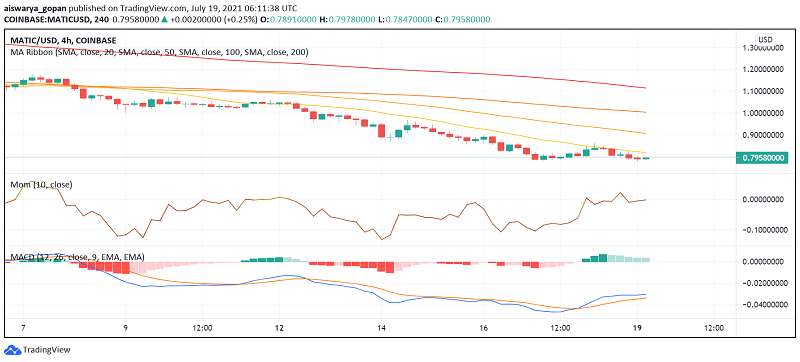 Polygon (MATIC) is starting Monday on an extremely bearish footing, losing over 6% of its value a couple of days after having dropped to a two-month low amid the overall downbeat mood towards cryptocurrencies in general. At the time of writing, MATIC/USD is trading at around $0.79.
The wider crypto sector is trading under pressure over the past few weeks with investors turning away from riskier instruments and rushing towards the safety of instruments like gold and the US dollar. The sentiment has been soured on account of a resurgence in COVID-19 cases worldwide, increasing worries of the global economic recovery getting delayed. In addition, cryptocurrencies are also being weighed down by the increased regulatory scrutiny across the world, which has driven severe sell-offs of digital assets.
On the fundamentals side, Polygon is enjoying some support after leading crypto exchange Kraken announced that its token, MATIC, now available for trading for users based in the US, Canada and Australia. This development could potentially drive higher interest in buying and trading MATIC/USD, and the higher trading activity could support the digital token's prices in the near-term.
Polygon, which is a Layer 2 scaling solution for Ethereum, shows a lot of promise in helping the DeFi leader handle transactions in a faster, cheaper and simpler manner. It shot into popularity especially after the Ethereum network started experiencing high congestion and soaring gas fees on the back of rising popularity of the DeFi ecosystem and during the bull run in the crypto market earlier this year.
Interest in the DeFi space continues to heat up despite the bearish mood towards cryptocurrencies in general, with DinoSwap – Polygon's answer to PancakeSwap raising $4.7 million worth of funding from leading venture capital funds in the DeFi space. The network's own co-founder, Sandeep Nailwal, is also one of the angel investors in DinoSwap and with this inflow of funds, can make an effort to become the top DEX on the Polygon network, heightening its adoption and driving the value of its native MATIC token higher.
Key Levels to Watch
On the 4-hour chart, we can see the moving averages exhibiting a bearish bias on MATIC/USD. However, the MACD and momentum indicators are flashing buy, suggesting some level of buying interest in the cryptocurrency as well.
The price is away from the pivot point at $0.87 but remains above the immediate support at $0.70. If buying pressure bulds up further, Polygon's price can head higher, past the pivot point and towards the immediate resistance at the $0.96 level after which it can break above the key $1.00 level. On the other hand, increased bearishness can take the MATIC price break down below $0.70 and head towards the next support at $0.60.