Click here to view original web page at www.economywatch.com
Decentralized finance (DeFi) is one of the most exciting frontiers of the crypto space. With the sub-sector growing from $10 billion to over $50 billion in six months, more investors are looking to buy into DeFi-facing protocols.
Liquidity pools present this opportunity, and one of the fastest-growing is ThroChain. Investors are scrambling to buy RUNE given the protocol's growing relevance in the DeFi scene.
However, it will be a great time to know what ThorChain is all about and if this might be a great time to buy RUNE.
ThorChain: Interoperable Liquidity Platform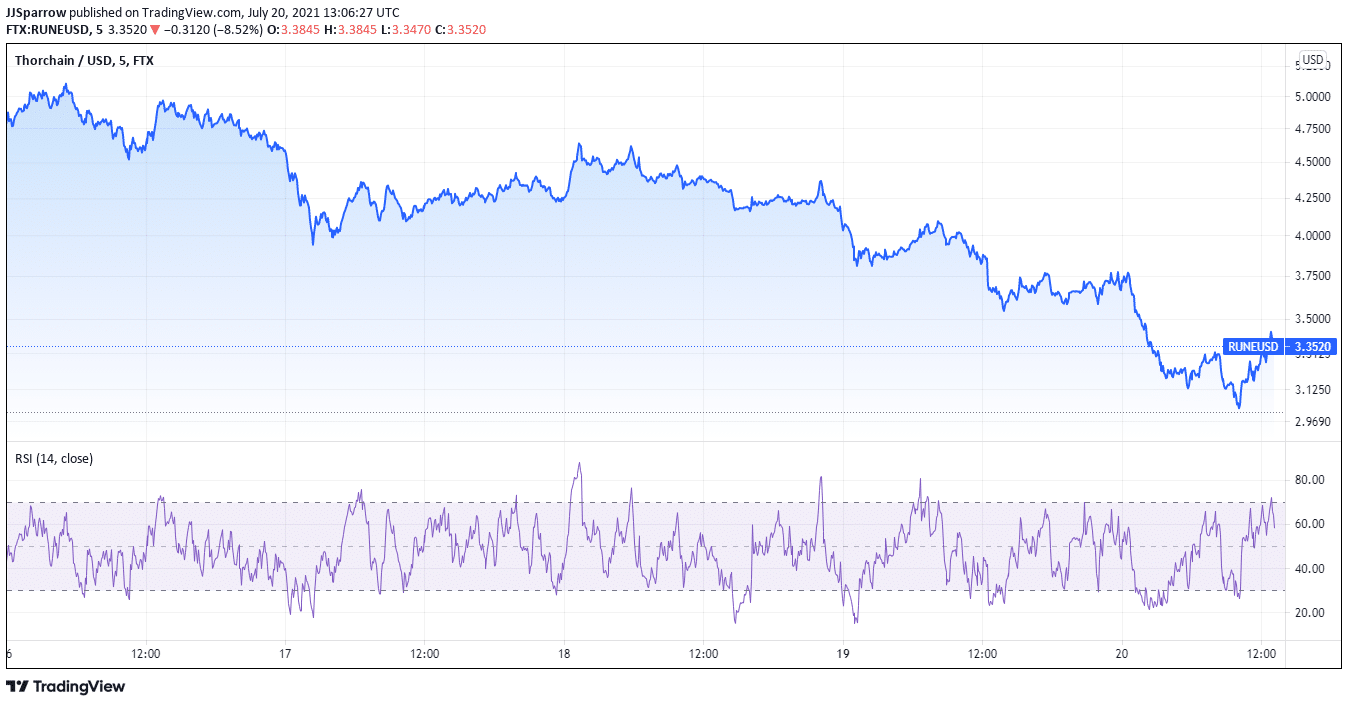 With no clear head, ThorChain can be termed a community-driven protocol. Forming part of a growing class of next-generation decentralized cryptocurrency exchanges, ThorChain enables anyone to easily exchange their cryptocurrency for another across several networks without releasing custody of their crypto holdings.
Forming part of the automated market maker (AMM) class alongside UniSwap and SushiSwap, ThorChain uses a continuous liquidity pool system which sees the amount of liquidity available on the platform double what is posted. It's built as a cross-chain solution that allows users to swap digital tokens on different platforms, all from the ThorChain interface.
It is built on the same Tendermint Byzantine Fault Tolerance mechanism that powers the interoperable blockchain Cosmos ecosystem.
It uses the less energy-intensive proof-of-stake (PoS) consensus algorithm, and validating nodes must bond up to 1 million RUNE tokens before adding transactions to the blockchain. Bad actors are penalized by the slashing of their RUNE tokens by half.
Its native utility token is RUNE, and it serves as the protocol's governance token and is used in staking and securing the ThorChain network.
67% of all retail investor accounts lose money when trading CFDs with this provider
RUNE: Bearish Trend Continues Into July
The crypto space is vastly influenced by top digital asset Bitcoin. With the first-ever virtual currency holding approximately 46% of the nascent industry, most small-cap projects like RUNE have seen their growth tied to Bitcoin price action.
This has seen RUNE surge and fall with BTC wild price swings. Even though more projects are trying to blaze an independent trail away from the largest cryptocurrency by market volume, it has been a struggle.
With a current price peg of $3.233, RUNE is down by 16.23% from its previous day gains. Its seven-day performance is even more bearish, with RUNE dipping 45.50% in one week.
However, if anyone is familiar with the crypto scene, it is the unexpected surge in value. This might be a great time to buy RUNE for a bargain. This way, when the market rallies, you can sell it at a higher value and make gains.
Much like several crypto protocols, RUNE has seen exponential growth.
Kick-starting this year's journey a little over $1, RUNE rose more than 3,000%, tapering out at a record $20.31 on May 18. However, it could not retain this astronomical height and subsequently dipped to $7.48 five days later.
It made a rebound and rallied to $14.07 on May 27 but has since seen its price rise and fall without breaking above the $14 resistance zone. With the crypto market expected to make a recovery, a RUNE rally will entail significant gains.
RUNE Technical And Fundamental Analysis
RUNE's technicals are a bit weak, with the digital asset trading below the 20-day support of $5.558, indicating a bear market. The relative strength index (RSI) stands at 27.38, meaning it is trading in the oversold region. Meanwhile, if a 27.38 RSI does not deter you, you can buy RUNE for a rebound.
Market experts point to a great turnaround in the token's fortunes, and Wallet Investor puts its one-year forecast at $16.794. The five-year estimates see RUNE trading at $67.236.
On its fundamentals, the community-driven crypto protocol is taking steps to build out its ecosystem. According to an announcement by the ThorChain project team, the ThorChain synthetics platform is already live on its testnet.
This innovative blockchain technology will enable users to mint, redeem, and swap regular tokens for synthetic assets. In addition, they will be able to transfer these Synths to ThorChain wallets and earn interest on their holdings in the future.
Buy Crypto at CedarFX, the World's #1 trading platform!