Click here to view original web page at smartliquidity.info
Polkadot Third event from the Encode Polkadot Club series to be held on July 22.
Polkadot Announced The third event from the Encode Polkadot Club series, a long-term educational programme in partnership with encodeCLUB to be held on July 22, at 6:30pm CET
Introducing Polkadot Educate
The purpose of Polkadot Educate series is to teach students about blockchain through the lens of Polkadot. Over 100+ university blockchain societies and students from all corners of the globe will be participating in this series.
3rd Events: Technical Overview of Polkadot
Polkadot is an open-source network protocol that allows arbitrary data – not just tokens – to be transferred across blockchains. It's built to connect private and consortium chains, public and permissionless networks, oracles, and future technologies that are yet to be created.
The third event in Polkadot Club series, a long-term programme educating students worldwide about all things Polkadot. This event will be a technical overview of Polkadot.
➡️For more Info:
https://www.eventbrite.co.uk/e/polkadot-club-technical-overview-of-polkadot-tickets-158946436069
About Encode Club
The purpose of Encode is to educate, support and catalyse the emergence of new talent into the blockchain space. We work across 100 universities worldwide, running hackathons, accelerators, education series as well as investing and recruiting the best to join leading blockchain companies. Read more here: https://www.encode.club/
About Polkadot
Polkadot is an open-source network protocol that allows arbitrary data — not just tokens — to be transferred across blockchains. It's built to connect private and consortium chains, public and permissionless networks, oracles, and future technologies that are yet to be created.
➡️Source:
https://medium.com/encode-club/announcing-the-encode-polkadot-club-cfea36423d24
— Skyrim will utilize various price-feeding (DeData/oracle services) via Kylin Network to provide a robust foundation for their platform to automate various aspects.
— Skyrim and Kylin will co-develop any novel use case parameters that could include, for example, new monetization and/or operationalization paths based on data feeding and consumption within a DeData framework.
— Skyrim will have access to our DeData Ecosystem network of partners and vice versa.
Kylin will play an integral role in helping to drive growth for Skyrim and vice versa in the coming phases of crypto evolution.
About Kylin Network
Kylin Network aims to build a cross-chain platform powering the data economy on Polkadot. It will be the data infrastructure for the future DeFi and Web 3.0 powered by Polkadot. Kylin Network will provide valid, reliable, secure, cost-effective, and easily-coordinated data sources and data analytics.
About Skyrim Finance
Skyrim Finance is a Multichain Protocol focusing on Fixed-rate and Leveraged-yield DeFi Products.We aim to build the Robo-Advisor of the DeFi ecosystem.
The DeFi market consists of two types of DeFi investors — Skyrim aims to create a synergy between the gap of these two target markets.
The objective of Skyrim Finance is to help investors of different profiles have risk-adjusted return through fixed-rate and leveraged-yield DeFi products.
➡️Source:
https://kylinnetwork.medium.com/skyrim-partners-with-kylin-network-9bdf095e5c92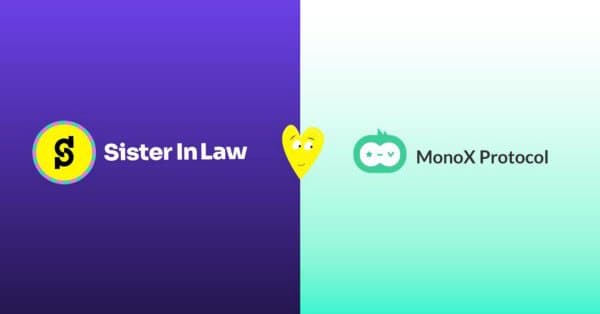 Now SIL will set it's next milestone to Polygon Network(previous Matic Network), which is a Layer-2 network for Ethereum with low gas fees.
Now SIL is thrilled to announce a key partnership with MonoX — a next generation Decentralized Finance (DeFi) protocol redefining how users can participate in the peer-to-peer financial systems enabled by decentralized technologies built on the Ethereum blockchain.
The SIL team find MonoX definitely a creative, unbloomed gem waiting to be shine, it's Single token Liquidity Pool design fully matches SIL's product philosophy(SIL is also Single-Sided), which results in lower trading fees, less capital needed to be a liquidity provider and less capital is siloed in multiple pool pairs, which also result in more capital being unlocked and free to use within the greater DeFi ecosystem.
SIL will land it's first version on Polygon with Monoswap as the first swap protocol, Monoswap works by creating single token liquidity pools, this is achieved by grouping deposited tokens into a virtual pair with the vUSD stablecoin. vUSD is backed by all the assets in MonoX pools that have a positive vUSD balance. SIL may directly expose the vUSD asset to SILians, which may be more straightforward in the first stage of integration.
MonoX brings a brand new pattern of liquidity formations, to SIL's side, how to improvise assets' utilization without compromising transparency is always an important topic, which SIL team will strive to pursue. Thanks to this collaboration, SIL will work closely with MonoX to expand and develop more options by leveraging MonoX's focus on capital efficiency and capital incentives to create more combinations for DeFi user's to explore.
As MonoX gears up for a mainnet launch in Q3 (both Ethereum mainnet and Polygon L2), the time is almost alright for SIL to integrate MonoX, this strategic partnership will boost the confidence in the idea of a single token/liquidity pool and increase both products' utility upon mutual release.
About MonoX
MonoX introduces the premier bootstrap decentralized exchange, Monoswap. Project owners can list their tokens without the burden of capital requirements and focus on using funds for building the project instead of providing liquidity.
It works by grouping deposited tokens into a virtual pair with our own vUSD stable coin, to offer a single token pool design.
MonoX will revolutionize the DeFi ecosystem by fixing the capital inefficiencies of current protocol models. With lower trading fees, capital efficiency, and zero-capital token launching — MonoX will expand the capabilities of DeFi.
About SIL Finance
SIL.Finance is a single sided yield aggregator with adventurous functional #NFT farming card add-ons. It's a decentralized automatic investment platform based on smart contracts, focusing on providing users with DeFi Financial Management services. SIL provides dual-token liquidity for variable swaps, automatic LP matching, and automatic compound interests. According to factors such as annualized rate of return, safety factor, financial management cycle, etc., it automatically selects and configures products that best suit the interests of users, making complex liquidity mining to become simple.
The SIL's model is unique on the DeFi market, it's single-sided functionality is solely contributed by users, the product gives all the possible choices back to the community and is way more open than yield products.
MonoX Links
SIL.Finance Links
SOURCE: https://sil-finance.medium.com/sil-monox-partnership-a65f73863291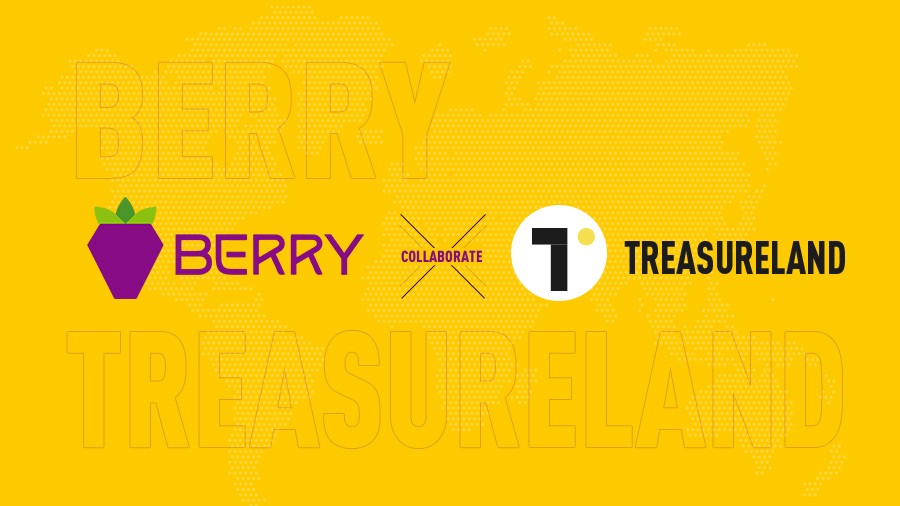 Berry Data will launched a NFT soon and there will be two types: Berry NFT and Berry Joint NFT. With this collaboration, Berry Data will have future Berry NFT initial sale on Treasureland and both parties will co-promoting on all future NFT marketing activities.
Treasureland
Treasureland is a multi-chain NFT issuance and trading platform for users to mint with ZERO gas, trade or auction NFTs within one click. It aims to connect NFT creators, users, and consumers in a decentralized way, building the eBay of the blockchain world.
Berry Data
Berry Data provides a trustless and decentralized alternative for off-chain data. Also, it provides the infrastructure for decentralized applications to query off-chain data by properly incentivizing miners to provide data.
Source
https://medium.com/berry-data-official/berry-data-x-treasureland-berry-data-will-have-future-initial-berry-nft-sale-on-treasureland-6112bee49943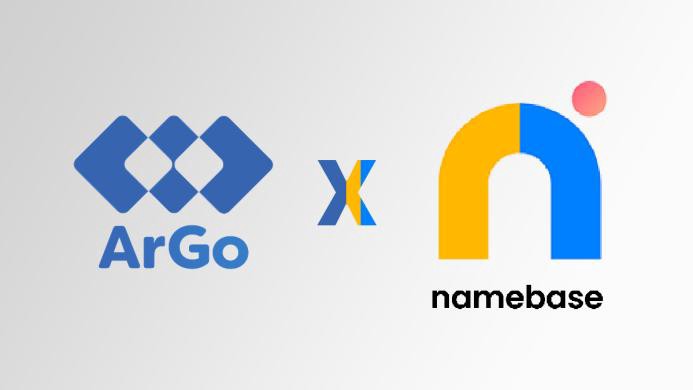 ArGo has announced its partnership with Namebase. This partnership enables integrations with the leading decentralized, permissionless naming protocol, Handshake (HNS).
Their partnership with Namebase bolsters ArGo's ability to connect masses to the decentralized hosting service made possible through the Arweave Protocol. Through the partnership, the Handshake ecosystem can gain access to both decentralized naming and hosting services.
Handshake is reinventing the way naming works on the internet. Handshake hopes to create a more secure, censorship-resistant, and socially useful internet through systems that rely on peer-to-peer validation. Namebase makes interacting with the Handshake blockchain simple, and more accessible.
What ArGo does
ArGo makes front-end web deployment easy, effective, and efficient through its blockchain-based platform that takes your web app to the DSNs (Decentralized Storage Networks). ArGo removes the hurdles of centralization and censorship through blockchain, ensuring that your web app is permanently deployed and experiences 100% uptime throughout its life.
About Namebase
Namebase mission is to enable freedom and safety on the internet. Handshake will create an Internet that's more secure, censorship-resistant, seizure-resistant, private, and truly-owned by individuals not corporations. Their goal is to make Handshake easy-to-use to enable mass adoption.
INFO:
https://argoapp.medium.com/argo-partners-with-namebase-to-provide-a-resilient-and-socially-useful-network-53e9d2e59389
#BCN1
FEG Token is a hyper-deflationary token with a maximum circulating supply of 100Q (quadrillion) on both the Ethereum blockchain and the Binance Smart Chain that involves an inaccessible burn wallet.
May 8, 2021 FEG Token was born and hundreds of thousands of random investors started to buy the coin.
But what is this?! There is a cash version of FEG Token? Oh com'on! YES! You heard it right! There is a platform that is the cash version of FEG Token( but FEG Token is not related to this project). This platform we have discovered is no other than FEGCash!
WHAT IS FEG Cash?
FEG CASH is the cash version of the FEG token. It is a hyperdeflationary DeFi with a maximum circulating supply of 1 quadrillion on the Binance Smart Chain that involves an inaccessible burn wallet. The idea behind FEG CASH is to provide a decentralized trading network operating on the Binanceblockchain (BEP-20).
FEG Cash was launched with an initial 1Q (quadrillion) tokens. Half was immediately burnt to give FEG Cash the head start so we can control the Token's deflationary tokenomics. 8% of every transaction (buy, sell, or transfer) is taxed and distributed between all holders.
Over half of this tax 5% is sent to an inaccessible burn address ("black hole") 1% to marketing and the rest is distributed to holders, incentivizing holders to hold and decreasing the circulating supply over time. These reflections are earned immediately and automatically added into holder's wallets.
Well all platform has unique ideas to catch attentions and most of them has its own reward system.
FEG Cash Reward—FEG CASH rewards its holders with a 2% transaction tax from every made, gaining reflections each day. The more you hold enables you to earn more, therefore increasing the amount you originally bought.
Liquidity—FEG CASH collects 5% of each transaction and the contract adds it to liquidity to make the token more stable, giving more protection to its holders.
WHY FEG Cash?
Unruggable—Initial Liquidity Provided is locked with DXLock for more than 6 months. The contract is going to be audited by CertiK.
Community Owned—The project was owned by the community empowered by the community
Decentralized—FEG Cash is fully decentralized. There is no one main owner of the token. All decisions are made in the community's favor.
In final phase FEG Cash aim to be listed on a major CEX, NFT Marketplace and enter the world of merchandising where their brand will help to donate to the charities they choose to partner with. The success of all phases is important for them and they will take each step with ambition and drive to get to their end goal.
ABOUT FEG Cash
FEG CASH is the cash version of the FEG token. It is a hyperdeflationary DeFi with a maximum circulating supply of 1 quadrillion on the Binance Smart Chain that involves an inaccessible burn wallet.
BabySwap has created 22 masterpieces as of today, and they want more people to get to know about their NFB! SCV is an amazing NFT platform that can help babies grow healthy and strong! They focus on Japan, Asia, and Indonesia so we can push our babies, NFB, and projects to the global stage!
About SCV
SCV.finance aims to become an ultimate solution that helps you monitor your wallet balance and your liquidity pool, yield farming, and token staking performance. SCV.finance provides a blazing-fast and elegantly designed mobile-first UI, with support for many platforms coming very soon.
About BabySwap Friends
BabySwap working on this for a while by communicating and making connections to all forces. BabySwap Friends is what we need. It's like a baby troop or a baby gang, and BabySwap Friends have one thing in common — wish to provide what they have to make baby projects stronger.
Berry Data announced their new mining pool that will go live on July 23 at 5PM (SGT). The $BRY+$USDT LP mining pool will last 90 days, and a total of 458,260 $BRY will be distributed with 2X Rewards for the first 20 days!
Pool Details:
Stake BRY+$USDT LP, to earn $BRY!
Win 2X rewards in the first 20 days.
Total Rewards: 458,260 $BRY
Distribution Duration: 90 days
Start: 5 PM, July 23 (SGT)
Source
https://medium.com/berry-data-official/bry-usdt-lp-mining-pool-is-coming-get-2x-rewards-in-the-first-20-days-ac796562b563
Within this partnership, Polkalokr is protected by an added layer of security to ensure the safety of our users and their data.
Partnering with HAPI means that whenever a possible hack is being carried out, Polkalokr will be alerted through HAPI's security oracle feed, and can immediately take the appropriate steps required to eliminate any potential threats. The presence of this additional shield wall serves to protect our users' assets, ensuring the security of Polkalokr's platform and building trust in an otherwise amorphous environment.
About HAPI
HAPI is a set of cross-chain smart contracts embedded into DeFi products that allow them to reach a new security level. HAPI's Oraclizing and DAO system delivers SaaS in the DeFi environment that prevents hack attempts.
About Polkalokr
Polkalokr is the first all-in-one, multichain token locking and escrow platform with built-in privacy functionality. Its products, LOKR and SWAPR, help build trust within the DeFi space by removing the human element and focusing on governance through code, with a seamless, omni-channel digital experience platform.
➡️Source:
https://medium.com/polkalokr/polkalokr-partners-with-hapi-94f5237ae941