Click here to view original web page at www.benzinga.com
Ethereum Classic (CRYPTO: ETC) is rallying alongside the rest of the crypto market Monday with many cryptos trading up over 10% today.
Ethereum Classic is the original version of Ethereum that executed smart contracts with a Proof-Of-Work platform. Ethereum later changed to a Proof-Of-Stake platform after there was a hack on the platform.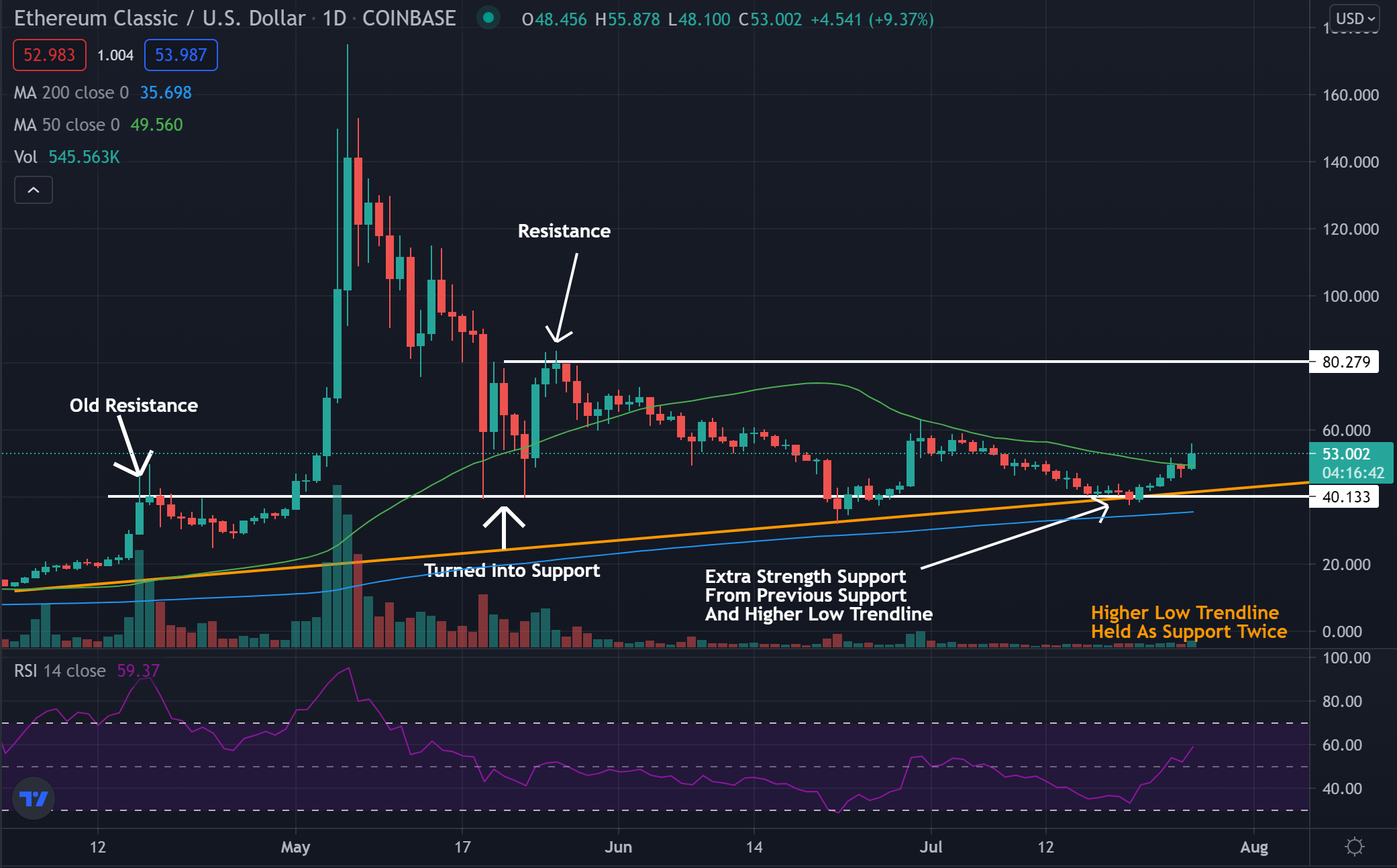 Ethereum Classic recently bounced off an area where two key levels of support crossed each other. When the crypto fell to support as two levels of support crossed, it added to the strength of the support level.
Ethereum Classic crossed above the 50-day moving average (green), and trades above the 200-day moving average (blue), indicating the sentiment in the crypto is turning bullish.
Each of these moving averages may hold as an area of support in the future.
Key Ethereum Classic Levels To Watch
Ethereum Classic saw a bounce near the $40 level as the higher low trendline also crossed the $40 level at that time.
The crypto continues to form higher lows and now looks to be heading back up toward the next strong resistance level near the $80 mark.
The Relative Strength Index (RSI) was trading near the oversold area when it saw a bounce. Now the RSI has crossed back above the middle line and sits at 60. If the RSI can near the overbought area, the price may continue to rise.
What's Next For Ethereum Classic?
Bullish traders would like to see Ethereum Classic continue to form higher lows and head toward resistance. Bulls then want to see the crypto be able to break above the $80 resistance and see a period of consolidation. Consolidation while holding the gains made could indicate the crypto is ready for the next leg up.
The #1 Options Education & Alert Service

Nic Chahine, Benzinga's head options trader, sifts through the entire market every single day to give you his best trades. Learn and trade along Nic to see how he earns a full-time living trading options...
Click here to see his current trades!
Bearish traders would like to see Ethereum Classic fall and first cross below the higher low trendline, and then cross below the $40 support level. Bears want to see the crypto fall below the moving averages as well to see a potential change in trend and sentiment.
Where to put $100 right now
Did you know that finding breakout stocks can be done by following a structured, heavily tested trading process? Based off of human psychology, behavior, and recurring market patterns?
Benzinga's head breakout trader has a bulletproof strategy to consistently find winning breakout trades. His strategy got him to take huge wins on stocks like Netflix, Tesla, AMC, Gamestop and more.
We just sent out the latest breakout pick to traders just like you. You can click here to see what stock is about to breakout.
How I've Made 400% Returns So Far in 2021
'Covid Stocks' is a phrase that does no justice to how well these trades have treated me this year. Trading against two giant sell-offs and unprecedented market volatility takes more than an eye for good stay-at-home picks: It takes hard work and deep technical knowledge.
And that's exactly what I've brought to the table for my subscribers this year, picking winner after winner leading to huge breakout gains. Plus I've maintained such a risk-off stop loss strategy, you could say it's impossible to regret following my trademark, Alpha Factor system.
That's why today I'm opening Benzinga Breakout to the public -- to share the wealth, so to speak. And show new traders and investors just how easy it can be to beat this crazy market against all odds!
Click here, or sign up for our newsletter to explore more of Benzinga's Cryptocurrency market coverage, in-depth coin analysis, data, and reporting.
For the latest in financial news, exclusive stories, memes follow Benzinga on Twitter, Facebook & Instagram. For the best interviews, stock market talk & videos, subscribe to Benzinga Podcasts and our YouTube channel.
© 2021 Benzinga.com. Benzinga does not provide investment advice. All rights reserved.