Click here to view original web page at cryptosignals.org
Polkadot (DOT) recorded an upbeat session on Tuesday despite a market-wide slowness. This uptick in trading volume suggests a replenishing interest in cryptos by traders and investors. At press time, DOT/USD trades at $30.23.
Another supporting factor for Polkadot is the recent dip in the circulating supply of DOT tokens, which reduced the available supply amid high interest causing an increase in value.
On the fundamental landscape, one new development supporting the bullish move in Polkadot is that of a DeFi lending and stalling protocol on its blockchain, Parallel Finance, realizing $22 million in funding from a Series A round giving the company a valuation of $150 million.
That said, the funding will allow Parallel Finance to grow the DeFi offerings on the Polkadot blockchain and grant users more access to AMM, staking, auction loans, and derivatives trading.
Additionally, Wanchain, a blockchain interoperability protocol, recently announced a partnership with Moonbeam to set up non-custodial cross-chain infrastructure on Moonriver, thereby improving the DeFi capabilities of Kusama (Polkadot's canary network). Subsequently, the Wanchain-Moonbeam partnership would develop a connection for Polkadot and Moonbeam to a cross-chain DeFi ecosystem, further boosting Kusama's popularity among developers.
Key Polkadot Levels to Watch — September 1
DOT/USD posted a 31% rally over the past 48 hours from a low of $25.35 to a fifteen-week high of $32.04 and back down to the $30 axis, where it currently trades. The goodish bounce also helped the ninth-largest cryptocurrency reclaim its position above the six-week-long trendline and 50 SMA.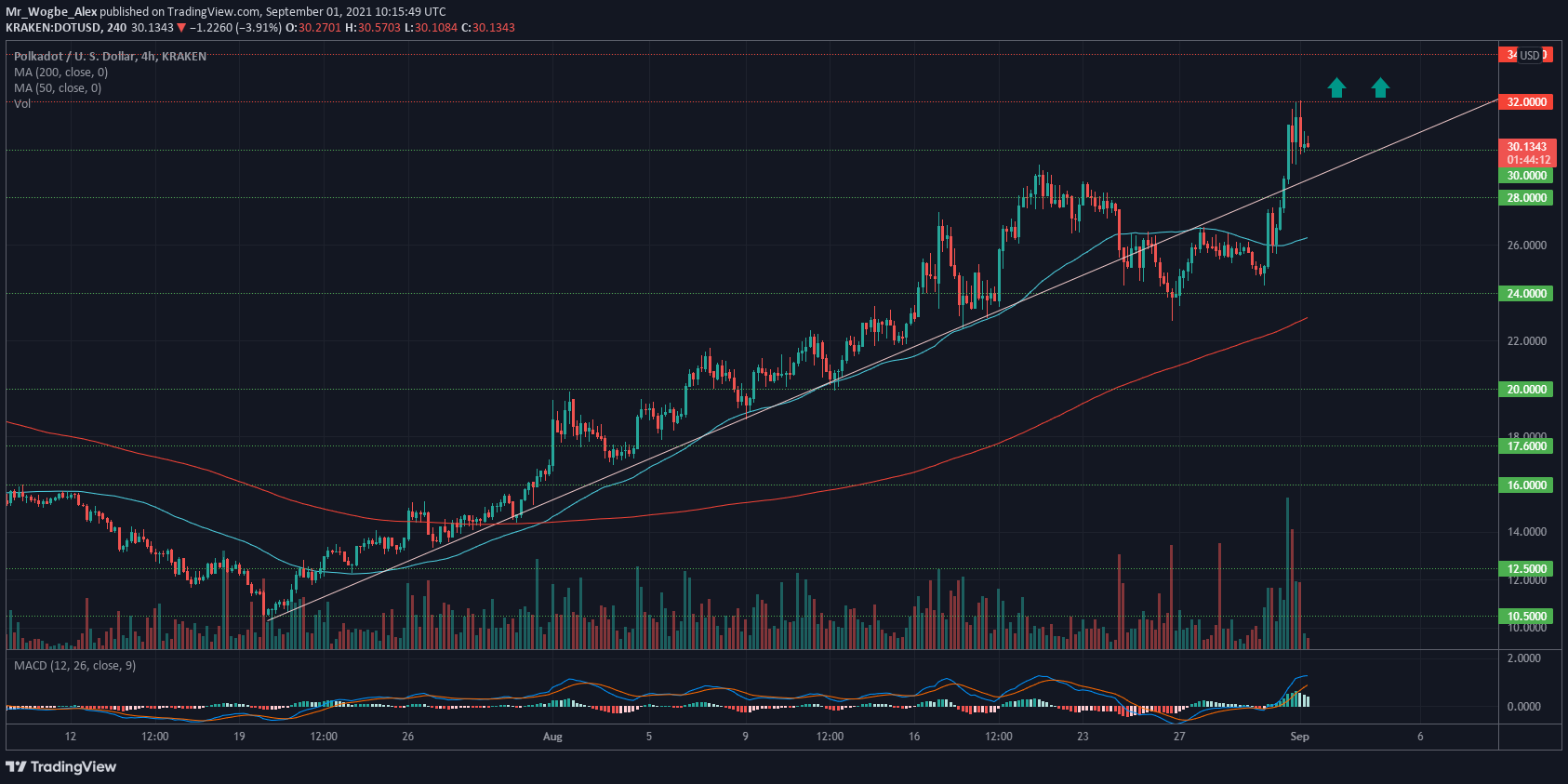 That said, we should expect a retest of the $32 mark soon, as a bullish bias sweeps across the broader market. Additionally, subsequent declines should get repelled by the trendline at $30 and the $28 support line.
Meanwhile, our resistance levels are at $32.00, $34.00, and $36.00, and our key support levels are at $30.00, $28.00, and $26.00.
Total Market Capitalization: $2.10 trillion
Polkadot Market Capitalization: $29.7 billion
Polkadot Dominance: 1.4%
Market Rank: #9