Click here to view original web page at seekingalpha.com
Summary
The social media sector is maturing, and growth rates will decline in the coming years.
Facebook is in a position where it can, and should, take some innovative risks.
A renewed commitment to innovation could launch it onto a new growth cycle.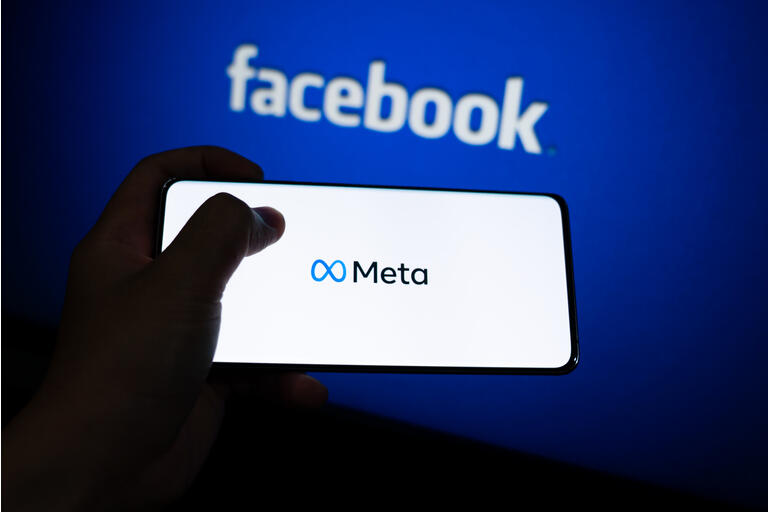 Thesis
In late-October, Meta Platforms, Inc. (FB) and its CEO, Mark Zuckerberg, presented their vision for the future direction of the company. In a video that was released detailing the various products and services the company plans to develop over the coming years, Zuckerberg emphasized an Augmented Reality ("AR") and Virtual Reality ("VR") concentration that will focus on both leisure and work activities.
The video presentation was largely ridiculed by the mainstream media with even some in the financial media questioning this new direction. However, the reality is that the social media sector that exists today will mature in the not-to-distant future. Zuckerberg seems to realize this and knows that unless his company starts developing new technologies with wide appeal, the company might start being viewed as yesterday's news; having the effect of weighing down the stock price.
To prevent this from happening, he's decided to invest some of the company's Free Cash Flow ("FCF") into several related products and services within Facebook's sphere of competence. Some, if not most of these, will fail; the success of even one or two however, should lead to new revenue streams, give the company a dominant position in new industries, as well as ensure a continued rise in the stock price.
Maturing Industry
The company's new strategy included a name-change in order to emphasize its future direction and highlighted the fact that Facebook is just part of a larger brand portfolio. However, Facebook, Instagram, and WhatsApp will continue to be the company's bread and butter for years to come as they keep growing and generating solid results. In fact, Facebook's Daily Active Users ("DAU") have grown by 110 million since the end of 2020's third quarter.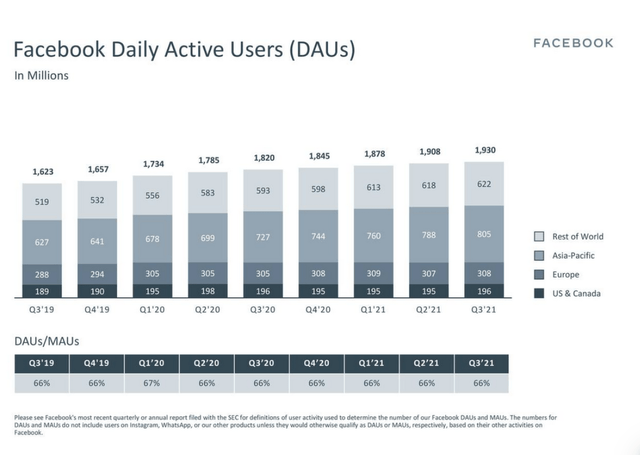 Source: Facebook Q3 2021 Presentation
The problem, however, is the lack of growth in the North American and European markets. As those markets have matured growth has tailed-off, with the past year seeing DAU growth of only 1M in North America and 3M in Europe. This has led to Facebook finding itself in a situation where all its growth comes from areas where the Average Revenue per User ("ARPU") is relatively low. This isn't likely to change either, as the only growth potential left is in developing nations where there just isn't that much money for online advertising.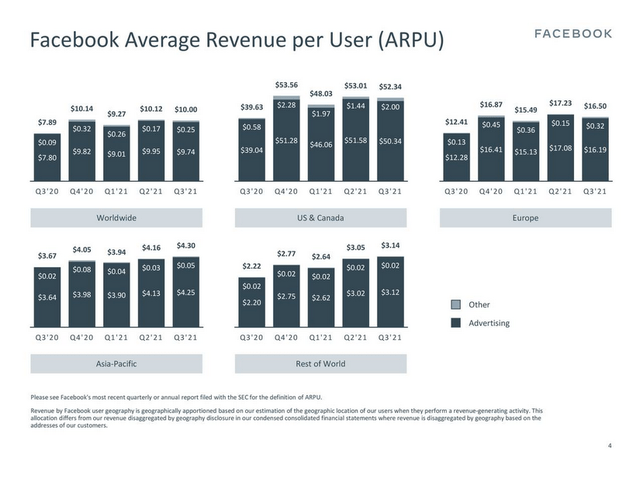 Source: Facebook Q3 2021 Presentation
This broad trend can be seen in Meta's year-over-year annual revenue growth rate since its IPO. Gone are the years when the company would regularly post revenue growth rates in the forty, fifty, or even sixty percent range. In fact, in the last few years the growth rate has been downward trending and is presently just over 20%, a decline that is likely to continue.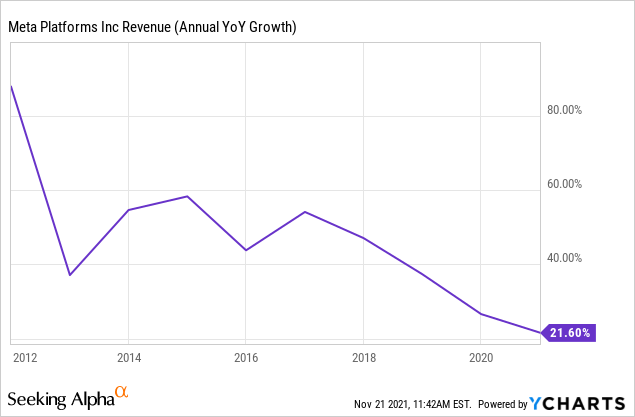 Avoiding Microsoft's Fate
Zuckerberg probably wants to avoid falling into the same trap that the Microsoft Corporation (MSFT) fell into during the early 2000's. Microsoft saw incredible growth during the 80s and 90s, an era when the fast-developing Personal Computer market provided a constant demand for its Windows Operating System. Products such as the Windows 95 and Windows XP releases were money-machines that propelled the company's stock higher.
But when the PC market matured in the early-2000s, Microsoft's growth stagnated as the company hadn't developed any other products capable of showing the same dynamic rates of growth. It tried competing with Apple Inc. (AAPL) when it released the Zune Media Player and bought Nokia Corporation's (NOK) mobile phone division but both these efforts failed miserably. Only when it moved into cloud-computing was it able to re-ignite its stock price. During the interim fifteen-year period however, between 2000 and 2015, the stock went nowhere as shareholders paid the price for Microsoft's lack of vision and forward thinking.
Of course, Zuckerberg never specifically mentions this as a motivating factor. But the Microsoft example illustrates that even a high-flying tech company may fail to anticipate the end of its product growth cycle. It underlines the importance of aggressively pursuing innovation during the expansionary phase or face stagnation once market saturation is reached and growth inevitably slows.
The Metaverse Strategy
That's why Facebook's announcement that it plans to spend $10 billion this year in the development of what it calls "the Metaverse", is welcome news for long-term shareholders. Granted, some of the ideas in Zuckerberg's almost hour and twenty-minute presentation sound impractical and doomed to failure, but Facebook is probably well-aware of that.
The process of innovation and invention is not a straight line and is full of mistakes and wrong turns. Individuals and companies sometimes spend considerable resources developing products that sound great but never take-off with consumers.
But on the other hand, the opposite is often the case where products that sounded a little strange and unconventional at first become huge hits. Facebook and Instagram are perfect examples, in that 20 years ago the idea of putting one's family photo album online for all the world to see would have sounded quite strange. But it's become the norm for many today.
The company is also staying within its sphere of competence. These new initiatives are primarily software based and will make heavy use of Facebook's existing Oculus VR hardware, allowing the company to leverage its strengths. And while the overarching vision may sound grand and ambitious, what Zuckerberg is essentially proposing is the integration of Zoom's functionality, along with other common gaming features and productivity tools, into the VR environment.
Facebook is using a broad-brush approach in its innovative efforts. It didn't select a specific product to develop but rather a whole product category into which it'll direct its resources. That will provide it with a host of new offerings targeted at individual's leisure pursuits and work activities. Developing a large number of new products and services will also allow the company to play a numbers game where it can quickly discard the failures and double-down on what looks promising.
And while the $10 billion the company plans to spend on the initiative will probably result in fewer share buybacks, the potential value-creation that comes from developing a new platform with a corresponding suite of products may prove much more lucrative in the long-run. For most of the last year, Facebook's valuation has consistently lagged that of its peers. The company risks falling further behind if investors start viewing it as operating purely in a maturing industry. While a renewed commitment to innovation is somewhat riskier, the potential long-term payoff could see it regain the valuation crown.
Risks
The main risk to this thesis, of course, is that very few of the new products and services catch on with potential consumers. This is a long-term initiative that will not only require a considerable yearly budget allocation but will also require a great amount of management's time and energy. If this fails to catch-on, Facebook's stock may begin to suffer as the market fails to see any tangible results.
Conclusion
But Facebook is in a position where it can, and should, take some innovative risks. The social media sector is maturing, and growth rates will decline in the coming years. A renewed commitment to innovation could launch it into a new growth cycle.
Disclosure: I/we have no stock, option or similar derivative position in any of the companies mentioned, and no plans to initiate any such positions within the next 72 hours. I wrote this article myself, and it expresses my own opinions. I am not receiving compensation for it (other than from Seeking Alpha). I have no business relationship with any company whose stock is mentioned in this article.