Click here to view original web page at seekingalpha.com
Summary
The metaverse is the latest tech buzzword, and everyone and anyone is attaching to it.
But the one missing from the investor conversation is Micron, the company in the semiconductor sector growing faster than most of the industry.
You've heard the "secular growth" story before, but don't be confused by the bump in PC DRAM pricing as a cycle indicator.
When the market figures out 'M' is for Micron, the stock will catch up and launch into triple digits.
Looking for more investing ideas like this one? Get them exclusively at Tech Cache. Learn More »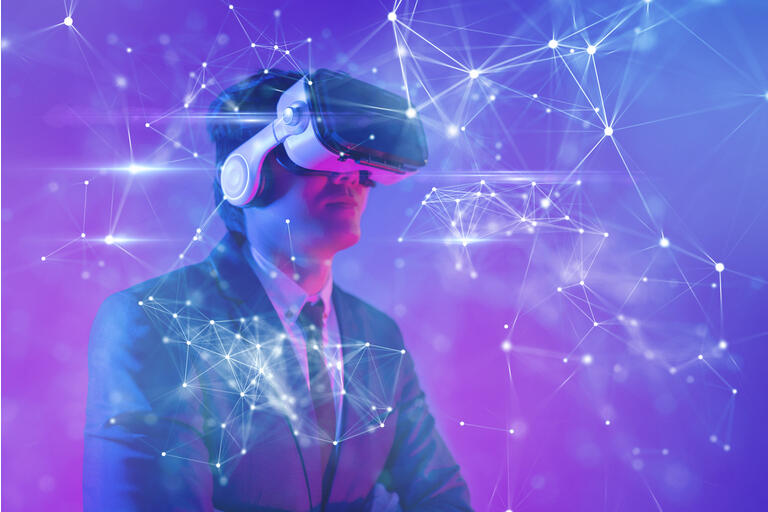 The latest buzzword is metaverse, and it's been making the rounds in the financial media ever since Facebook (FB) - aptly named Meta Platforms now - said the metaverse is the future. Then, other companies began jumping on the train, claiming they will be in the metaverse or building it. Companies like AMD (AMD), Nvidia (NVDA), Microsoft (MSFT), and Roblox (RBLX) are just a few names claiming to be pushing the metaverse train forward. But there's been one name undeniably missing from the metaverse story, one at the center of the metaverse infrastructure - Micron (MU).
The metaverse sounds much like the cryptocurrency tag-along that happened over the last several years, bringing about memories like the Long Island Iced Tea company. Now, I don't deny the viability of cryptocurrency and blockchain technology - one would find the opposite viewing my research - but I could see the metaverse getting scribbled away under the same mentality.
Facebook hasn't spoken some new word or philosophy into existence. The movie Ready Player One was written (the book) before Facebook was even a public company and showed us one author's depiction of the metaverse and all its glory - and pitfalls. Many people have fantasized about this "world," but now Facebook is launching full force into making it happen as it's "the (new) future."
All I'm saying is it's not an unlikely stop on the "future" train.
Micron Is In The Best Semi Component Space
But this isn't anything Micron hasn't known. The metaverse will require infrastructure to connect people in a world light on client-side performance and big on cloud performance.
Micron has been touting massive server and data center growth for years. In 2018, it said AI would require six times the DRAM and two times the NAND storage to build a capable server. But what investors paid less attention to was the speed at which it would happen. With metaverse on the tip of everyone's tongue, it now becomes very relevant. The rate of change will create a significant growth driver as AI-capable servers shipped will grow three and a half times from 2021 to 2025 and become two-fifths of all servers shipped.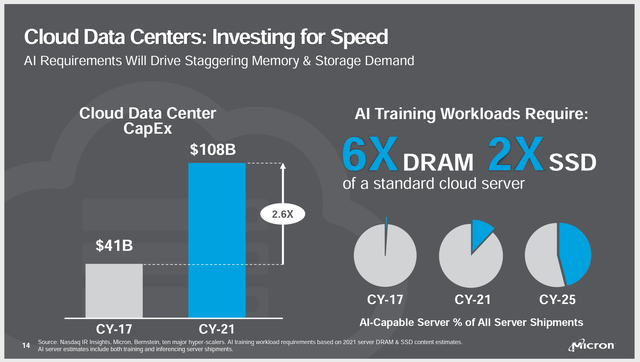 (Source: Micron's 2018 Investor Day Slides)
Now, this isn't too helpful outside the context of the broader semiconductor market. Sure, memory needs will grow at what seems like an exponential rate over the next four years (and maybe on a gigabyte basis it does), but it won't prove the job it has when there are many other components the cloud depends on.
But this is precisely what Micron has recently focused on - the increasing TAM compared to the overall components needed:
As a result of growing memory and storage content per device, DRAM and NAND now account for an ever-increasing portion of the bill of materials for our customers. DRAM and NAND total addressable market (TAM) share of the semiconductor industry has steadily grown over the last two decades from around 10% to approximately 30% today...

...we expect new data-intensive applications to continue to fuel significant increases in DRAM and NAND TAM.

- Micron CEO Sanjay Mehrotra, FQ4 Earnings Call
But lest we take the largest American DRAM and NAND manufacturer's word for it, there's supporting evidence from Gartner the 2025 TAM is well-positioned to take share from other major components like microprocessors. Gartner expects DRAM's TAM CAGR to grow ~7% while NAND's will grow ~10%.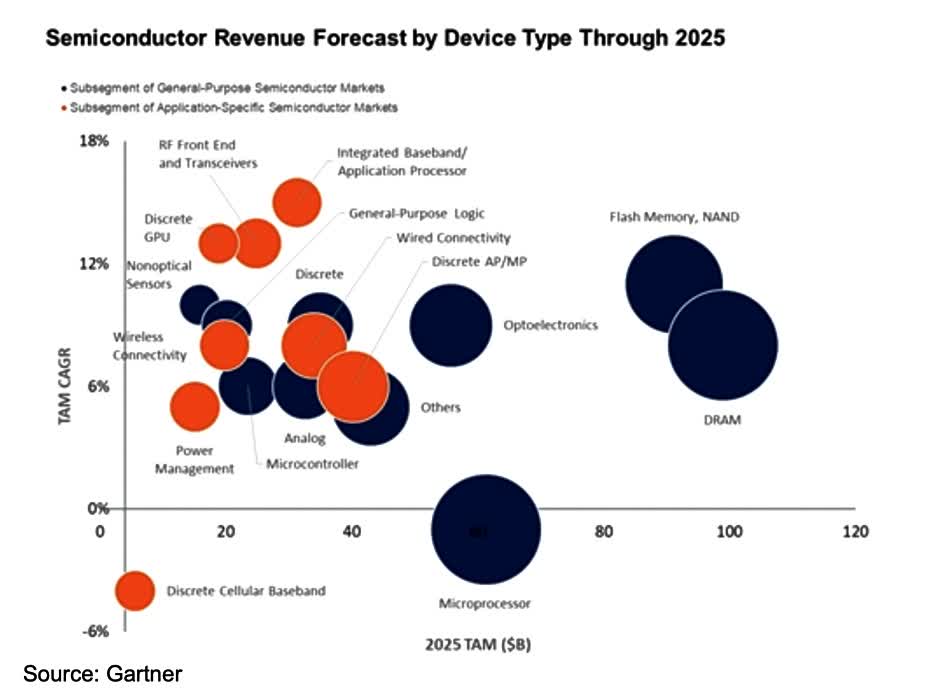 Based on a $655B semiconductor market size in 2025, DRAM and NAND share is expected to remain steady at 30% or tick up slightly. This means both memory types will grow as fast as the overall semiconductor market, with actual results likely showing faster growth than the overall market, as has been the case over the last 20 years.
Call the future way of digital life anything you want; the fact remains semiconductors will be the skeleton and muscles of the physical backing projecting the digital world. Moreover, DRAM and NAND will be leading components to it all.
What About All These "Cycles" With "Secular Growth"?
The problem with focusing on cycles is twofold. The first is the "cycles" have become oscillation damped. This means the highs don't spring back to big lows. As you might surmise from that statement, it also means the lows don't bounce back to big highs. The damping of the memory industry creates more consistent earnings, which leads to better valuations. The reason this happens is due to restrained supply growth through disciplined CapEx.
The second is the time horizon investors are willing to look at. Micron has become a stock that can be bought and stowed away for years - in fact, it has for some time. The eyes of investors who look at the day-to-day or even month-to-month moves of the stock are now bleeding after reading my last sentence. But, even with the historic highly oscillating cycles, Micron's returns over the last five years are still leaps and bounds above the Nasdaq (COMP.IND).
The current "downturn" in the cycle (winter is coming and all that) is proof analysts and investors still haven't caught on. Suppose you're calling this current pricing environment a downturn where a dip in DRAM prices occurs for two quarters (which, by the way, hasn't happened, it's only been one month so far) while ignoring the other side where pricing turns up materially for a lot longer. If you are, you're missing the forest for the trees.
The point is metaverse, Web 3.0, or whatever you want to call the future, will require more memory and more cloud capacity. The revenue will come as we work toward 2025 and beyond, and the pricing will figure itself out as there will be no way around needing more DRAM and NAND than will be available.
Available DRAM Memory
Just as the demand for metaverse-capable servers begins to rise over the horizon, the ability to generate bit supply growth has become the most challenging. But demand won't wait as the need to get to the metaverse is pushing forward regardless. Unfortunately, however, the supply side is reaching physical limitations and generating less return on investment.
You might be confused about memory being in short supply as DRAM just experienced a 10% decline in PC memory last month. What some analysts are calling a "downturn" is a temporary bump in the road as Micron's customers are waiting for components in supply constraint situations to allow them to finish their final product. Therefore, in the interim, memory in customer inventory is waiting to be used.
I likened this situation to my subscribers as a feed recipe for animals. Two chutes in a barn, each with one ingredient, are required to make feed for the animals on the farm. One chute is full of corn (DRAM), while the other has little-to-no oats (semiconductor component in short supply). The corn chute will only open when there's the right amount of oats to create the recipe. The oats trickle in, forcing the corn chute to only trickle into the feed trough to complete the recipe.
But the animals on the farm are only half-fed with the amount supplied so far. But soon, a delivery of oats is coming, and when it arrives, the chute for it will be full, and both chutes will be flowing continuously to feed the other half of the farm. So the corn chute will need to be restocked just like the oat chute at that point.
The analogy shows the farm needs feeding - there's plenty of demand for the feed, just not all of the ingredients to make it. So once the missing ingredient arrives, the feed system will be moving full bore to make up for the hungry farm animals, using the once "not in demand" corn ingredient. But it doesn't stop there. Each day the animals require food, so the delivery of both corn and oats will still be needed moving forward.
It's essential to understand this near-term situation is not some "downcycle" where end demand is falling off and orders are drying up. Calling this memory environment a downcycle is intellectually dishonest, and many of my Seeking Alpha colleagues have rightly called it out over the last two months.
Now, this is all in terms of the current supply situation (temporary), not in terms of the future one where Micron and its peers are reaching bit supply growth limitations. Between new nodes requiring EUV (extreme ultraviolet) processing and DDR5 reducing the bits on each wafer due to larger dies, bit supply isn't a trivial matter where double-digit gains are a given. So new fabs aren't needed for more wafer starts; they are required to house new EUV equipment, the extra steps necessary of new nodes, and new lines to keep wafer starts net-zero from the loss of wafer starts due to DDR5 die size increases and lack of space from additional steps with node transitions.
Micron is very much aware of this; it's not a secret or surprise:
DDR5...as a JEDEC spec...requires more on chip ECC that results in bigger die sizes for everybody in the industry for DDR5 over DDR4. So...as the industry transitions to DDR5 over the course of next several quarters in 2022 as well as in 2023, that too means less supply growth availability from the wafers, even with technology transitions, and so, all of those trends from the demand side as well as from the supply side bode well for our industry.

- Micron CEO Sanjay Mehrotra, FQ3 Earnings Call
I bring up both the short-term and the long-term supply issues to show they are of entirely two different causes. The current one is transitory, while the other is embedded into the semiconductor fabric of memory production. This requires ignoring the near-term noise and disruptions to invest in the long-term catalysts on both sides of the supply-demand equation.
'M' Is For Micron
There is no better positioned semiconductor company in the world than Micron to capitalize on the metaverse. The fact memory has become triple as important over the last 20 years is a testament to how important it'll be ten years from now and proves Micron is in the largest growing semiconductor sector. Additionally, the demand side is diverse and moving further toward higher-value, higher-margin products needed to power an entirely digital world.
But the positioning of the stock to be the best is not just in the story; it's in the valuation. It would appear relatively easy to argue Nvidia or Taiwan Semiconductor (TSM) is the best positioned in the metaverse space - and they both will play critical roles - but Nvidia is already pricing it in while TSM is constrained to sell more products in a sector where pricing moves slower. But for Micron, its valuation is still tied to cyclical patterns and thus does not get the valuation of a leading provider of the metaverse. With the company likely to do double-digit EPS in FY22, a lowly 15 P/E (for the rest of the market) would insinuate a $150 price target. However, if we take a few year average EPS near $8 - what some call a "cross-cycle" earnings - the price target is still well within triple digits at $120.
The stock will get there, either next year or the year after, but the market will realize it has a lot of catching up to do, especially once it realizes what the 'M' stands for in metaverse.
Decrypt The Cash In Tech With Tech Cache
Do two things to further your tech portfolio. First, click the 'Follow' button below next to my name. Second, become one of my subscribers risk-free for the first two weeks, accessing my real-time analysis and nailing getting in and out of Micron and semiconductors, garnering massive profits along the way. Only my subscribers get my technical chart analysis and entry points for Micron stock at Tech Cache.
Right now, Tech Cache is 20% off through Cyber Monday.

This article was written by
Contributor Since 2013
Joe Albano is a technology insider and combines his passion, education and career into his investing approach. Additionally, his young and in touch perspective allows him to understand the trends of the culture as well as how technology is working alongside it. Together, these invaluable insights have produced a strong investment track record for himself and his followers. You can join Joe and learn his insights and strategies by subscribing to his service Tech Cache.
Education and Investment Background
Joe has a Bachelors of Science in Computer and Electrical Engineering. He follows technology related companies as well as blue chip industrials and consumer products. Joe writes mainly about technology companies, especially ones that he uses and consumes. Knowing the technical side of the products helps him in his analysis of what the product impact is to consumers and the markets they reach. Joe's interests lie in tech and growth stocks.
Work Experience
Joe works for a technology contracting company as a Release Manager working with Dev/Ops tools and integrating CI/CD systems. This entails automating workflows and deploying compiled artifacts using change control/version control software and deployment automation tools. The sector of his work is governmental and deals with the department of health. He previously worked in the IT field of the healthcare industry for a major teaching hospital and practice group working mostly with integration engines for use with hundreds of systems as well as end user application access and security including single sign-on.
A Little About Joe...
Joe enjoys a variety of hobbies including playing drums and building racecars made for the ice and asphalt. He raced nationally in college for Baja SAE and continues to build racecars and race on a regional level both on road courses and frozen lakes.
Disclosure: I/we have a beneficial long position in the shares of NVDA, TSM, AMD, FB, MU either through stock ownership, options, or other derivatives. I wrote this article myself, and it expresses my own opinions. I am not receiving compensation for it (other than from Seeking Alpha). I have no business relationship with any company whose stock is mentioned in this article.