Click here to view original web page at seekingalpha.com
Summary
The aim behind Ericsson's acquisition of Vonage can be likened to paving the way for the metaverse, as conceptualized by Facebook.
Here, Vonage's presence in CPaaS and integration with the social media giant for Workplace provides Ericsson with a significant opportunity to grow horizontally in cloud-based VoIP services.
There are also opportunities to offer a more vertically integrated portfolio for 5G, IoT, and Vonage's APIs, but this will require careful execution by Ericsson's management.
It is also important to situate this acquisition in the current 5G context, with competitive dynamics evolving accordingly.
In view of acquisition synergies and undervaluation relative to the IT sector, both companies are buys.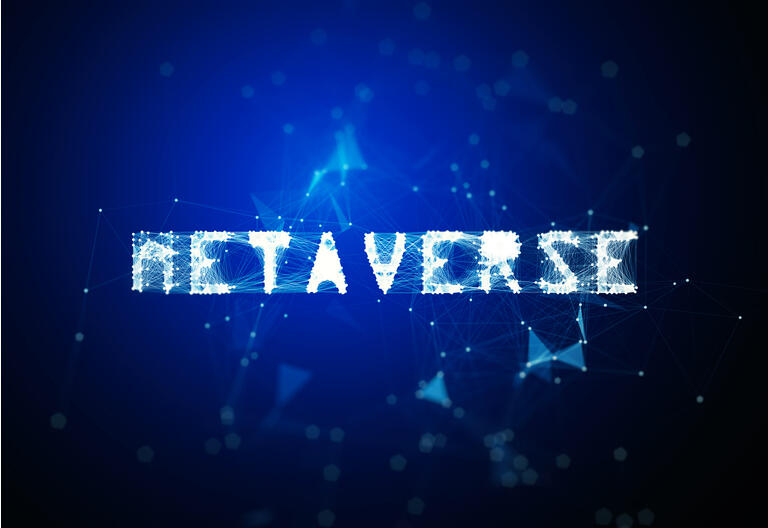 Ericsson (NASDAQ:ERIC) has entered into an agreement to acquire Vonage (NASDAQ:VG) for $6.2 billion cash.
Now for a manufacturer and supplier of 5G communication infrastructure to acquire a provider of cloud-based communications signifies a paradigm shift in the way the Swedish company intends to operate in the future, considering that the aim is "to spearhead the creation of a global network and communication platform for open innovation".
However, while Vonage's share price skyrocketed by about 25%, the deal failed to instill market enthusiasm for Ericsson. Still, the fact that the market did not punish the mobile equipment manufacturer shows that it is more about the uncertainty concerning potential benefits.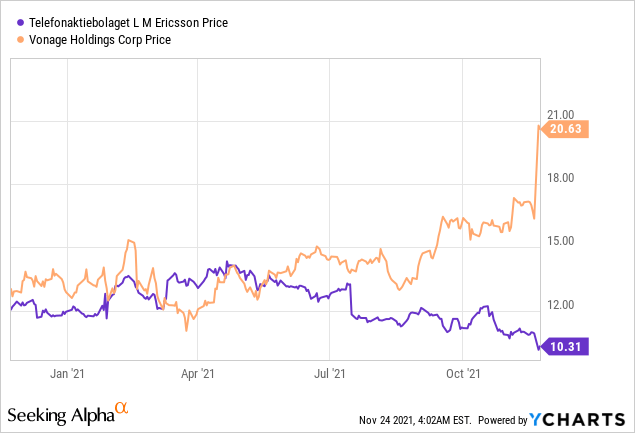 My objective with this thesis is to make sense of the deal in light of a new concept that has made its appearance recently: the metaverse.
Making sense of the deal
First, this deal comes in the wake of the purchase of Cradlepoint, a U.S.-based market leader in Wireless WAN Edge 4G and 5G solutions for the enterprise market. That was in November last year and for $1.1 billion, giving Ericsson access to tools that can connect devices using the Internet of Things ("IoT") over cellular wireless networks. The investment is key to Ericsson's ongoing strategy of capturing market share in the rapidly expanding 5G enterprise space.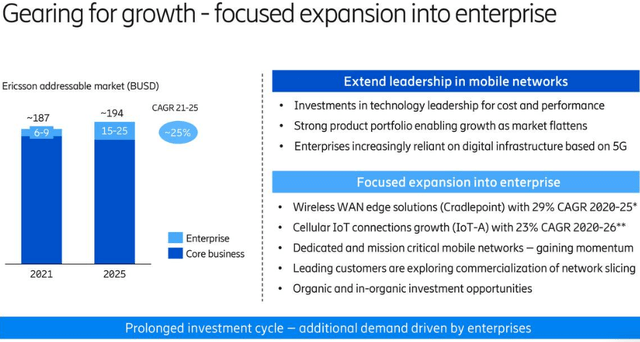 Source: Company presentation from Seeking Alpha
Here, most of us are familiar with the public 5G cellular network, but these are mostly available in major cities, while high implementation costs delay coverage across sparsely-populated geographies. This difficulty in providing uniform coverage is not preventing the fifth-generation wireless technology from finding wider usage in private enterprises.
In this respect, 5G, despite its high costs, has become a viable option for enterprises as it circumvents the need of having to roll out expensive underground fiber to isolated locations or performing time-consuming office wiring works. Hence, corporations are now shifting to 5G as the primary network, not just as a backup for wired or WiFi networks.
At the same time, there has been a rise in IoT which has enabled automation of manual tasks through the use of sensors. Thus, through Cradlepoint's cloud-based network products companies can connect sites, vehicles, mobile workforces, and IoT devices in a simple and secure way using wired and wireless broadband.
However, this is easier said than done.
For this purpose, think of a manufacturing play using Cradlepoint's provided Industrial 4.0 with private 5G. This includes thousands of remote IoT sensors generating data that has to be transferred to core business applications. After being processed, the information has to be embedded in front-end applications in an easy-to-understand format for users. This calls for the use of APIs to provide interfaces to different applications.
To this end, Vonage has an API (Application Programming Interface) platform allowing for the development of high-quality communications software, including messaging, voice, and video into the corporate applications, while bypassing slow back-end infrastructures. One example is cloud phone system integration with top business applications like Salesforce (CRM), Microsoft (MSFT) Dynamics, or Google (GOOG) (NASDAQ:GOOGL) Work.
Then, the real purpose of Ericsson acquiring Vonage seems to be its communications platform as a Service ("CPaaS"), allowing for embedding chat, voice, and video capabilities in customer-facing applications.
According to Vonage "CPaaS is a great tool for companies looking to go global without breaking the bank", which is exactly the need of big enterprises today. Consequently, CPaaS can be viewed as complementing Ericsson's 4G and 5G product offerings, namely by bridging the gap between the underlying infrastructure and real-time communications across different applications.
Here, I also have in mind Cradlepoint IoT edge-to-cloud service, which enables enterprises to quickly connect a wide spectrum of wired and wireless devices requiring data to be integrated into their OSS/BSS (operations support system and business support system) through APIs for messaging purposes.
Some caution and the competition
With OSS/BSS being deeply rooted in the telco environment, it becomes to exercise some moderation as to the opportunities offered by the acquisition.
In such an environment, software developers are mostly used to integrating back-end BSS with front-end customer portals or slice 5G virtual networks out of physical ones. This is different from Vonage, where it is more about VoIP-oriented messaging APIs for desktops and mobile as part of the Vonage Communications Platform ("VCP").
Therefore, while the combined entity would surely add to its top and bottom lines, in order for Ericsson to really gain from more integration synergies, there needs to be a change in mindset by its product and sales team about the way they design and sell products. Hence, in addition to being more focused on private enterprises rather than public mobile network operators, they should be fully committed to the API concept where it is primarily about using software-enabled messaging.
Here, Ericsson may also think of more closely integrating Vonage with its business operations instead of just adding it to the Emerging Business segment as was the case with Cradlepoint. It is only by performing a process reengineering that Ericsson will be able to expand its presence in the wireless enterprise market and broaden its global offerings. Currently, Ericsson mainly provides connectivity solutions to communications service providers through its Networks, Digital Services, and Managed Services segments.
Pursuing further, there are some new realities in cellular networks to contend with in Ericsson's main markets.
In this context, China Telecom has cut down on 5G spending by as much as 25%. Other providers are also trimming down expenses partly because of semiconductor supply chain bottlenecks leaning towards sharing tower infrastructure costs. Switching to the U.S., all three national-level service providers have launched 5G services across the nation, but according to Opensignal, subscribers still "spend the majority of their time connected to older network technologies (signifying 4G)". In order to be wooed in adopting 5G, subscribers want real benefits.
In such circumstances, looking for additional growth drivers through an M&A makes perfect sense.
Talking competition, according to Gartner, Vonage has competitors in the likes of RingCentral (RNG) Office, Microsoft Teams, Google Chat, Cisco's Webex (CSCO), and Zoom (ZM). Interestingly, Vonage has the highest score at 4.6 together with RingCentral and this explains its impressive 25% revenue growth in VCP.
Source: Company presentation on Seeking Alpha
Now, considering specifically CPaaS, Cisco's acquisition of IMImobile in December last year for $730m and Tropo back in 2015 has enabled it to build capacity in this field. Given the huge size of Cisco's ecosystem, the company also has the ability to attract developers for cloud communications.
Consequently, this promises to be a dynamic space with other acquisitions probably in the pipeline for stakeholders, and, at the same time competition dynamics are changing with Ericsson now proposing VoIP, or the very technology that has transformed the telco sector.
Valuations and the metaverse
The $6.2 billion in cash which Ericsson will disburse to acquire Vonage is nearly equivalent to the net cash (after accounting for debt) of 55.7 billion Swedish kronor at the end of September, or $6.1 billion.
Source: Ericsson presentation from Seeking Alpha
This would be 4.4 times Vonage's expected revenues of $1.400 billion to $1.409 billion for 2021. Now, Vonage is expected to grow by 18% from 2020 to 2021 in a global CPaaS market anticipated to grow by "a CAGR of 34.30% during the 2021-2026 period" to reach $26.03 billion.
Furthermore, the acquisition comes at a time when in a Delta variant environment, work at home has become the preferred mode of carrying corporate functions and business operations. This augurs well for Vonage's business and consequently, Ericsson is a buy at a trailing price to sales multiples of just 1.29x, which is 69.4% undervalued relative to the IT sector. The stock should rise back to the $12 level with more clarification on the deal.
With the closing of the deal expected in H1-2022, subject to Vonage's shareholder and regulatory approvals, one can also purchase the company's shares which are undervalued with respect to the IT sector by 10.68%.
Coming back to Vonage apps, they enable employees to make and receive calls and texts to U.S. phone numbers, as well as use video communications. This is possible either from smartphones or through desktops, embedded within the apps which employees commonly use. These integrations are made possible by Vonage's one million-plus developers.
Going one step further, some APIs use apps like Facebook (NASDAQ:FB) Messenger for customer interfacing in the CPaaS market on a real-time basis and even around the clock via a chatbot. Along the same lines, Workplace by Facebook and Vonage "is a dedicated and secure space for companies to connect, communicate and collaborate". This includes familiar Facebook features such as groups, messages, and events. There is also the Vonage Voice API with AI connectivity with the chatbot feature, all available as integration for Workplace by Facebook.
Source: vonage.com
Thus, the Vonage API portfolio aims to increase business productivity and community experiences in Workplace. Now, experience and communications are key features of Facebook's metaverse which it defines as "a set of virtual spaces where you can create and explore with other people who aren't in the same physical space as you".
There are different ways to interpret the metaverse, which some associate with online shopping through "experiences". Others relate it to playing games using virtual reality. For my part, I have a more enterprise-oriented view which consists of integrating IoT with voice and messaging apps to create virtual spaces connected by 4G or 5G, where people can interact at an elevated level. For this purpose, Ericsson's aim of "creating a global network and communication platform for open innovation" paves the way for creating the metaverse.
Disclosure: I/we have a beneficial long position in the shares of ERIC, XLK, QQQN either through stock ownership, options, or other derivatives. I wrote this article myself, and it expresses my own opinions. I am not receiving compensation for it (other than from Seeking Alpha). I have no business relationship with any company whose stock is mentioned in this article.
Additional disclosure: This is an investment thesis and is intended for informational purposes. Investors are kindly requested to do additional research before investing. This article was edited with the help of Bhoshan Woodun.