Click here to view original web page at www.fxempire.com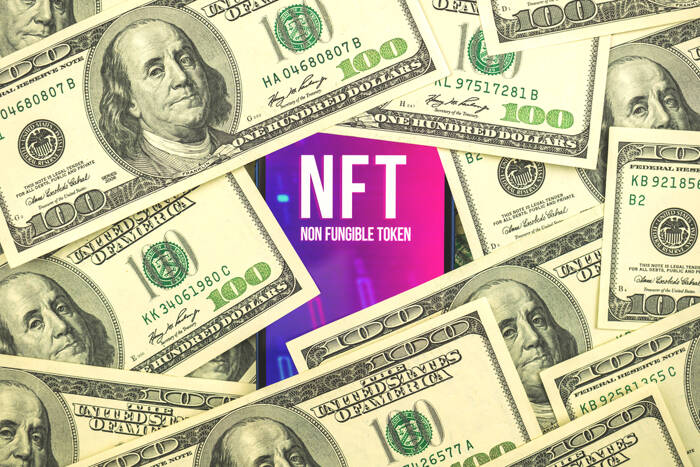 Since Non-fungible token (NFT) was first created in 2015, the market has been steadily growing to new highs.
However, 2021 proved to be a landmark year for the NFT sector. Compared to 2020, when the industry generated less than $100 million, the nascent sector had a trading volume of more than $23 billion by the end of the year.
It's on this backdrop that we enter 2022, and as more firms turn to the space, the future for the NFT market is very positive. According to Chainalysis, the NFT market, now worth about $27 billion, would skyrocket in 2022.
What Are NFTS?
NFTs are digital tokens of tangible and intangible items that can be transacted on the blockchain.
They can be digitized art, code, tweets or tickets, or collectible cards. While there are hundreds of NFT projects, only a few are truly outstanding. Here are some of the best NFT tokens to look out for in 2022.
The Sandbox is a gaming ecosystem based on the Ethereum blockchain. It's an earn-as-you-play gaming platform based in Hong Kong, China. It was co-founded by Sebastien Borget.
The online gaming community is a multiverse that combines blockchain technology, NFT, and decentralised finance in a virtual metaverse.
Players can choose their avatars and develop them across various games. Just think of GTA, but as an online, virtual multiplayer, allowing you to transact in real-time.
Venture capital group Softbank recently took part in a $93 million funding round for Sandbox, which positively influenced its price.
The coin has risen by over 14,000%, and as more people get on the Sandbox gaming platform, there is still room for much increase. Sandbox sells around the $5 mark presently. It has a market cap of $4.67 billion.
Just like Sandbox, Axie Infinity is also a play-to-earn community-based network. Axie is simply an online world, having its own economy, landscape and politics.
On Axie, the fun is unlimited. Players interact with one another and can build complete lives. They also can buy, collect or breed digital companions called "Axies" and also buy "small love potions" (SLP).
Axies are somewhat of a digital pet; you can buy Axies or win them from other players. And, if you want, you can breed them from scratch.
When they are grown, you can sell them to other players to earn AXS, the native token of the platform. AXS can also be used to generate real income if they are sold outside of the Axie infinity network.
Gamers can enter into the metaverse by converting their assets into AXS. Axie Infinity is based on the Ethereum blockchain and was founded by Sky Mavis, a company based in Vietnam.
AXS is currently in a top 3 NFT tokens, and while it has surged by over 10000% within the last year, many analysts still tip the asset's value to go higher.
Due to the current bearish nature of the market, its value recently dropped to around $68 from a high of $95 seen last week. Its market cap stands at around $5.83 billion.
Enjin started as a community gaming platform in 2009 when it was created by Witek Radomski and Maxim Blagov.
The project had somehow been able to evade the public's attention until 2017, when it launched an initial coin offering (ICO) through which it raised around $19 billion through the sales of ENJ tokens.
The Enjin blockchain powers a social platform based on the Ethereum network. Participants can create groups and chat and form forums on the platform. They can also play games, host communities, and sell merchandise.
There are various gaming groups on the platform, and it has millions of gamers on its platform. Its growth has made it one of the closest rivals to the Axie and Sandbox gaming communities.
With the chance for gamers to tokenize their items, in-game purchases are possible, and that has contributed to its growth.
The platform is also looking to draw in more users with a recently launched Effinity Metaverse Fund, projected to rise to $100 million.
The Enjin coin is one of the top 70 digital assets and has a market cap of over $2 billion.
Why These NFTS Would Rise
NFT-based projects are undeniably the darling of the crypto-sphere in recent times, especially since Facebook revealed that it was changing its name to Meta. This move by the social media giant has led to the rise in the adoption of these tokens and, at the same time, the growth of the space.
Thus, with many traditional firms investing in NFTs by buying these digital tokens and also making strategic moves in the space, one can be sure that these assets would witness an uptrend in their values throughout this year too.