Click here to view original web page at www.voguebusiness.com
Intellectual property is valuable both physically and virtually. Brands, and their legal teams, are playing catch-up.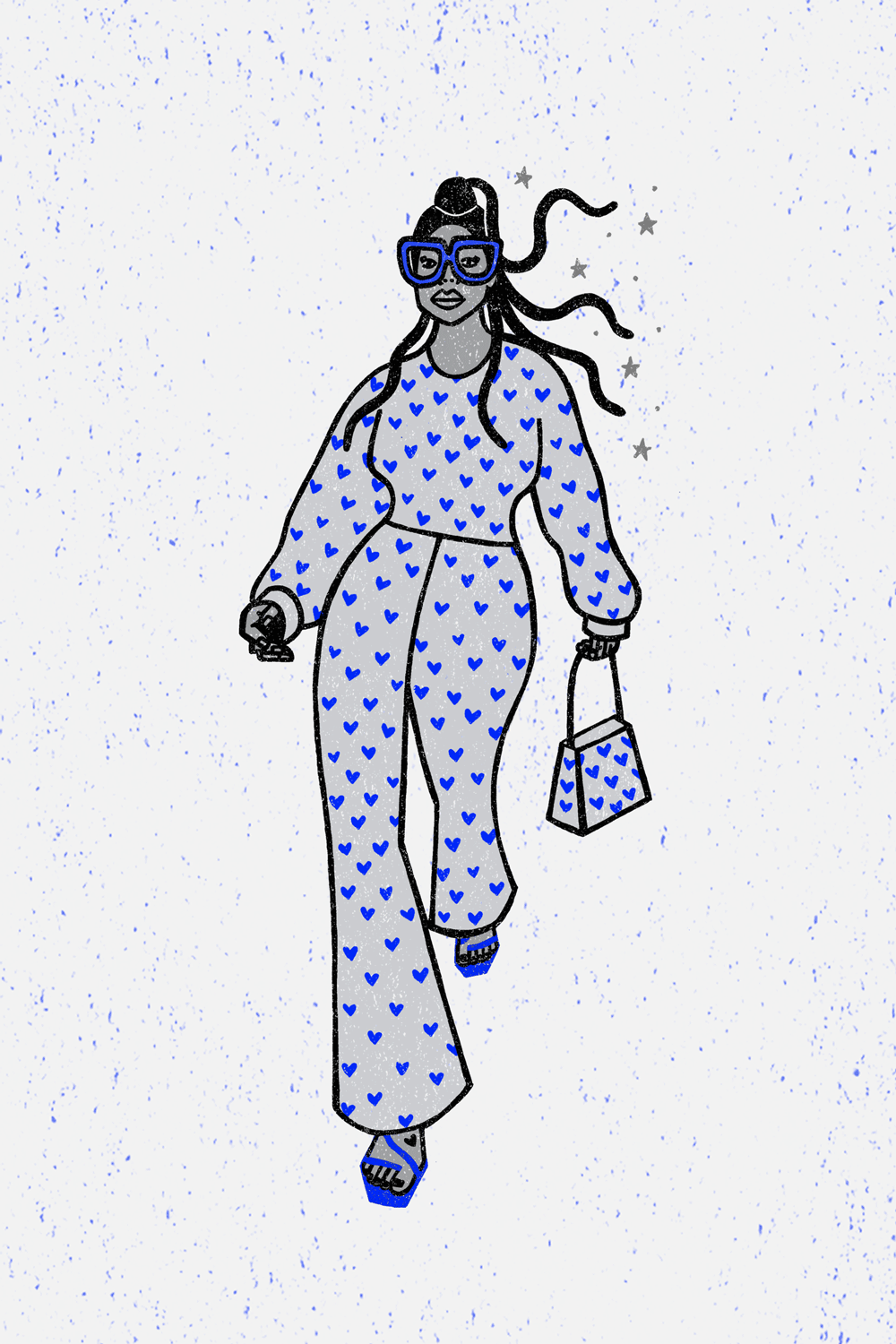 ILLUSTRATION HAND PRINTED BY HANNAH COUSINS, EXCLUSIVELY FOR VOGUE BUSINESS
As luxury seeks out NFTs, in-game worlds and 3D virtual real estate, opportunistic players are racing to get there first, betting on a similar first-come, first-served basis that plagued the early days of the internet. The race to own the metaverse and fashion's virtual intellectual property is on.
Attempted land grabs are having an impact on brands regardless of whether or not they currently have a virtual presence. In November, two trademark applications were filed in the US by third-parties to use the Gucci and Prada logos in a range of metaverse-related arenas, including "downloadable virtual goods", virtual worlds and virtual clothing used in virtual spaces. And on metaverse platforms with user-generated content, such as Roblox, creators are currently selling clothes that feature logos from the likes of Louis Vuitton, Prada and Chanel.
Recently, Hermès took legal action after artist Mason Rothschild, whose Birkin bag-inspired NFT artwork that previously sold for $23,500 in June 2021, launched a December follow-up collection. Twice, it seems, was too far for the French luxury brand. Hermès took a public stance, stating that the NFTs "infringed upon the intellectual property and trademark rights of Hermès and are an example of fake Hermès products in the metaverse" and sent a "cease and desist" letter to the artist, according to Rothschild. (Hermès did not respond to requests for comment for this story.)
"A bunch of this could be seen as opportunistic exploitation of the trademark," says Jeff Trexler, associate director of Fordham University's Fashion Law Institute. The Gucci and Prada filings in the US are for individuals, rather than for the brands, he says. This "illustrates the risk to brands in the trademark class system as well as how the class system is adapting to change".
A representative for Gucci said that the brand's legal team is aware of this filing and "is already handling the matter as part of our ongoing efforts to defend our brand and trademarks online, in the metaverse, as well as offline". (The spokesperson compared this to a lawsuit last April filed in partnership with Facebook, now Meta, to defend against counterfeiters.) (Prada did not respond to requests for comment.)
While brands deemed to have famous marks, such as Gucci and Louis Vuitton, are likely to succeed in persuading courts to recognise their marks (and overrule land grabs), smaller brands "could see themselves preempted by opportunists in the digital space, much like fashion brands that achieve even a modicum of exposure in the US get hijacked by opportunistic registrants in China," Trexler says. As the market for digital goods and NFTs matures, he expects brands will step up legal action.
If a bogus trademark application isn't rejected based on a brand's existing registrations in the US, the brand can file oppositions with the Trademark Trial and Appeal Board (TTAB) of the United States Patent and Trademark Office (USPTO), and will likely be successful, says Gina Bibby, head of the global fashion tech practice at law firm Withers.
"Any brand should be filing for its trademark in the metaverse right now," says Anthony Lupo, chair of legal firm Arent Fox, which specialises in fashion and technology and has clients such as Diane von Furstenberg, Saint Laurent, Valentino, Balenciaga and Alexander McQueen. "All of my clients are." While the laws have yet to catch up with the metaverse, Lupo says, a few common classes are relevant, including classes 9, 35 and 41, which encompass virtual goods and virtual spaces.
Some brands have made an early start with trademark applications in the US and EU. In December, Ralph Lauren filed with the US Patent and Trademark Office for items including store services featuring virtual clothing and accessories for use in online virtual worlds (35), and online, non-downloadable virtual clothing and accessories for use in virtual environments (41). In November, brands including DKNY and Nike filed for similar items, including "downloadable virtual goods, namely, computer programmes featuring footwear, clothing, accessories" and "for use in online virtual worlds" (9). Nike filed for the same classes in the EU.
"The increase in intellectual property filings signals that conducting business in the virtual world is an increasingly high priority for brands, and likely necessary for staying relevant and competitive," Bibby says. She advises that brands register trademarks with USPTO and foreign equivalents, consider subscribing to a trademark watch service, and before threatening trademark infringement, evaluate the nature and use of marks, as not all use in the metaverse is "actionable".
A recent Vogue Business search did not reveal any official metaverse-related filings for either Hermès or Gucci in the US or EU. Gucci did file a trademark application in the Philippines in 2020 for its green and red striped logo for use in "downloadable software for providing an electronic financial platform for digital currency exchange" and "downloadable image files".
Some protections exist
Brands are protected under current law in some ways, Lupo says. Even if a brand's current filings do not specifically name virtual fashion or the metaverse, there is a legal concept called the "zone of expansion". Traditionally, this has applied to physical goods. "​​If I had a line of clothing but I didn't have scarves, I should have protection for scarves because a consumer would reasonably believe that if I have dresses, tops and bottoms, scarves would be in that zone," he says.
There's plenty that has yet to be determined in legal terms in the metaverse. Is an image of a virtual handbag different because it doesn't carry objects, or does it provide the same inherent values of status and exclusivity? What if the bag can be worn, such as with Gucci's coveted Dionysus bag in Roblox? "The Hermès NFT case raises questions about what activities in the metaverse are actually actionable, and raises questions around who owns what in the metaverse. Ownership in the metaverse may not be the same as ownership in the physical world," Bibby says.
These questions explain why Lupo encourages luxury clients to specifically register for the metaverse to gain a "presumption of validity and ownership". If an issue arises, brands would be less likely to have to go to court.
The metaverse "will probably mirror some amalgamation of our current internet, gaming and social media ecosystems. With that in mind, the laws required to protect brands in the metaverse will probably not need to be earth-shatteringly different from the laws we currently have," says Julie Zerbo, founder of The Fashion Law. "It is early days, of course, but I do not see why trademark law, as it currently stands, would not protect brands' uses of their trademarks on virtual goods."
New territory
Other experts consider current legislation to be lacking, even though some laws and trademark classes do apply. Trexler notes a "weird misalignment for what the trademark classes are designed to project versus what they are trying to protect now. If I were a brand, I would be thinking about spanning the scope of registration in terms of classes and expanding the definition of some of the classes themselves." Class 9, for example, which is recently being applied to "downloadable virtual goods" in "virtual online worlds", in 2011 applied to "electrical and scientific apparatuses", so the understanding of the class has already adapted somewhat.
Revisions allowing for a separate class for digital goods is likely, Trexler thinks. "They weren't thinking about digital goods when they designed these classes, but the idea was to be comprehensive [and] expansive — not to create windfalls for people working in new technologies."
It's not the first time the law has had to stretch. "This happened a few years ago with 3D printing," said John Maltbie, director of civil enforcement, intellectual property at Louis Vuitton North America, Inc., speaking recently at a presentation hosted by the Fashion Law Institute at Diane von Fursternberg's New York headquarters. (Similarly to how brands are now evaluating if digital copycats are worth pursuing, brands reconcile if and how 3D printed goods might infringe on trademarked designs.) "The law hasn't changed. It's just the context."
In the case of Hermès, the artist claims that the First Amendment provides protection to create art that is a commentary on culture, an argument known as "fair use". However, because the artist is benefiting financially (the NFT "Birkin" artworks were recently trading for as much as $790,000) and there is a strong likelihood that consumers might think they are authentically Hermès (which Zerbo says is a central consideration in trademark infringements claims), the NFTs might be perceived as more akin to counterfeits than cultural commentary.
The legal team at Louis Vuitton is already making similar judgement calls about digital copycats, including the communicated purpose of the piece, the commercial nature and the likelihood of confusion, according to Maltbie. "If you take it to the NFT level, it's even more abstract. It's now just a piece of digital art that can be copied and replicated time and time again, and it makes the connection between harm to the brand and a target that can be enforced against even more difficult to figure out," he said.
Jesse Lee, founder of Basic.Space, which worked with Rothschild on both Birkin-inspired projects, says the project was far more popular than the artist expected, and several celebrities have signed up to acquire one through a "pre white list". Perhaps unsurprisingly, Basic.Space's Lee is pushing for brands to "collaborate with creatives who are native in the space," rather than go it alone. The NFT-maker is in talks with a number of other luxury brands to discuss future partnerships.
"I don't think it's debatable that brands need to look into the metaverse and creating these digital assets for themselves," he says. "Web3 is the new wild, wild West, and the rules of engagement will change."
Lupo recommends that brands look further ahead to licensing and distribution agreements so that they retain rights to the metaverse. Trexler encourages brands to think about the technology they can patent that goes beyond imagery and into metaverse spaces, experiences and elements, even including haptics that could be applied to the touch and feel of garments. "It's not just about digital real estate but digital experiences you want to own and the tech that produces those. There's a real opportunity for fashion."
Just because fashion brands aren't saying anything publicly doesn't mean they aren't thinking about it, says Trexler. "There is no question there is more to come. The question for fashion brands: do you want to keep playing defence like this? Even though [Hermès] is sending a cease and desist that sounds aggressive, it's still a defensive move because other people got in the marketplace before they did."
To become a Vogue Business Member and receive the Technology Edit newsletter, click here.
Comments, questions or feedback? Email us at feedback@voguebusiness.com.
More on this topic: