Click here to view original web page at www.benzinga.com
IMPORTANT: A massive opportunity is coming and you need to be prepared... Thousands of traders are getting high-conviction bear market beating options trade ideas and are taking advantage of the current market. Click Here to Join Now & Be Ready for the Next Market Shift!
"Do I regret that I did it? No. Because in the end, it's not the success that makes the man, it's the hunt." (Moritz Muessig, 2022)"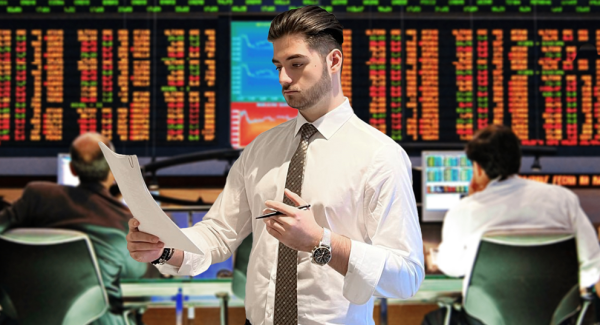 Did the current market drop catch you flat-footed? Don't let it happen again! Chief Market Strategist, Matt Maley is helping traders guide the markets for success. Click Here to Register for His FREE Intensive Live Session!
Greed, aggression, shouting, anxiety and a hype that would put a football stadium to shame. Mix them all in a cauldron and you have the atmosphere of a modern-day crypto trading floor.
On one of his first days on the trading floor, a colleague was talking about what is a so-called "supercharger". This is a part of decentralized finance (DeFi) where you can collect a very high yield by putting trades in a liquidity pool (big, digital pile of money). This pool only has a limited amount of liquidity and how much you earn depends on how early you join it and with how much money.
When the supercharger opened and it was time to be quick and focused, Moritz beat the colleagues to the finish line. Some of you might think that it is a team sport and people would be impressed and happy for the young Moritz, but what followed was a barrage of profanity and rage that would have most people hang up their cleats and never look back.
Not only did Mortiz Muessig not give up, he kept going and kept evolving. Today, at an age where most people only care about partying and finishing school, Moritz currently manages a portfolio of over 2 million USD. Collaborating with well-respected investing firms such as Exogenou he delivers an average yearly return of 20% on invested capital, a number that completely obliterates the everyday pension fund.
So, what is a normal morning routine for a trader like Moritz Muessig? We have the answer:
05:00 The alarm goes off and it is time to rise and shine. Start right away with plenty of water and a quick workout to keep body and mind in tip-top shape.
05:45 Firing up the computer to check messages from his numerous investors. Simultaneously checking up on the news of what happened during the night. Most of the time you wake up in the middle of the night to follow the Asian market session.
06:15 Investors meeting and briefing of current situations and future plans for the day.
07:00 Now he has a brief overview of what is important today as well as the news that could have a drastic effect on the DeFi market. It is time for the daily hunt.
The first indicator to have a look at is called 'crowd bias index'. This algorithm basically tells you if there are any indications that the trend is going up (bullish) or down (bearish). After that it is a day full of various charts, models and algorithms which are all part of the secret recipe of Moritz Muessig's success. Most days it becomes necessary to reallocate some of the assets to minimize risk or potential loss and maximize profit.
When being in a business where you need to be first and best, you might think that the most stressful time of the day is before lunch, but that is not the case here and the market does not take any lunch breaks. People start running and shouting and without a clear plan as well as a strong focus, anyone can get overwhelmed.
The world of cryptocurrencies today is in a very interesting state, according to Moritz. Many countries want to take or add crypto to their day-to-day payment methods. This will most likely result in a movement from the world of crypto into more regulated waters, which is crucial for DeFi and makes the market more predictable for professionals.
One question he often gets asked is whether this decentralist finance asset management has any risk? Yes, is the short answer. However he sees the risks as quite reasonable considering the promising benefits associated with DeFi asset management and its future potential. Some risks also provide fantastic opportunities to projects that do survive and will be very well placed for the next decade. His projections for 2022 is that more smart investors will start to get involved and bring valuations to more rational levels.
Media Contact
Company Name: Exogenou
Contact Person: Media Relations
Email: Send Email
Country: Germany
Website: https://www.exogenou.com/
Press Release Distributed by ABNewswire.com
To view the original version on ABNewswire visit: A Day In The Life Of A Defi Asset Manager
If you are not using this trading strategy, you are leaving money on the table...
If you are blindly looking up and trading stocks the way 99% of traders are, you are missing on HUGE potential returns. Even new traders who started following this options trading strategy instantly began seeing a new perspective in how the markets move. With even two trades per month with this strategy, you will start seeing the difference in your trading strategies. Don't waste any more time "guessing" and "getting lucky". Click Here to See if you Qualify for Benzinga Options!
If you are a new trader then you need to read this...
Most new traders struggle at first to make sense of the markets and how to put their portfolio in a position to flourish. Many try to start on their own and quickly end up with a string of losses, slowly seeing their accounts dwindle to what it started off as... Don't let this happen to you. By joining a vetted educational platform built for new traders, you will be taken step by step by a former hedge fund trader who managed billions of dollars. This is exactly what Benzinga Trading School is doing by helping traders overcome the initial challenges and to help them thrive and to learn how professionals earn a consistent profit in any market condition. For today only, you can try Benzinga Trading School yourself for 7 days risk free.
© 2022 Benzinga.com. Benzinga does not provide investment advice. All rights reserved.