Click here to view original web page at www.benzinga.com
IMPORTANT MESSAGE: Benzinga prides itself as a media platform that is "For the People, By the People." We understand the markets are scary right now. For that reason, we are here to help. For today only get access to our #1 Options Newsletter for only $1.
plunged over 10% lower at 4 a.m. and 9 a.m. on Thursday morning before bulls came in and bought the dip near the dip just above the $1,700 level.
The slide set Ethereum into a downtrend, although there is a possible bullish double bottom pattern that could become the dominate one over the coming days.
A downtrend occurs when a stock consistently makes a series of lower lows and lower highs on the chart.
FREE MASTERCLASS: How Pro Traders Got Rich Using This Secret Options Trading Formula with Nic Chahine Click Here to REGISTER Now! (Less than 50 seats left)
The lower lows indicate the bears are in control, while the intermittent lower highs indicate consolidation periods.
Traders can use moving averages to help identify a downtrend, with descending lower timeframe moving averages (such as the eight-day or 21-day exponential moving averages) indicating the stock is in a steep shorter-term downtrend.
Descending longer-term moving averages (such as the 200-day simple moving average) indicate a long-term downtrend.
A stock often signals when the lower low is in by printing a reversal candlestick such as a doji, bullish engulfing or hammer candlestick. Likewise, the lower high could be signaled when a doji, gravestone or dragonfly candlestick is printed. Moreover, the lower lows and lower highs often take place at resistance and support levels.
In a downtrend, the "trend is your friend" until it's not, and in a downtrend, there are ways for both bullish and bearish traders to participate in the stock:
Bearish traders who are already holding a position in a stock can feel confident the downtrend will continue unless the stock makes a higher high. Traders looking to take a position in a stock trading in a downtrend can usually find the safest entry on the lower high.
Bullish traders can enter the trade on the lower low and exit on the lower high. These traders can also enter when the downtrend breaks and the stock makes a higher high, indicating a reversal into an uptrend may be in the cards.
Want direct analysis? Find me in the BZ Pro lounge! Click here for a free trial.
The Ethereum Chart: On Thursday, when Ethereum fell below the most recent low of $1,909.51 that was printed on Tuesday, the crypto printed a lower low to confirm a downtrend is in play. The most recent higher low was printed at the $2,020 level on Wednesday.
Ethereum's downtrend is taking place beneath a descending trendline on the daily chart, from which which the crypto has tried to break higher on four separate occasions since May 10 and failed. Conservative bullish traders may choose to watch for Ethereum to eventually break up from the trendline on higher-than-average volume, which could signal a large reversal to the upside is in the cards.
It's possible a break of the trendline could come soon because Ethereum has developed bullish divergence. Bullish divergence occurs when a stock or crypto makes a series of lower lows but the relative strength index (RSI) forms a series of higher lows. The increasing RSI also indicates momentum to the upside.
Ethereum may have printed a double bottom pattern on May 12 and Thursday near the $1,717 mark. If the pattern becomes recognized, the formation could accelerate a move to the upside. If that pattern and the bullish divergence don't come into play, the crypto is likely to continue trading in its downtrend.
Ethereum has resistance above at $2,150.54 and $2,317.64 and support below at $1,717.41 and $1,421.80.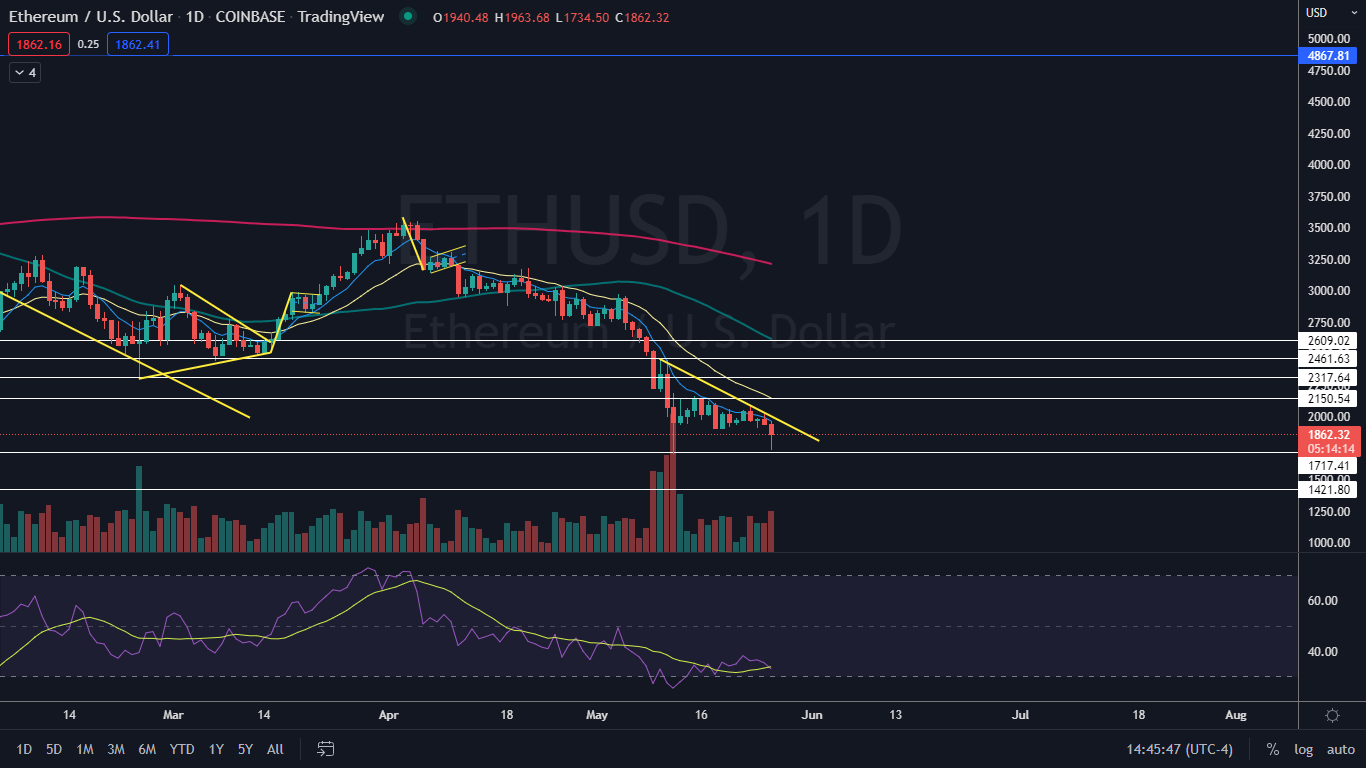 If you are not using this trading strategy, you are leaving money on the table...
If you are blindly looking up and trading stocks the way 99% of traders are, you are missing on HUGE potential returns. Even new traders who started following this options trading strategy instantly began seeing a new perspective in how the markets move. With even two trades per month with this strategy, you will start seeing the difference in your trading strategies. Don't waste any more time "guessing" and "getting lucky". Click Here to See if you Qualify for Benzinga Options!
If you are a new trader then you need to read this...
Most new traders struggle at first to make sense of the markets and how to put their portfolio in a position to flourish. Many try to start on their own and quickly end up with a string of losses, slowly seeing their accounts dwindle to what it started off as... Don't let this happen to you. By joining a vetted educational platform built for new traders, you will be taken step by step by a former hedge fund trader who managed billions of dollars. This is exactly what Benzinga Trading School is doing by helping traders overcome the initial challenges and to help them thrive and to learn how professionals earn a consistent profit in any market condition. For today only, you can try Benzinga Trading School yourself for 7 days risk free.
© 2022 Benzinga.com. Benzinga does not provide investment advice. All rights reserved.