Click here to view original web page at chainstoreage.com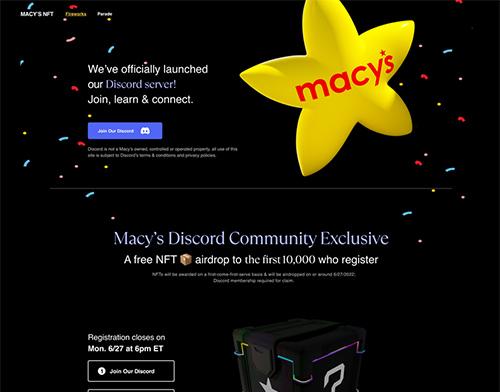 Macy's Inc. is now active on the Discord social media platform and using NFTs to promote its upcoming July Fourth fireworks celebration.
The department store retailer has launched a channel on Discord, a social media network popular with Gen Z consumers and gamers. In addition, Macy's is introducing a new series of free non-fungible tokens (NFTs) to promote the 46th edition of its Fourth of July fireworks celebration. NFTs are unique digital assets stored on a blockchain ledger that certifies the owner. There is no way for an NFT to have more than one owner, and only the certified owner can sell it.
Available on a first come, first serve basis, to collect the NFTs customers must first register via the newly launched Macy's Discord channel. This set of 10,000 Macy's Fireworks NFTs will be available in Classic, Rare and Ultra Rare designs and will showcase graphic elements from this year's Macy's 4th of July Fireworks celebration. The NFTs will come with added utility, including the ability to access Augmented Reality (AR) wearables that can be used on a selection of social media and video communications platforms.
The Macy's Fireworks NFTs are built atop the Polygon blockchain, selected by Macy's for its commitment to advance eco-friendly solutions within the Web 3.0/NFT landscape. Macy's says more offerings are in store in the coming weeks for NFT collectors and in preparation for its fireworks event.
Macy's marks July Fourth with fireworks salute
Macy's is hosting its annual fireworks celebration on Monday, July 4th in New York City. The full-scale pyrotechnic event returned in 2021 after taking a year off due to the COVID-19 pandemic in 2020. This year's event will launch more than 48,000 shells and effects from five barges positioned between East 23rd and East 42nd Streets on the East River.
An annual New York City tradition since 1976, the 46th edition of Macy's fireworks is conceived, designed and produced by Macy's with Pyro Spectaculars by Souza. The 25-minute spectacle is synchronized to a musical score and will feature a host of shells and effects in 30 colors and shapes. New shaped effects will include tall hat, mushroom and little snake shells, as well as tricolor interlocking rings and blinking, smiling faces. This year's design will launch on average more than 1,900 shells and effects per minute.
A third of the total shells in the 2022 show will showcase multiple effects, spanning one mile across the East River in a multi-layer presentation, reaching heights of 1,000 ft. to the water's edge.
"As we commemorate our Independence Day with the nation's largest pyrotechnic celebration, Macy's wanted to take the fun into the Web3 frontier bringing the revelry to a digital landscape," said Will Coss, executive producer of Macy's 4th of July Fireworks. "These free Macy's Fireworks NFTs will help attract a new set of fans with an easy-to-access implementation that democratizes this emerging space for a mass audience, while also embracing a digitally native audience with added utilities including augmented reality wearables."