Click here to view original web page at www.elevenwarriors.com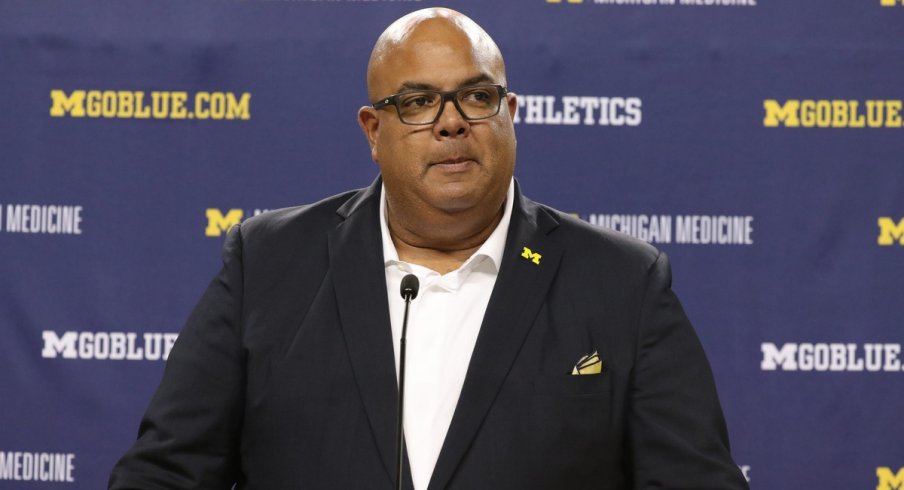 Own the group chat with The Weekender, highlighting the biggest stories in college sports, standout writing from Eleven Warriors, and a glance at what's next.
Yet Another Michigan Athletics Scandal
While Rich Eisen and the "victors valiant" continue to hail themselves after the school's first win over Ohio State football in a decade, this past week was another ugly one for the University of Michigan Athletics Department.
On Friday, the Wolverines opted to sever ties with men's hockey coach Mel Pearson following revelation of various misconduct instances surrounding an investigation that originated in October of last year.
BREAKING: Mel Pearson out as Michigan hockey coach after report details misconduct, lies to investigators https://t.co/wWLn4i6PNv

— Detroit Free Press (@freep) August 5, 2022
A letter detailing the wrongdoings written from general counsel of the law firm performing Michigan's internal investigation has been public knowledge since late January. That letter suggested Pearson instructed student-athletes to lie on COVID-19 tracing forms and retaliated against a player for attempting to address culture concerns within the team.
It also asserted that former Director of Hockey Operations Rick Bancroft — whom retired in June after over three decades in Ann Arbor — discriminated against female support staff at Michigan. Furthermore, the letter declared Bancroft had knowledge of late university physician Robert Anderson's sexual abuse that led to the school's $490 million victim settlement earlier this year.
A subsequent investigative report from Katie Strang at The Athletic released this week imparted further details on much of Pearson's misconduct. In addition to encouraging coronavirus lies, Pearson deliberately deceived incoming recruits on how much scholarship money they would receive, and also allegedly engaged in antisemitic behavior. Michigan ultimately missed the 2021 NCAA Tournament because of COVID-19 protocols after a Frozen Four loss in the previous season.
The player in question that faced retaliation from Pearson was former team captain Strauss Mann, now a goaltender for the San Jose Sharks. Mann departed the program early in favor of joining the Swedish Hockey League, despite serving as the Wolverines' first goalie with captain honors in nearly 80 years.
Michigan Athletic Director Warde Manual relayed Friday that this decision, "has been weighed heavily and for some time." Presumably, this was more consideration than used to evaluate retaining Juwan Howard in February after he punched an opposing assistant basketball coach in the face during a handshake line following a loss.
NBC Has B1G Plans for Prime Time
All right, Saturday night, where are you?
As conference media rights negotiations continue to heat up, NBC plans to leverage its Sunday Night Football-style coverage of NFL telecasts into a prime time offering for Big Ten schools.
As NBC inches closer to securing TV rights to the Big Ten, the network's strategy is clear:

Treat the Big Ten like the NFL.

The Big Ten would have exposure in every TV home.@MMcCarthyREV and @achristovichh explain

— Front Office Sports (@FOS) August 3, 2022
This would not only give NBC an effective monopoly on the most valuable weekend timeslots for football ratings, but also likely compromise Notre Dame's ability to have night games shown by their official broadcast partner. That could create an additional incentive for the Fighting Irish to finally join the Big Ten.
Mel Tucker Now Selling His Own NFTs
U-M's former hockey coach was not the only Mel in the state of Michigan to bring concern upon himself this week.
#NFTuck is here!

Ive launched #NFTuck, a series of NFTs that will give fans the chance to purchase digital & physical collectibles from my vault of personal items.

Proceeds of #NFTuck will go to @BGCA_Clubs of Southeastern Michigan. pic.twitter.com/pN9R58TVSU

— Mel Tucker (@Coach_mtucker) August 4, 2022
NFTuck holders will gain in-season private chat abilities with Michigan State's head coach, as well as on-field access to practices during the season. As mentioned in Tucker's tweet, all proceeds go towards charity.
However, launching a non-fungible token project — during the ongoing crypto crash — revolving around a football coach that began negotiating a nine-figure contract extension less than two weeks after losing to Purdue... is certainly a choice.
Start shorting #SpartyCoin now!
ICYMI
Ohio State returns to the gridiron in less than a month. Now that preseason is officially underway, the 11W beat offers direct insight on the team's depth, health, surprises, and other notes in the early stages of August.
Anxiously awaiting the return of basketball season as much as football? Griffin Strom has the latest details on Buckeye hoops from Chris Holtmann and provides highlights from the 20-minute window of practice available to media this week.
Friday was Kevin Harrish's last day with Eleven Warriors after seven years. The world's most staunch defender of Arby's penned a thank you to co-workers and the 11W community in his goodbye post, so feel free to pay tribute in the comments.
What's Next
Men's Basketball: vs. Puerto Rico, Today at 5 p.m. ET @ The Bahamas
Women's Soccer: @ N.C. State, Monday at 7 p.m. ET
Men's Soccer: vs. Ohio Dominican, Friday at 7 p.m. ET
Football Season Opener: vs. Notre Dame, Sept. 3rd at 7:30 p.m. ET