Click here to view original web page at globalcoinreport.com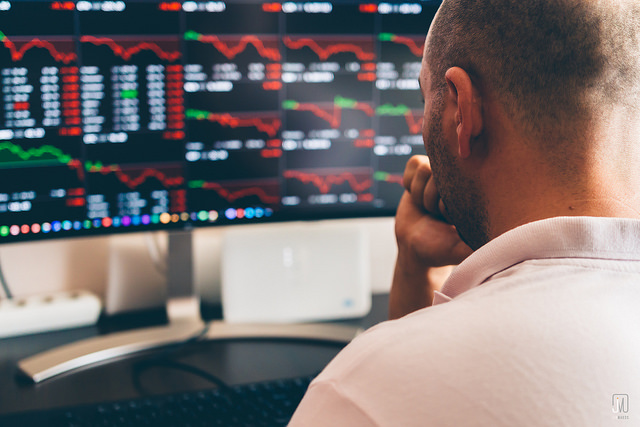 In the past few weeks, the crypto market has been experiencing a massive competition amongst a few coins that have the potential to lead the cryptocurrency by the end of the year. As we all know, Bitcoin is still holding the crown of the most popular digital currency in the world as well as having the highest market capitalization (circa 121 Billion USD on 9th April 2018), despite its recent debacles. On the other hand, Ethereum, a coin that gave the world the efficient technology of Smart Contracts, does not seem to do very well as new loopholes and limitations in its once impregnable blockchain platform are getting discovered.
Under the circumstances, Ripple and Cardano seem to be the two cryptocurrencies trying to make hay while the sun shines. Both of them have undergone a significant amount of vicissitudes in the past few weeks in the form of new partnerships and developmental upgrades. Ripple currently holds the 3rd position on Coinmarketcap whereas Cardano holds the 7th position.
Here, a few aspects of both these coins would be discussed to provide a reasonably clear picture of why both of them can disrupt the crypto-market by taking Ethereum's crown.
Ripple's Recent Developments:
Ripple was introduced in 2012 to the traders across the globe as a blockchain transaction protocol capable of offering quick and inexpensive transaction facility. Over the years, the official cryptocurrency of Ripple XRP has gained considerable popularity through its efficiency and intrinsic features. By the end of the previous month, this very stable cryptocurrency had gone through a few pivotal changes that certainly added to its pre-existing efficiency. These changes include:
a. Cobalt Algorithm Implementation: On March 27th, 2018, Ripple's development team announced the implementation of Cobalt algorithm. Due to this phenomenon, the XRP users would be able to conduct cross-border transactions within just 1 second. This would certainly provide XRP a significant edge over big guns like Bitcoin or Ethereum as none of them can offer this facility to their users. Also, the transaction fee charged by Ripple is reasonably lower than the others and due to this new implementation; the stability of this currency would also increase.
b. Hyperledger Partnership: Partnering with the Hyperledger Consortium is another judicious decision taken by Ripple's development team as due to this partnership, accessing Interledger Protocol or ILP would be much easier for all investors across the globe. Right after this partnership had been announced, Ripple experienced a price surge and is still following an upward trend.
Cardano's Recent Developments:
Like Ripple, Cardano had also gone through several noteworthy updates by the end of March which can potentially change its future. This cryptocurrency was tokenized on 29th September 2017, and since then it has been wreaking havoc on the market through its meteoric rise. The recent developments of Cardano include:
Implementing New Paper and Hardware Wallet: Cardano's team has initiated a process of developing paper wallet and Ledger Nano S hardware wallet for ADA users. This new implementation would increase the security of this currency significantly by providing an offline storage system for safely holding ADA coins. Both of these developments are currently in progress but once it is completed, it would grab the attention of a significant number of new traders.
Implementing Plutus Core: Plutus Core is one of the most elegant and simultaneously the simplest of programming languages. Implementing this language to the different Cardano layers is going to considerably increase this currency's efficiency.
Final Thoughts:
Both of Ripple and Cardano are now in a fierce competition with Ethereum. As mentioned earlier, Ethereum is recently going through a lot of technical problems. For example, a group of researchers has recently divulged the fact that Ethereum's smart contract is not as invulnerable as it seems and could become a victim of malicious attacks. On the other hand, Cardano's smart contracts come with more rigidity and security. As for Ripple, the recent Cobalt Algorithm Implementation is going to revolutionize the entire process of transactions. Despite the fact that cryptocurrency market can change its face at any moment, these recent events only accentuate the rise of Ripple and Cardano to the top of the cryptocurrency chart.
We will be updating our subscribers as soon as we know more. For the latest on the crypto markets, sign up below!
Disclaimer: This article should not be taken as, and is not intended to provide, investment advice. Global Coin Report and/or its affiliates, employees, writers, and subcontractors are cryptocurrency investors and from time to time may or may not have holdings in some of the coins or tokens they cover. Please conduct your own thorough research before investing in any cryptocurrency and read our full disclaimer.
Image courtesy of Jim Makos via Flickr