Click here to view original web page at siliconangle.com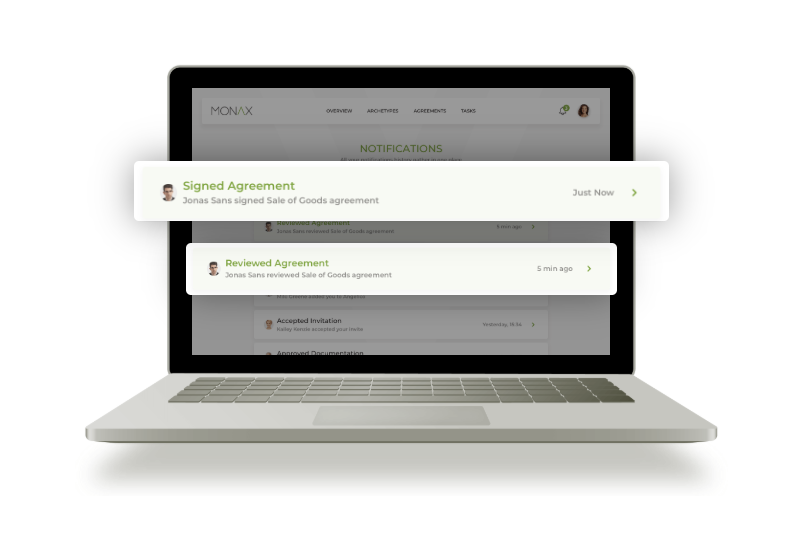 Monax Industries, a legal digital infrastructure provider, today announced the launch of its distributed ledger blockchain service for legal contract applications into a public beta, making it generally available for production-level commercial use.
The service, called the Monax Platform, provides all a business needs to register, assign and track legal "smart contracts" using a tamper-proof digital ledger. The platform allows small to medium-sized companies to use digital contracts to control risk and more easily track and analyze relationships and contractual obligations in real time.
A blockchain is a database of authenticated records distributed among all parties using the system. The records are built such that each new transaction recorded is cryptographically connected to the previous one in a chain, meaning that changes are easily detectable. And because every node in the network contains a copy of the ledger, any one that is changed would become obvious.
The private beta of the Monax Platform was launched in December, and since then the platform has seen use by dozens of companies.
"Through this ecosystem, we are able to provide a solutions suite to vexing problems that was simply not possible with previous generations of technology," said Casey Kuhlman, co-founder and chief executive of Monax. "Namely, legal relationships facilitated on our platform allow users to dynamically track their obligations in real time using a system that adapts to changing conditions along the lifecycle of the contract."
With the Monax Platform companies can automate the management of contractual obligations as well as gain collaborative insight into the execution of contractual relationships. Digital contracts added to the network can be trusted to execute and follow through without the need for users to understand code or programming.
The platform consists of two parts: Monax Dealspace and Monax Studio. Monax Dealspace is a decentralized contracting marketplace that permits parties to delegate and coordinate team-based contracts using blockchain smart contracts. It allows the creation of one-time contracts, automated repeating contracts and track the status of entire networks of contracts related to business operations.
Monax Studio is a visual editor with drag-and-drop capability that enables users to create smart contracts without the need for programming experience. Using the studio, users will be able to design and test contracts that can then be published onto the Monax blockchain for execution.
The platform is built on The Agreements Network, a distributed, open-source blockchain co-founded by Monax in 2018 that connects to the public Ethereum blockchain, the second-largest blockchain in the world. The network uses business practice modeling and blockchain technology in order to create a mechanism for building and executing smart contracts in a fashion suitable for business operations.
One Monax Platform customer is Social Solar, a clean-energy management company that connects customers with energy providers and optimizes connections and electricity using artificial intelligence. The company uses it to connect multiple parties in a complex relationship that takes a lot of paperwork and time to complete.
"Every time we help a city resident purchase clean energy, five parties are involved — the city resident, renewable energy supplier, local utility, business partner and ourselves," said Donna Sanders, founder and chief executive of Social Solar. "Using the Monax Platform will increase our completion speed by an estimated 50 percent and drastically change energy contract management."
Because of the distributed, digital nature of the blockchain, contracts can be automated more swiftly and with fewer human errors than with traditional paper-pushing. This is also scalable to as many nodes or parties needed to complete contracts, with highly complex obligations that can have dependencies automated.
Businesses in insurance, document retention and financial technology have used blockchains to speed up transactions. For example, State Farm Mutual Automobile Insurance Co. used the technology to speed up auto claims, Cygnetize Ltd. uses the technology to lower error rates in authorized signatory lists for documents and Wyre Inc. uses a blockchain to make cross-border payments take hours instead of days.
"Through the use of cutting-edge technology, we are decentralizing business collaborations, which will allow global scale and a transformation in how contracting works in the digital age," said Kuhlman.
Subscriptions for the Monax Platform start at $25 per month, with many packages customizable to business needs.
Image: Monax
Cisco Multicloud Showcase
Sachin Gupta of Cisco's Enterprise Networking Business states how SD-WAN enables the multicloud.
reply Share Now Playinghelp_outlineThis will share the currently playing clip.reply Share This Cliplist
Cisco Sponsored Videos - Powered by @theCUBE Interviews and Cisco Experts. Check out the Cisco Multicloud Showcase Content
skip_previous Play full video for cliphelp_outlineThe clip you are watching is a highlight of a full-length video. Click to watch the full video from the beginning.
01:19Sachin Gupta of Cisco's Enterprise Networking Business states how SD-WAN enables the multicloud.Playing
00:57Wendy Mars of Cisco reveals some of the regional characteristics in Europe concerning moving into the cloud and multicloud. Up Next
01:07Dave Cope of Cisco on multicloud management challenges.
00:39John Apostolopoulos of Cisco Innovation Labs gives an example of how ML helps in multicloud.
01:04Automation can help make complex multicloud solutions simpler and more customized.
01:23Dr. Thomas Scherer explains how Telindus Luxembourg is approaching the multicloud.
01:33Fabio Gori, Senior Director of Cloud Solution Marketing at Cisco on multicloud agility in network management.
01:49Dave Cope of Cisco and Dr. Thomas Scherer of Telindus Luxembourg converse on Cisco's ability to manage multicloud data environments.
01:07Ron Sterbenz of Cisco lays out the conversations he has with customers around multicloud.
00:32David Stanford of Cisco on what is needed from a customer to have a successful partnership.
01:34Dave Cope of Cisco shares some of the innovations in the CloudCenter Suite 5.0.
01:05David Stanford of Cisco shares some changes in customer interaction.
00:57Wendy Mars of Cisco reveals some of the regional characteristics in Europe concerning moving into the cloud and multicloud.
01:19Sachin Gupta of Cisco's Enterprise Networking Business states how SD-WAN enables the multicloud.
00:50Dave Cope, Sr Director of Market Development at Cisco Cloud Platform & Solutions Group, gives perspective on the whole of the cloud.
01:54Wayne Ogozaly, Cisco, describes a complex multicloud business model that challenges service providers
02:05Fabio Gori summarizes Cisco's customer-centric approach to hybrid and multicloud
01:33Fabio Gori, Senior Director of Cloud Solution Marketing at Cisco on multicloud agility in network management.
00:42Ron Sterbenz of Cisco speaks on the rise of Kubernetes and what Cisco is doing in this space.
00:44Zack Kielich on treating Kubernetes as a container cloud
00:59Fabio Gori from #Cisco discusses the Linchpin of the First Hybrid Solution for #Kubernetes on #AWS
01:48SponsoredHow the Cloud and the Network changed the #Cisco's ecosystem - Kip Compton explains on @theCUBE
00:35Fabio Gori on the Importance of the #Cisco First Hybrid Solution for #Kubernetes on #AWS
01:13Is #Kubernetes the secret sauce for #multicloud? Todd Brannon @tobranno of Cisco weights in with @furrier @stu on @theCUBE at #CLEUR
03:41Cisco doing co-creation from #cloudnative to #IoT @furrier and @malegaonkar discuss impact #kubernetes and tech have on market on @theCUBE at #CLEUR
02:16Cisco and Google's shared vision for multi-cloud with Kubernetes and Istio
01:10SponsoredSusie Wee on leveraging cloud capabilities on premise
00:41#Kubernetes developers don't want to deal with infrastructure & YAML so Cisco is solving this problem says @kurtmilne
01:00How Cisco complements AWS
00:50Kubernetes containers and multicloud all powering Cisco's strategy for programmable network operations
00:35Fabio Gori on the Importance of the #Cisco First Hybrid Solution for #Kubernetes on #AWS
01:34Fabio Gori discusses why #Cisco's new Hybrid Solution is attractive to #Amazon
01:48How the Cloud and the Network changed the #Cisco's ecosystem - Kip Compton explains on @theCUBE
01:23Lew Tucker states that Kubernetes will be a Key Component to Ensure easier System Integration and Consumption.
01:10SponsoredSusie Wee on leveraging cloud capabilities on premise
00:57The Rise of Kubernetes reminds us of the Java Days as we're going after Portability of Apps. Lew Tucker of Cisco Explains.
02:13Fabio Gori explains on @theCUBE with @furrier that Cisco's North Star is about taking the best #innovation of the #publiccloud to #onprem
01:48SponsoredSachin Gupta talks the root level of the networks
00:59Lew Tucker, VP and CTO, Cloud Computing at Cisco discusses the Impact and Issues of AI.
00:55SponsoredGoogle Cisco have #multicloud affinity with #Kubernetes says Zack Kielich @zackomatic
01:15Dave Cope and Kip Compton of @Cisco discuss Customer Challenges with John Furrier and Lauren Cooney.
01:28Kip Compton on how #Security is very much "stitched" into everything @Cisco does.
01:25Dave Cope, Sr. Dir. of CloudCenter Market Development for @Cisco shares #Hybrid Solution Use Cases on #theCUBE.
00:35Fabio Gori on the Importance of the #Cisco First Hybrid Solution for #Kubernetes on #AWS
01:48How the Cloud and the Network changed the #Cisco's ecosystem - Kip Compton explains on @theCUBE
00:44Fabio Gori explains the new #Cisco Solution developed in collaboration with #AWS
01:19Kip Compton, SVP Cloud Platform and Solutions Group discusses Cisco's latest AWS partnership with @Furrier on #theCube.
01:13SponsoredIs #Kubernetes the secret sauce for #multicloud? Todd Brannon @tobranno of Cisco weights in with @furrier @stu on @theCUBE at #CLEUR
01:28Kip Compton on how #Security is very much "stitched" into everything @Cisco does.
01:26SponsoredWhy the network is more important with #Kubernetes @furrier @susiewee discuss
01:02The ideal System #Architecture - Kip Compton @Cisco sees a shift towards Accelerating #Innovation instead of Minimizing Cost.
00:59Fabio Gori from #Cisco discusses the Linchpin of the First Hybrid Solution for #Kubernetes on #AWS
00:44SponsoredZack Kielich on treating Kubernetes as a container cloud
00:44Fabio Gori explains the new #Cisco Solution developed in collaboration with #AWS
00:50Sponsored#Kubernetes & containers are creating new use cases so more demand on #devops Infrastructure as Code
02:16SponsoredCisco and Google's shared vision for multi-cloud with Kubernetes and Istio
03:41SponsoredCisco doing co-creation from #cloudnative to #IoT @furrier and @malegaonkar discuss impact #kubernetes and tech have on market on @theCUBE at #CLEUR
01:02SponsoredLightweight containers are changing the game DevOps
01:59Sponsored@PureStorage on New Workloads, #Data-Driven, and #MachieneIntelligence
00:48SponsoredKurt Milne on fixing the "no one want's to write YAML" issue
01:20SponsoredOverview of the partnership between Cisco and Google
00:41Sponsored#Kubernetes developers don't want to deal with infrastructure & YAML so Cisco is solving this problem says @kurtmilne
chevron_leftchevron_right