Click here to view original web page at siliconangle.com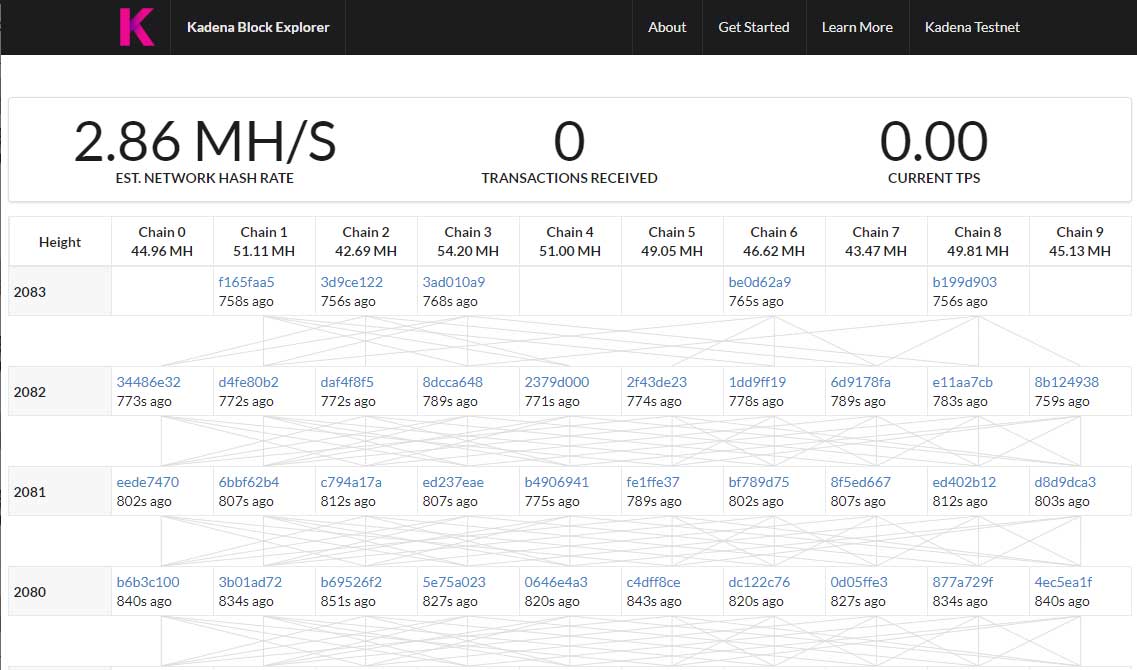 With an aim to make large-scale blockchain adoption easier, Kadena LLC, the provider of an enterprise-ready distributed ledger blockchain platform, today announced the public launch of its public blockchain and smart-contract wallet.
The launch opens up its blockchain for mining and also allows outside third parties to visualize the scalable parallel chain mining infrastructure through Kadena's Block Explorer, a tool that allows users to track blockchain blocks in real time. The company has also announced a token sale to raise money and the first distributed apps, including two games, on its blockchain.
Kadena combines an accessible public blockchain with a scalable private blockchain in order to achieve a hybrid network designed to be both interoperable with numerous software projects and highly secure.
"Since the inception of Kadena, we've maintained the vision of getting tech problems out of the way of blockchain adoption," said Will Martino, chief executive and founder of Kadena.
The smart contract wallet will open up the capability to run coded contracts on the Kadena blockchain using Pact, an open-source language designed with ease-of-use in mind for both developers and business users.
Pact uses a formal verification system that allows coders to "state their intent" after writing a smart contract, which is essentially an agreement executed on the blockchain that is enforced by code. That reduces errors by using a machine-learning algorithm to detect potential bugs in smart contracts before they are deployed.
"We wanted something about as easy as an Excel format, but a bit safer, because it's very hard to track bugs in Excel," Martino said in an interview with SiliconANGLE. "Having a very simple and lucid language helps reduce the surface area where bugs can form."
As a proof-of-concept, Kadena has released its first-ever distributed app games, "Pacty Parrots and Zoo Lotto," in beta on the Kadena testnet. That means users can play with the game without worrying about losing any actual tokens when playing. "Pacty Parrots" allows users to place bets and earn points in game rounds to provide a simple example of blockchain operations.
Placing bets uses the token escrow and smart contract system on Kadena's blockchain and earning points during gameplay demonstrates how to use the smart contract wallet to receive and send coins. The random number generator the game uses operates on the blockchain as part of the distributed app between players executes draws and distributes winnings also using the smart contract functionality.
Kadena's blockchain uses multiple chains, mined and processed in parallel to solve scalability issues that plague current public and private blockchains. For example, the extremely popular game "CryptoKitties" has in the past slowed down the Ethereum public blockchain when players traded too many virtual cats. Kadena's blockchain can scale out extra chains to offload increased work as needed.
This operation can be visualized with the newly released Kadena Block Explorer, a tool that shows how blocks are being mined and the operations of smart contracts on the public blockchain. The tool also guides users on how to start mining on the blockchain, download the wallet, and play the testnet games.
The Kadena token sale opens tomorrow on CoinList. With the mainnet blockchain opened up to mining, the tokens are now being sold in an offering to raise money for the company. CoinList is the only token sale management website authorized to sell Kadena tokens.
Image: Kadena
Since you're here …
… We'd like to tell you about our mission and how you can help us fulfill it. SiliconANGLE Media Inc.'s business model is based on the intrinsic value of the content, not advertising. Unlike many online publications, we don't have a paywall or run banner advertising, because we want to keep our journalism open, without influence or the need to chase traffic.The journalism, reporting and commentary on SiliconANGLE — along with live, unscripted video from our Silicon Valley studio and globe-trotting video teams at theCUBE — take a lot of hard work, time and money. Keeping the quality high requires the support of sponsors who are aligned with our vision of ad-free journalism content.
If you like the reporting, video interviews and other ad-free content here, please take a moment to check out a sample of the video content supported by our sponsors, tweet your support, and keep coming back to SiliconANGLE.