Click here to view original web page at www.econotimes.com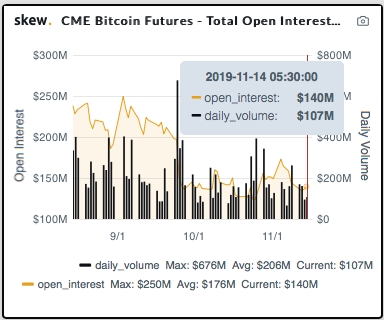 Bitcoin (BTC) has been wedged in a sideways trend in the recent times, as it has struggled to harvest any significant upwards momentum despite the strong support that it has established at $8,500 areas.
However, CME's Bitcoin open interest may indicate an underlying strength for the cryptocurrency, and couple of analysts could signal that it is most likely to stimulate the pace of price momentum that could send BTC's price surging with skyrocketed pace.
Bakkt's physically settled futures saw a tepid start, volumes are slowly gaining popularity with a fractional amount of the volumes than that was observed on the 2017 debut of CME's cash-settled contract and yet the firm has since reported consistent gains in trade volume, having last week crossed $1 million in open interest attracting institutional client base.
Create Your Own Cryptocurrency to Monetize Content and Grow Communities.
While Bakkt gains traction during the course of same period. Bakkt futures contracts have surged in the recent times, recording all-time highs during the week surpassing the $15 million USD mark. They took twitter handle to announce record daily volumes of 1,756 contracts.
Whereas the number of open interest long contracts on CME is now at October lows despite the 200%+ increase last month.
Hence, though the underlying price trend tend to lure us, regardless of the indication, we recommend for trading purpose, avoid contracts with lower volumes and lower open interest. Generally, the volume and open interests would be small at the early stages of futures contract life and expands as it reaches the maturity period and again drop during close to expiration stage.
If both participants (buyer and seller) in a trade are initiating a new position, the open interest will increase. However, if one is initiating a new position and other liquidating his old position, there is no change in the open interest.