Click here to view original web page at www.econotimes.com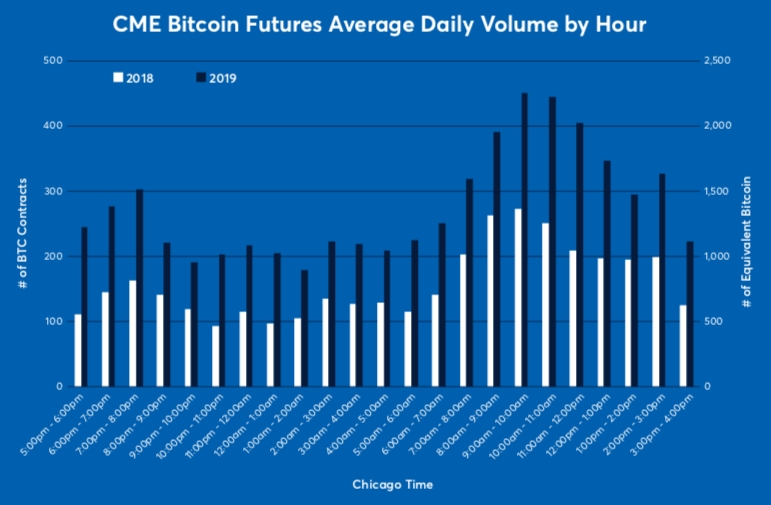 The gradual maturing phase of the cryptocurrency gamut has been observed of late as the influence of institutional investors has grown in the aftermath of the listing of CME bitcoin futures since Dec 2017. Indeed, a few months ago we noted that the true level of institutional participation was likely greater than widely used trading volume figures implied.
Since launch, bitcoin futures volume and open interest have seen strong growth. Compound annual growth rate in ADV is 109% from Launch to December 17, 2019.
ADV increased 75% between 2018 and 2019 with record volume of 33,677 contracts on May 13, 2019 (refer 1st chart). Around 6,370 contracts, 2019 YTD ADV (31,850 equivalent bitcoin).
Seeing consistent growth in BTC hourly volume. 9-10am CT, the CME CF Bitcoin Reference Rate calculation window, remains the highest volume hour since launch (refer 1st chart).
47% of volume is driven by trading outside the U.S.
$3.8B notional traded on average monthly since launch
33,677 record contracts traded on May 13, 2019 (168k equivalent bitcoin; $1.3B)
56 record Large Open Interest Holders (LOIH), or holders of at least 25 BTC contracts on 7/9/19.
5 participating exchanges contributing to the CME CF Bitcoin Reference Rate (BRR)
4/22/19.
Pace of new account additions picked up in Q2 and Q3 2019.
The Open Interest (OI) rose about 66% between 2018 and 2019, with a record OI day of 6,128 contracts on July 1, 2019 (refer 2nd chart). For trading purpose, avoid contracts with lower volumes and lower open interest.
Usually, the volume and OI will be small at the early stages of futures contract life and expands as it reaches the maturity period and again drop during close to expiration stage.
Thus, if both participants in a trade are initiating a new position, the Open Interest will increase. If both the participants are liquidating their old positions, the Open Interest will decline. However, if one is initiating a new position and an other liquidating his old position, there is no change in the open interest.
Nevertheless, we noted that the low initial volumes carry echoes of the initial listing of cash-settled bitcoin futures by the CME and CBOE in December 2017. Initial volumes were low (3rd chart), but the open interest kept growing steadily.
During the 1st half of 2019 the volumes have peaked, though we can figure out dip in volumes & OI during H2. The listing of the CME futures coincided with all-time highs in bitcoin prices, and researchers at the San Francisco Fed suggested that by providing a market where bearish positions could be more readily expressed the listing of these futures contributed to the reversal of bitcoin price dynamics. In a similar vein, it may be that the listing of physically settled futures contracts (that enables some holders of physical bitcoin e.g. miners to hedge exposures) that has contributed to recent price declines, rather than the low initial volumes.
Bitcoin prices along with other major cryptocurrencies have gained in the major exchanges today, BTCUSDsurged over 2.30%, while ETHUSD rose 3.20% and XRP gained 0.96%.
Amid the mounting interest for the cryptocurrencies and customer demand for tools to manage bitcoin exposure, CME Group will launch options on Bitcoin futures (BTC) on 13th of this month. Courtesy: JPM & CME