Click here to view original web page at siliconangle.com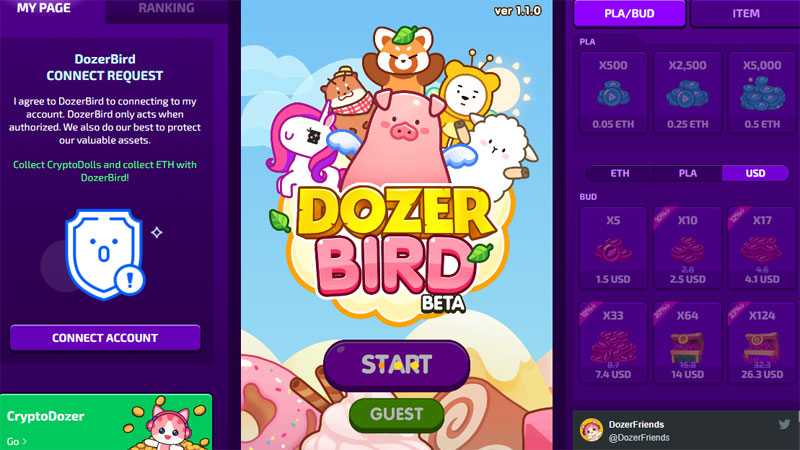 South Korea-based distributed ledger blockchain game developer SuperTree Co. Ltd. announced today that it has raised $2.5 million in a Series A investment led by Korea Investment Partners, the country's largest venture capital firm, and SBI Investment Korea.
SuperTree develops games that use blockchains, the underlying technology that makes cryptocurrencies such as bitcoin and Ethereum. Games that use blockchains to function can issue their own currency, similar to bitcoin, and can also publish and mint collectible assets, such as collectible cards, cosmetics and equipment.
As a developer, SuperTree is best known for its successful popular blockchain games "CryptoDozer" and "DozerBird."
Both of these games were launched in the Samsung Blockchain Wallet last year and introduced at the Samsung Developer Conference in the U.S.
"Through this investment, we are planning to increase the level of development of customer to customer marketplaces and tournaments that are under development and to reach commercialization soon after going through verification at home and abroad," said SuperTree Chief Executive Choi Sungwone.
"CryptoDozer" and "DozerBird" are distributed apps, or dApps, which do not require a centralized server to run. Instead, they use blockchain technology – which distributes its storage and computation across multiple nodes – and self-executing smart contracts to provide the underlying communication infrastructure.
SuperTree is also currently developing a game tournament platform known as "PlayDapp," which will enable real-time competition, as well as a customer to customer marketplace. This marketplace will allow users to directly trade items, such as virtual items within the games themselves, between one another.
"It is expected that the game industry's use of blockchain technology will become active around the world," said SBI Investment Korea Director Lee Joo-hyuk. "We are expecting the value of dApp and the blockchain game service platform 'PlayDapp' which SuperTree is developing to increase further."
March last year, the world's third-largest cryptocurrency provider, Ripple Labs Inc., raised $100 million in funds to incubate blockchain games development with blockchain platform Forte Labs Inc.
Also in the past few years, popular blockchain-based games have begun to explore the role of blockchains for collectible items, such as trading card games. They include games such as "Gods Unchained" from Immutable, for which $15 million in funding was raised during September, and "Spells of Genesis" from EverdreamSoft SA.
As a startup in the blockchain games industry, SuperTree is entrenched and includes a core team with significant experience in game development from companies such as South Korea's largest mobile gaming company Netmarble Corp. and major massively multiplayer games publisher NCSoft.
Image: SuperTree
Since you're here …
Show your support for our mission with our one-click subscription to our YouTube channel (below). The more subscribers we have, the more YouTube will suggest relevant enterprise and emerging technology content to you. Thanks!
Support our mission: >>>>>> SUBSCRIBE NOW >>>>>> to our YouTube channel.
… We'd also like to tell you about our mission and how you can help us fulfill it. SiliconANGLE Media Inc.'s business model is based on the intrinsic value of the content, not advertising. Unlike many online publications, we don't have a paywall or run banner advertising, because we want to keep our journalism open, without influence or the need to chase traffic.The journalism, reporting and commentary on SiliconANGLE — along with live, unscripted video from our Silicon Valley studio and globe-trotting video teams at theCUBE — take a lot of hard work, time and money. Keeping the quality high requires the support of sponsors who are aligned with our vision of ad-free journalism content.
If you like the reporting, video interviews and other ad-free content here, please take a moment to check out a sample of the video content supported by our sponsors, tweet your support, and keep coming back to SiliconANGLE.