Click here to view original web page at www.trustnodes.com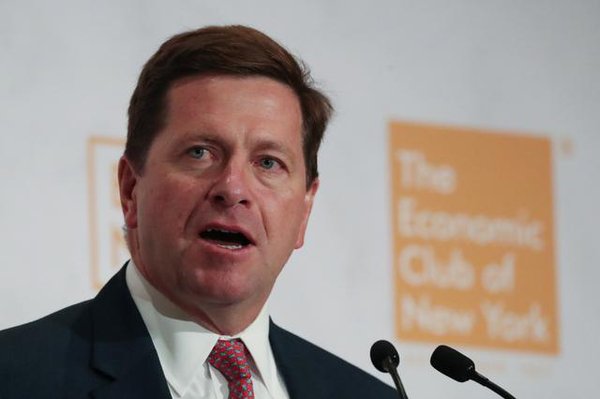 The chairman of the Securities and Exchanges Commission (SEC), Jay Clayton, is finally to leave his position by year end according to a statement by the SEC.
Sworn in on May 4, 2017, Clayton led a crusade against cryptos, denying a bitcoin ETF at the last minute in very much a calculated slap with SEC denying during his tenure even crypto ETFs for accredited investors.
During his three and a half years as chair, he bullied crypto projects by opening numerous investigations and by threatening lawsuits, costing hundreds of millions to a native innovative industry.
In the process, he chocked innovation, driving it out of the United States to the embrace of the European jurisdiction which is now proposing a legal framework for tokenized stocks.
Clayton's SEC instead told entrepreneurs and innovators: "we won't innovate for you" during a draconian period when $1 billion was taken by SEC in fines, 5x more than their entire yearly budget of $250 million.
Some for wrongdoing, but much of it was aimed at honest entrepreneurs trying to tokenize and modernize things like restaurant ratings which SEC quickly shut down.
There are countless of similar stories, with SEC today boasting during Clayton's tenure they "obtained orders for over $14 billion in monetary remedies."
$14 billion that could have driven much innovation, and could have encouraged much capital formation.
Instead, during Jay Clayton's oppressive tenure, we witnessed the biggest over-reach by an unelected bureaucratic body that often bypassed the courts to act as a lawmaker in forming and enforcing policy over a very new space outside of SEC's usual congressional jurisdiction.
Elon Musk, a role model for many, found himself almost imprisoned due to what he called the Shortsellers Enrichment Commission (SEC).
Despite much needed reforms of century old laws, SEC told the world no change was needed whatever, the law was fine as written in 1933, during the Great Depression when there was no such thing as cars, let alone the internet or blockchains.
Even after Congress demanded from SEC reports on what reforms are necessary, SEC dragged its feet and produced nothing so far.
This sclerotic agency greets the wrath of millennials primarily due to Jay Clayton's oppressive leadership in doing whatever he could to halt innovation in the United States.
SEC is too big to respond to changing times, it is too big to meet the needs of startups, medium companies, and giant corporations at the same time, it is too powerful to care for liberties or the need to balance free market risk taking with preventing cheating, and it is in absolutely desperate need of reforms as startup and IPO numbers attest.
"I would like to thank President Trump for the opportunity, and the support and freedom, to lead the women and men of the SEC," Clayton said.
Well, that Trump was defeated partially due to the terrible job this former bankers' lawyer did while in charge of one of the most powerful economic institution in the United States and the world.
Power which he yielded without the responsibility to the public to encourage and facilitate innovation and capital formation, instead of greedily raking in billions even from mom and pop food apps like corrupt bureaucrats.
Sworn in on […]