Click here to view original web page at kryptomoney.com
Bitcoin (BTC) price fell to fresh lows of $35,153 during Friday trading, marking the 4th day in the red after the rejection off-highs of $41,322 on June 15. Increasing BTC inflows to exchanges and fallout from the Federal Reserve's plan to spike up interest rates alluded to Bitcoin's fall on June 18.
Analysts noted that Bitcoin was relatively oversold heading into the Fed's announcement, having dropped nearly 7% to around $38,200 since Wednesday's Fed rate guidance. The lack of optimism follows on the concerns that Bitcoin could see more selling in the near term because the daily chart shows the MA 50 and MA 200 producing a "Death Cross" (bearish crossover) in the next day or two, with the 4-hour chart already indicating the crossover.
Cryptoanalyst, RektCapital states "Historically, BTC tends to perform a Death Cross between 107 to 149 days, So this upcoming DC set for July is ahead of schedule". Also stating "While the BTC Death Cross is a potential scenario worth bearing in mind – it isn't a guarantee of more downside, when the DC happens it'll be important to watch for how crucial supports hold"
At the other end of alternative cryptocurrencies otherwise referred to as "Altcoins", the lack of optimism weighed heavily on most tokens as a majority of Altcoins were seen in the red as with Ethereum (ETH, -7.81%), Dogecoin (DOGE, -5.59%), XRP (-4.22%), Polkadot (DOT,-6.51%), Amp (AMP, -16.05%), ThorChain (RUNE, -9.83%), Waves (WAVES, -12.57%), Chiliz (CHZ, -10.50%) trading down as of press time.
Selected tokens such as XinFin Network (XDC, +2.30%), Theta Fuel (TFUEL, +5.75%), WINklink (WIN, +5.52%), Prometeus (PROM, +1.01%), ZKSwap (ZKS, +12.53%), Utrust (UTK, +11.82%) managed to suppress the bearish wave slightly by trading in the green as of press time. Bitcoin traded at $35,778 as of press time.
Ethereum Fees Drop to Yearly Lows, Potential Reversal Hints on Polygon (MATIC)
The second-largest cryptocurrency, Ethereum (ETH) cascaded to lows of $2,125 during today's declines. Not only did ETH value dropped, but average Ethereum fees also plunged to levels that haven't been seen since December 2020. According to on-chain data firm, Santiment noted that Ethereum avg. fees have marked yearly lows at around $3.03.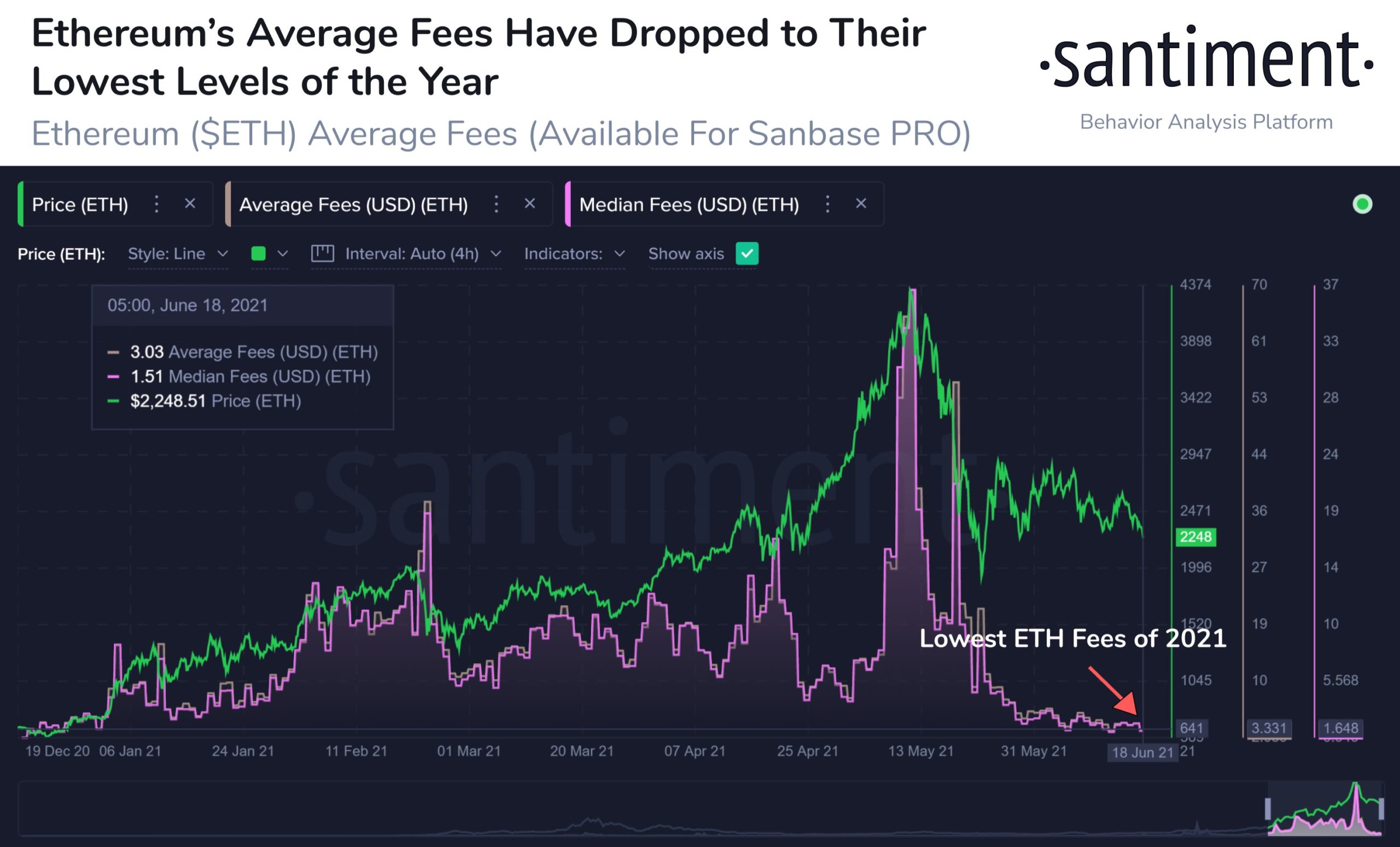 Ethereum Average Fees, Courtesy: Santiment
It stated on June 18, "With Ethereum's price dropping back down to $2,220 at the time of this writing, the average $ETH fees have dropped to levels that haven't been seen since December 2020. Five weeks ago at its peak, the average fee was $69.57. Today, we're down to $3.03".
Following the market-wide crypto meltdown in late May, MATIC managed to surprise everyone by doing a V recovery. However, it failed to surmount the resistance at $2.43 while retracing back to the MA 50 where it bounced earlier. In a relief rally that kicked off on June 12, MATIC managed to make a higher low. A bullish bias will form if MATIC can flip the $1.50 level into support once it recovers.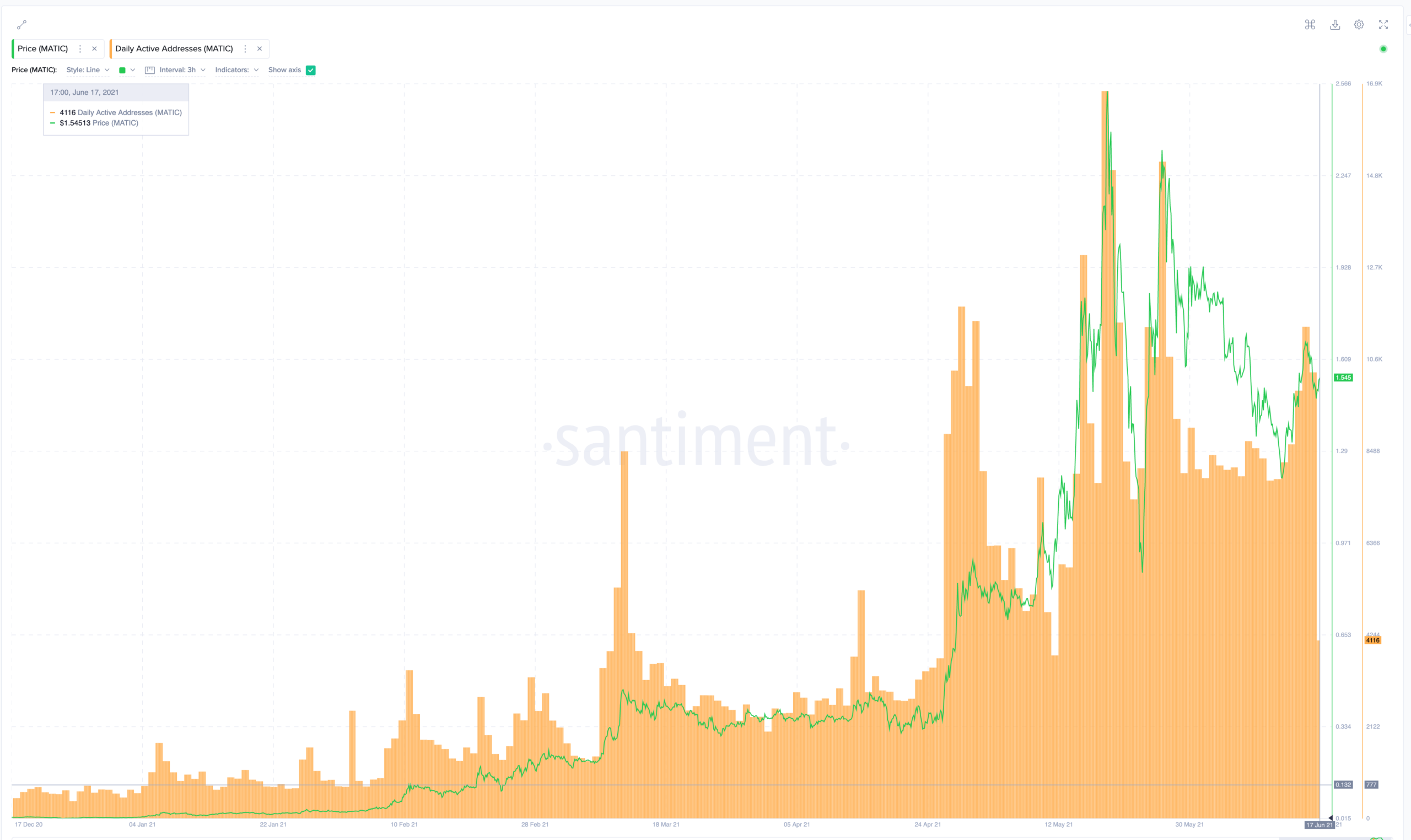 MATIC Daily Active Addresses, Courtesy: Sanbase
According to Santiment, MATIC's Daily Active Addresses is showing healthy signs of growth over the past few months and is remaining consistent this month. Stating that "It'll be hard to ignore the bullish case for MATIC if the growth continues" while this is further buttressed by a declining supply on exchanges.
Overall, MATIC price is yet to find its direction as on-chain data still shows a good amount of sell pressure as each rally saw spikes in Daily Active Deposits as well.
Matic traded at $1.356 as of press time.
Image Credit: Santiment, Shutterstock