Click here to view original web page at thegoaspotlight.com
On September 14th, Solana's network crashed and went offline for 17 hours. This has become a major obstacle to the high-speed blockchain that has grown rapidly in recent months. No funds were lost, however, and the network was back to full functionality in less than 24 hours.
In the aftermath of the crash, Polkadot co-founder Gavin Wood took to Twitter to highlight the importance of the decentralization and security models deployed across crypto networks, saying, "Today's developments in crypto just show that true decentralization and well thought out security make a much more valuable proposition than some big numbers. transactions originating from an exclusive and private set of servers. If you can't run a full node on your own, then it's just another bank. "
According to the Solana Foundation autopsy, a denial of service attack was actually the cause of the network shutdown, a blog post states: "At 12:00 UTC, the Grape Protocol launched its IDO on Raydium and bots generated transactions. which flooded the network. These transactions caused a memory overflow that caused many validators to crash, causing the network to slow down and eventually to a halt. The network went offline when the validator network could not agree on the current state of the blockchain, which prevented the network from validating new blocks. "
Polkadot's unique approach
Polkadot takes a phased deployment approach, with important milestones on the path to decentralization noted at each phase. The multi-chain network uses a decentralized Nominated Proof-of-Stake consensus model, which allows for greater participation and allows nodes to join the network with much lower hardware requirements than demanding high TPS blockchain processors like Solana.
Polkadot's refined governance model also allows all DOT token holders to be in control of protocol decision making, with updates being done autonomously along the chain to reflect their views.
The Polkadot Shared Security Model is another unique value proposition for projects considering becoming parachains on their network – tier 1 custom blockchains that run in parallel on Polkadots' segmented infrastructure. The shared security model means that all parachains connected to the Polkadot's central Relay Chain benefit from the economic security provided by its validators.
Parachains are "technologically" ready to launch
When asked in a recent interview when the parachains could be launched on Polkadot, Wood suggested that they were "technologically" ready to launch, and their approval depended on the protocol management process.
As the living canary network Polkadot Kusama has already successfully launched its first eight parachains, the path is now clearer for the parachains on Polkadot after this governance process.
"What I can tell you is that Kusama is doing well with the parachains trial. I'm not sure the audit is complete, but if it is not complete, it will be completed in the next few days, "Wood said.

"We need to fix any issues that have arisen from the audit. As far as I know, these are relatively minor problems – nothing special. And after that, everything depends only on the leadership of Polkadot. I myself cannot flip a switch, but what I can do is say, technologically speaking, the parachains are ready and the Polkadot management should release them. "
The highly anticipated parachain rollout seems to be just around the corner, heralding the final core launch phase for Polkadot, with successful Kusama parachain slot teams like Acala and Moonbeam among the contenders for the first slots.
Disclaimer: This article is for informational purposes only. It is not offered or intended to be used as legal, tax, investment, financial or other advice.
Kvartalnov explained the inclusion of his son in Ak Bars' application for the match with Spartak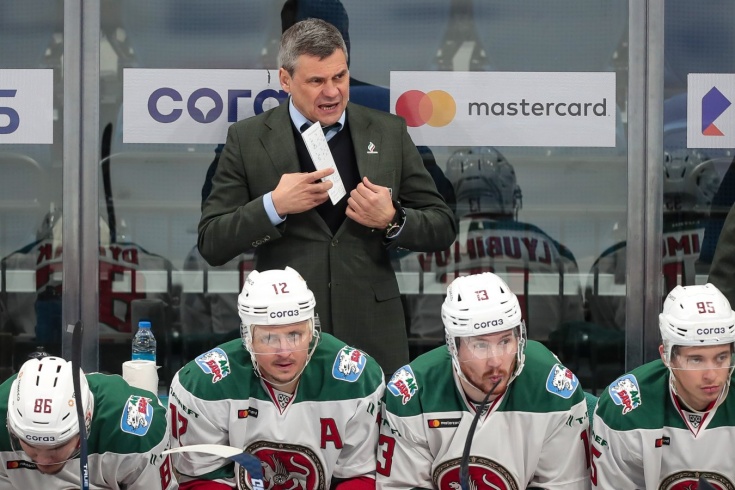 Ak Bars head coach Dmitry Kvartalnov commented on the inclusion of his son, Alexander Kvartalnov, in the application for the match with Spartak (3: 1), in which he did not take part.
"Kvartalnov Jr didn't play a minute on the ice today. Why did he put him in the squad, and not Brovkin, for example, who goes on the ice and even scores periodically? There is absolutely no logic. A boy born in 2002 must be in the application. Brovkin – 2001. Brovkin must compete with Safonov.
We had a Katelevsky week, then Mekhovov went on a trip with us, now they took Sasha. Now Sasha will go to the youth team and again we will take Katelevsky. These people practically do not play. Now Katelevsky scores well at Barça, let's try to play him again.
Sasha didn't have a chance today because the game was stubborn, the score was very slippery. Do you understand that we are simply obliged to set limits? Either we go to 19 field, or 20. Some play in 18 or 19 field, but we want young children, even if they are not playing, to sit and breathe in a big team. We saw how everything worked.
It is clear that we do not yet have limiters at the level of Galimov, Voronkov or Safonov. I hope our youth will prove themselves in the future. While we are giving them "gifts". In general, the logic is as follows. Did I explain it to you? " – quotes Kvartalnov "Sport Business Online".
Kvartalnov – about 3: 1 with Spartak: we created a lot of chances, but the goals are still with a creak
Following the airing of the anime "Demon Slayer: Train Infinite", Fuji TV showed the trailer for the second season and announced the details of the broadcast. Demon Slayer: Red Light District (Kimetsu no Yaiba: Yuukaku-hen) kicks off on December 5 with a one-hour episode. The series will feature the eighth story arc of the Red Light District manga (chapters 70–99).
Director Haruo Sotozaki and character designer Akira Matsushima, who worked on the first season and film, will return, as will ufotable. All voice actors will also return to work on Season 2, including Katsuyuki Konischi (Gakuto in Prison School, Kamina in Gurren Lagann) as Tengen Uzuya's pillar of sound. Miyuki Sawashiro (Suruga Kambaru in Legends of the Monsters, Celty Sturluson in Durarara!) Will voice the sixth Supreme Moon – Daki.
But, as promised by the authors, in fact, the second season will begin on October 10 with the showing of the seven-part television version of the film "Demon Slayer: Train" Endless "". The first episode will be completely new, while the rest will add about 70 new scenes, as well as new music. LiSA (opening theme for Demon Slayer, first opening theme for Swordmaster Online: Alicization) will perform Akeboshi's opening theme and Shirogane's ending theme for the TV version of Train. Aimer (first opening theme for Flame Squad 2, opening theme for Fate: Fight Night – Endless Blade World: Continuation) will perform the opening theme for Zankyou Sanka and the Asa ga Kuru ending theme for Arch of the Red Light District.
Tanjiro, Inosuke, Zenitsu, and Tengen Uzui, the pillar of sound, travel to Tokyo's Yoshiwara district, where a demon is rumored to be wielding a demon and women are missing.
Koyoharu Gotoge's Demon Slayer manga was published in Weekly Shounen Jump magazine from February 2016 to May 2020. The total circulation of the published volumes exceeds 150 million copies.
The first 26-episode season from ufotable was released from April to September 2019. The Demon Slayer: The Endless Train anime film was released in October 2020 and grossed over $ 500 million.